Vector Group Ltd. (NYSE:VGR) engages in the manufacturing and sale of cigarettes in the United States. Through its subsidiaries, inclusive of Liggett Group LLC, Vector Tobacco Incorporated, and New Valley LLC, the company operates both in tobacco and real-estate segments. It also offers residential brokerage services and invests in real-estate. Vector was founded in 1912.
Overview
While this company does have diverse operations, a majority of its revenue is generated through its tobacco business and will be the primary focus of this review. Directly from Vector management, Ronald J. Berstein stated: "According to Management Science Associates, for the third quarter 2013, overall industry wholesale shipments were flat, due primarily to strong performance by Altria (NYSE:MO) and Lorillard (NYSE:LO)." Rational investors, as partial owners, should gravitate toward businesses that have growing revenues and EPS with a developed competitive advantage (not share prices that are dictated by analyst predictions). Despite Vector's history of consistent shareholder friendliness through dividends and share repurchases, we will see that this company is becoming less of a lucrative business and should not be considered a "buy".
Financial Outlook
Since the beginning of 2011 until now, Vector has actually produced consistent negative growth QoQ in sales revenue. In the last Q3 earnings report, profit margins actually dipped into negative territory due to lack of growth and a spike in unusual expenses; primarily related to ongoing lawsuits, of which 400 cases still remain. Not that this PM number was overly alarming, it certainly rose some concerns seeing it drop below 0% for the first time in many years. The CEO covered other important financial related information: "The decline in revenues was primarily due to an approximate 3.6% reduction in cigarette volumes during the period, which was partially offset by higher pricing...operating income of $43.2 million in the 2012 period, an increase of approximately 8%, primarily due to increased margins." The information above was explained in their third quarter conference call provided here.
Vector has recently added a new brand of cigarettes called Eagle 20s to force volume higher, in addition to its well established PYRAMID brand (PYRAMID remains the seventh-largest brand and third-largest discount brand in the United States). However, given the market is already highly saturated with other dominant brand names, sales volume remains lackluster. Management's goal has been to limit the cost of its products to attract consumers, although this course of action will over time erode margins and is therefore a time limited plan. Vector is also cautiously entering the e-cigarette market, provided it is largely uncharted territory, as another outlet to grow its sales. Conclusively, when using a linear regression model on NI and FCF, it's blatantly obvious that the company's financial position is weakening.
VGR Net Income (TTM) data by YCharts
Another interesting measure is the company's disproportionate debt levels. While it is a known factor that companies in the tobacco industry are highly capital intensive, it's relatively risky to top out financial leverage and use it as a means of funding dividends. It's essentially undermining the quality of the business by borrowing cash and simply giving it to the owners (creating a detriment, not an asset). Furthermore, the dividend yield is also slightly suspect. Yes, it has sustained the dividend for a very long time and the company affirmed strong cash and equivalents. However, considering that it pays out more than it takes in and issues a yield double the industry average, it's worrisome for the long term. Not that it is entirely likely here, but when the market sees a dividend cut it is measured as a wake-up call of fundamental deterioration.
Share Price Movement
Vector Group comparably underperformed the cigarette market entirely, only moving 1% higher while larger corporate players averaged 22% in the last two years. When we look at the stock on its own, it has appreciated roughly 18%, notwithstanding the negative growth over this timeframe.
Technical analysts would probably agree that VGR is a buy based on bullish moving averages and indicators. It may go higher until there is an apparent reversal, but investors should seriously tread lightly before initiating a position here (the $16.50 area is an identifiable resistance for the last three and a half months).
Sidenote: TheStreet analysts recommended this company a "hold" back in May around $14.25. Next they called it a "buy" in September at $16.00 but reiterated it to a "hold" in mid-November at $16.00.
Looking at the monthly chart pattern, there is a sideways triangle which provides no real prediction. The MACD is also riding directly on the 0 point level which is neutral as well.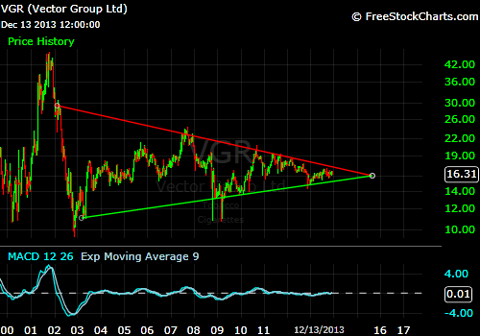 Click to enlarge
Bottom Line
Given that the tobacco industry is highly competitive, and that regulators issue burdensome tax hikes (giving a deadweight loss to both the producer and consumer), maintaining reasonable margins is a difficult task. Vector, with limited market share, is attempting to improve the qualitative side of its business (by adding more brands and improving operations), but clearly there is no corresponding quantitative growth. Investors may speculate and drive this stock higher, but I think there are better alternatives with decent yield for income seekers.
Disclosure: I have no positions in any stocks mentioned, and no plans to initiate any positions within the next 72 hours. I wrote this article myself, and it expresses my own opinions. I am not receiving compensation for it (other than from Seeking Alpha). I have no business relationship with any company whose stock is mentioned in this article.