What it takes to be a winner
Along with Alexion Pharmaceuticals' (NASDAQ:ALXN) ALXN1101, more than 30 "Breakthrough Therapy" designations have been granted since the new accelerated approval pathway's inception. As of December 6, 2013, just three (PDF) have resulted in an accelerated approval. They are Genentech's Obinutuzumab, Pharmacyclics' (NASDAQ:PCYC) Ibrutinib, and Gilead Science's (NASDAQ:GILD) Sofosbuvir. As a potential Alexion investor, I'd like to take a closer look at the winners and the designation's criteria in order to assess the likelihood of ALXN1101's accelerated approval.
Reasons for another expedited pathway
Expedited pathways for life-threatening illnesses lacking available, effective treatments are hardly a recent development at the FDA. However, for patients clearly willing to trade certainty for speed, clinical development requirements were still viewed as far beyond what should be necessary. When a targeted therapy achieves its intended effect on its intended human subjects during early stage clinical trials, traditional late phase trials that last several years seems criminally excessive. The trouble was that prior to the passage of the FDA Safety and Innovation Act of 2012 ((FDASIA)), the requirements for expediting development of clearly effective drugs wasn't as clearly defined as it needed to be.
Birth of a designation
Enter the Friends of Cancer Research, the Brookings Institution and the emerging trend of genetically targeted therapies, especially those paired with molecular diagnostics. After a great deal of lengthy discussions led largely by the above advocacy groups, the FDASIA was signed into law and with it the Breakthrough Therapy designation. The main difference between this accelerated pathway and previous ones is the ability of the regulator to work closely with applicants to ensure an acceptable level of safety and efficacy without necessarily jumping through every hoop prior to approval.
Habits of highly successful breakthrough therapies
First let's look at the stated criteria from the regulator and see how the winners fit the bill. The first of two criteria stated in Section 902 of the FDASIA is an easy one. It insists the FDA can only grant the designation to therapies intended to treat a "serious or life-threatening disease or condition."
Both Obinutuzumab and Ibrutinib are indicated for blood cancer indications, which clearly fit the bill. Sofosbuvir's Hepatitis C indication also hits the mark, although it has a much higher survival rate than Chronic Lymphocytic Leukemia (CLL). I don't mean to downplay the seriousness of Hepatitis C, but if we're looking for the lower end of what can be considered "serious or life-threatening" enough, Hepatitis C is it.
Alexion's ALXN1101 is intended to replace a naturally occurring enzyme, cPMP. Dysfunction of the enzyme leads to the metabolic disorder called Molybdenum Cofactor Deficiency (MoCD) Type A. MoCD is possibly as serious and life-threatening as a condition can be. It affects newborns resulting in irreversible neurological damage from the accumulation of sulfite and other toxins in the brain. Untreated with replacement cPMP, MoCD Type A inevitably results in paralysis, then death during infancy.
The second stated criteria is a little trickier. It states that the therapy must "demonstrate substantial improvement over existing therapies on one or more clinically significant endpoints." In one respect, this second round also goes to Alexion's ALXN1101. There simply are no available therapies for MoCD to begin with. But an additional caveat to the second criteria is where the fly gets stuck in the ointment.
According to the FDASIA, the designation must be predicated on "preliminary clinical evidence." In other words, you need to prove it works in humans. To date, there are no clinical studies with ALXN1101 and MoCD patients. What the company does have is a completed Phase 1 single dose study of ALXN1101 in healthy volunteers that should alleviate safety concerns.
Clinical data involving MoCD patients is limited to earlier forms of cPMP replacement therapy, not Alexion's version of the replacement enzyme. There have been extremely encouraging reports of earlier cPMP replacement therapy effectiveness in treating MoCD reported by separate physicians in the Netherlands and Australia. Neither of these cases were using Alexion's cPMP replacement, but it is highly unlikely that ALXN1101 will be any less effective. Currently Alexion is carrying out a global retrospective data collection study to assess the effectiveness of earlier forms of the therapy that may not have been widely reported.
Go ahead and tick the "approved" box
Diseases like MoCD are exactly the sort of situations the Breakthrough Designation is intended to remedy. The number of infants diagnosed with MoCD is exceedingly small, making traditional clinical trials virtually impossible. A double blind trial involving MoCD patients would not only be cruel, but it would certainly prevent a great deal of patients from receiving a life saving medication for years. Luckily, the new FDASIA framework gives the regulator, and drug maker an opportunity to work together closely to ensure level of safety and effectiveness that any parent of a MoCD baby would find acceptable.
For what's it worth
Beginning a long position based on the likely approval of Alexion's cPMP replacement therapy alone would be ill advised. Unfortunately for Alexion's bottom line, the number of reported cases of MoCD is exceedingly low. There are likely less than 10 reported cases per year in the U.S. With a viable treatment and increased awareness, the number of seizure suffering infants properly diagnosed may increase those numbers somewhat, but it's highly unlikely that Alexion will write more than a hundred prescriptions per year for ALXN1101.
Although it might not generate a great deal of revenue, ALXN1101 should have no trouble earning an orphan designation, and the development cost tax deductions, and extended exclusivity that come with it. It is important to note that with ultra orphan diseases lacking any viable treatment, diagnoses often go unreported. Once an effective treatment is made available, patients have a way of coming out of the woodwork. This factor combined with extremely high prices common for orphan therapies should at least allow Alexion to recoup the biologic's development cost.
The bigger picture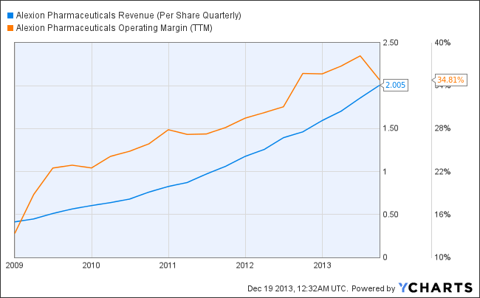 Click to enlarge
(Click to enlarge)
Alexion's focus on serving patients with rare and severe disorders has been wildly profitable. On a DCF basis the company's price of about $123 requires topline growth of about 40% annually, with a steady operating margin of about 35%. For most industries, that type of growth seems ludicrous, but Alexion has managed to grow revenues at a CAGR of 37.1% over the past five years. As you can see above revenue growth has not only been steady, but accelerating somewhat over the past couple years. Just as impressive, the company's operating margin has been growing right along with revenue. With six product approvals expected over the next four years, Alexion is easily worth its extremely high valuation.
Disclosure: I have no positions in any stocks mentioned, and no plans to initiate any positions within the next 72 hours. I wrote this article myself, and it expresses my own opinions. I am not receiving compensation for it (other than from Seeking Alpha). I have no business relationship with any company whose stock is mentioned in this article.