There are rumors of Google (NASDAQ:GOOG) wanting to enter into semiconductor design and development, according to Bloomberg. If the rumors are true, Google could be a significant threat to Intel's (NASDAQ:INTC) dominance in semiconductor design.
Now our very well respected contributor at Seeking Alpha, Ashraf Eassa, leans heavily in favor of Google not wanting to pursue an ARM (NASDAQ:ARMH) based strategy, because of rising costs along with a whole plethora of other reasons. However, I'm here to offer a bit of a different perspective on the topic.
Setting the stage
Besides the difficulty in getting into semiconductors because of the expertise it would require there's no indication that it's completely impossible for OEMs to come up with their own intellectual property for ARM based chips. Apple (NASDAQ:AAPL) and Samsung (OTC:SSNLF) have been able to come up with their own market competitive solutions that have put Qualcomm (NASDAQ:QCOM) at a bit of an arm's-length distance from both companies.
Many in the investment community now believe that Google is trying to directly compete with Intel in the server space, and further vertically integrate the mobile business by designing SOCs in house. If Google is able to design both the chip architecture and software, the efficiency gains could be comparable to what we see in Apple iPhone devices.
I know I make some pretty big claims, but let's think about this for a second. Why would Google spend so much additional cash on R&D over the past couple years when excluding the impact from the Motorola acquisition?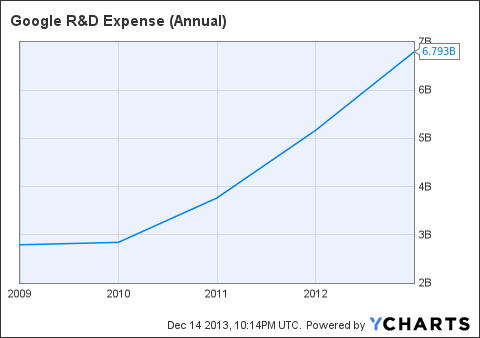 Source: YCharts
Between 2010, and 2013 the amount spent on R&D literally doubled. Google is heavily focused on creating solutions ranging from mobile, cloud, search, telecom, etc.
Here's a quick quote from Ashraf Eassa:
See this job posting? The one that the folks at Bloomberg thought implied that Google was going to build its own chips? Well, Google may be building its own chips, but they sure aren't microprocessors/SoCs. An "ASIC" - which is short for "Application Specific Integrated Circuit" - is a chip that is designed to do a special task. In servers, networking hardware, and storage systems (found in the job listing) there are tons of ASICs that are used to do various functions completely unrelated to what the CPU/primary SoC is responsible. Just because Google may be designing a chip doesn't mean that it's designing anything that it expects to compete with Intel in its datacenters.
But let's face it, creating a slightly better web interface for Google's e-mail, search, and web services doesn't require a capital intensive development team. Part of what makes the web so cool is that it scales without the need for rising development expenses beyond a certain point. Of course in certain rare instances, some companies completely ignore the user interface for excessive periods of time, for example Yahoo! (NASDAQ:YHOO). However, assuming you're not as dumb as Yahoo! and are able to schedule frequent enough updates to user interface, and services over the web, where else could the money possibly go?
Yahoo! only spent $886 million in R&D expenses relating to all of its web properties for fiscal year 2012. Perhaps Google's spending may not necessarily be that pithy in comparison for its own web HTML services, but at the same time I'm willing to estimate that Google does not spend more than $1.5 billion on R&D expenditure related to its web properties, which implies that $5 billion was spent on R&D that was related to stuff outside of web-based development.
Google is a big enough of a spender to potentially catch up to other technology names when it comes to semiconductor design, etc. Plus Google got its hands on a bunch of patents with Motorola, so the real scale of Google's intellectual property investment is in the tens of billions. Combining the acquisition of Motorola Mobility ($12.5 billion), $5 billion per year on non-web-based development, and the acquisition of other technology names, Google is much more dedicated to R&D than Intel. Intel currently invests $10 billion in R&D per year.
So where does the expertise from semiconductors really come from?
Now, before I mention this little-known start-up that was bought out by Google I'll add in a bit of discussion about the history of Google's involvement in mobile. Back in 2005, Google bought out Android for a tidy sum of $50 million. This $50 million investment eventually resulted in Google becoming one of the most dominant players in mobile. The $50 million buyout of Android doesn't represent the financial resources that Google has put towards mobile. Google ramped up its spending on the Android operating system over time, which is why Google doesn't just acquire technology start-ups. It acquires then invests aggressively into start-ups. It's like the total opposite of Warren Buffett's strategy of acquiring businesses. Berkshire Hathaway buys a business and leaves it alone. Google on the other hand buys out a business and invests heavily into it, and tries to figure out a way to integrate start-ups into its long-term business plan of "doing no evil and incremental revenue growth."
But let's fast forward five more years. We'll look specifically at the Agnilux acquisition that was closed on April 20, 2010. Specific details concerning Agnilux are limited as of the present moment. Agnilux basically had guys who were developing chips for mobile devices. In either case, the guys on the team were supposed to be experts at chip development.
If we follow the timeline of how long it took Google to take Android and launch a significant product (about three years) we can apply that same three-year time frame for the 2010 acquisition of Agnilux. So when I add three more years to 2010, I get 2013. Oh, and if I last checked my calendar correctly we're nearing the end of 2013.
So anyhow, Google may have invested just enough into this fixer-upper to really knock the socks off of Intel's development team. In other words, whatever is in store at Agnilux isn't a positive catalyst for Intel shareholders.
2010 was a pretty pivotal year for Google's R&D expenditure. Between fiscal year 2009, and fiscal year 2010, Google's R&D spending jumped from $2.8 billion to $3.7 billion. This was before the acquisition of Motorola, and after the acquisition of Agnilux. What's interesting is that Agnilux was Google's first serious investment into semiconductors. Following the acquisition of Agnilux, Google was suddenly interested in becoming a full blown OEM. So Google then decided to buyout Motorola a year and a half later.
The $1 billion jump in R&D is what's really concerning to me. For the vast majority of 2010, Google bought out companies that were related to Google's social network, search, or mobile OS. None of the acquisitions should have resulted in a significant jump in R&D expenditure with the exception of Agnilux. Agnilux was perhaps the primary reason for a sudden jump in R&D, because all the other companies offered intellectual property to Google's web-based services that already operate at significant economies of scale. If anything Google paid high premiums on patents and attracted small teams of web developers in the process. So I'm becoming increasingly confident that Google has been developing a serious solution for mobile SOCs for quite a while now.
So how qualified are the folks at Agnilux?
Apple needed a group of skilled semiconductor engineers so they bought out Palo Alto Semiconductor in April of 2008 for $278 million. At the time, the top developers that were a part of the Palo Alto Semiconductor team felt that Apple's stock compensation scheme wasn't very good. So they ended up creating another technology start-up called Agnilux. Agnilux was then bought out for a pretty significant sum from Google. The buyout value was undisclosed to the public.
For those unfamiliar to the mobile semiconductor space, Apple's internally developed A-series chips is both cost effective and competitive with other SOCs. Currently, the A7 chip is comparable in performance to the NVIDIA Tegra 4, Qualcomm Snapdragon 800, and Samsung's Exynos Octa Core chips.
So if Google and Apple have employees that were part of the original Palo Alto semiconductor team it's not difficult at all to imagine Google having built a great ARM chip. Also I'm sure Google increased the number of employees that were a part of this team without having to advertise over an HR website. This is because hardware engineers are often brought into technology organizations secretly through a process of referrals. Their technical expertise is heavily prized, and the only way to know a good hardware engineer is to be one. When you are a great hardware engineer you tend to know other people who are also good at IC development. Hence, Google's rapidly rising R&D paired with its acquisition of Agnilux in 2010 could be a great starting point for substantiating the validity of Bloomberg's recent article.
According to Bloomberg:
Google is Intel's fifth largest customer, according to Bloomberg supply chain analysis. The search provider spends at least $500 million on Intel server chips each year, said Christopher Rolland, an analyst at FBR Capital Markets. Designing and building server chips from scratch would take up to three years, he estimates.
What's interesting is that Christopher Rolland estimates that it would take three years to build a server-class chip. Well hasn't it been three years since Google's acquisition of Agnilux?
Also accord to Bloomberg:
By using its own designs, Google could better manage the interactions between hardware and software, said the person familiar with the matter, who asked not to be identified because the discussions are private. Google, among the largest buyers of server processors, has made no decision and plans could change, said the person.

"We are actively engaged in designing the world's best infrastructure," said Liz Markman, a spokeswoman for Google, in an e-mail. "This includes both hardware design (at all levels) and software design."
Well isn't it interesting that Google acknowledged a long time ago that it would have to develop dedicated IP to its own ecosystem. Perhaps, Motorola has an edge that we really don't know about.
With Samsung busily carpet bombing ads and selling cheap phones in emerging markets, while also refreshing products the fastest, perhaps Google's biggest competitive challenge is Samsung and not Apple right now.
So what in the heck is going on in technology?
Okay, so we're now starting to see ecosystem climb upwards. This means that the war between major tech titans has been about building global scale in every aspect of the tech business. Typically the upstream was thought to be a very safe bet, especially because they're insulated by patents and expertise. But this type of advantage comes at a heavy cost to companies who want to develop devices across multiple form factors (Microsoft, Apple, and Google).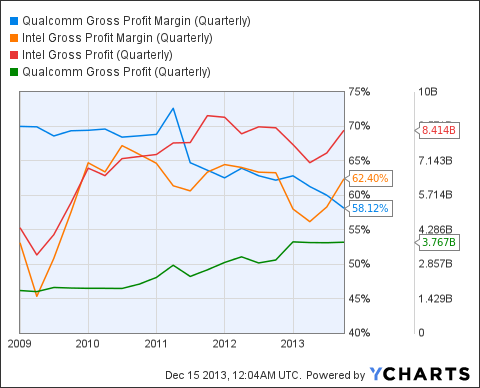 Source: YCharts
To put this in perspective, all the gross profit that Intel and Qualcomm earns is a cost that Apple, Google, Samsung, and Microsoft (NASDAQ:MSFT) have to pay for. By being able to avoid these costs they can build devices that can integrate with the software a little better, and push costs down. Assuming Apple and Google are able to spend a similar amount of cash on R&D and develop comparable chips, they can avoid the high mark-ups that Intel and Qualcomm currently charge.
This leads me to think that businesses in Silicon Valley will trust each other less and less with intellectual property, partnerships, etc. The lack of trust is evident in the way companies are moving away from a dependence on each other, and are now developing ecosystems that become more and more differentiated over time. Everything from the hardware to software will be different between iOS, Windows, and Android. Plus, if Samsung's rumored Tizen OS is true, perhaps a fourth ecosystem will emerge that has both software and hardware that's on par with its competition.
Intel's roadmap doesn't answer the concerns that OEMs currently have
You see, Intel isn't cheap, will never be cheap, and can't be cheap. Intel knows what it's worth because it has priced itself at levels that consistently maximize profits. Sure, we know that Intel's roadmap is compelling, but neither Apple, nor Samsung see Intel as a long-term partner. Plus, if Google can create compelling SOCs for mainframe CPUs, Facebook (NASDAQ:FB) and other data centers will be all over it. I'm not making an empty accusation earlier!
Facebook's Director of Infrastructure, Jason Taylor, states he's interested:
One of the things that's been a very popular idea in the mobile world and other embedded processors is this idea of a system on a chip. So when you build servers and you build them over and over again you notice that the CPU, the PCH the Nick [ph], they are all the same. So there are some components that you always buy together when you build a server. Fundamentally these are all just standard IC chips and so what system on a chip is this is a popular idea that's gaining some traction is to -- when you're building a processor, build a regular processor but then leave a little bit more silicon licensed Nick design, licensed PCH and essentially put all of that onto the same processor.

If you're buying three component all at a time, one I just buy one component. And so system on a chip does that, and the non-obvious win with system on a chip is it simplifies the rest of the computer. So when you're building a motherboard, when you're building pretty much any modern server you might have an eight layer border, got even a 12 layer board that has a lot of complexity, or if you pull in a lot of the components into a single chip then all of this becomes a much simpler design and simpler mean higher yield, which means much cheaper. So pulling these things together, the stuff we buy anyway all the time, system on a chip design is really nice one.
The basic rundown of Jason Taylor's statement is that SOCs can be better server class chips than what Intel currently offers. This is a huge whammy for Intel shareholders as no one can question the credibility behind Jason's statement because he runs one of the largest data centers in the world.

Source: Intel
However, Intel isn't completely absent from mobile SOCs as this roadmap shows that Intel isn't dumb, but its competitive positioning isn't the greatest. Assuming Google, Samsung, and Apple continue to build expertise in ARM based design the number of competitors in the semiconductor space could explode.
Sure Intel is the specialist, but Intel actually has to earn profit from selling chips as an upstream vendor. The chips that are being designed at Google, Samsung, and Apple already have an end-market in mind, and costs are recouped at full retail pricing rather than wholesale pricing.
Conclusion
The theory behind Google's ARM processor should not be ignored. Technology is going vertical, and while there are many plausible arguments that could work against the idea of Google making its own processors in-house. There's definitely a team at Google working on designing chips, and they have been at work for quite a while. What's not certain is whether or not this team designed a chip that's on par with Apple's A series or Samsung's Exynos Octa-Core.
Given the rumors it seems that Google's team has been able to design a SOC that is just as effective in data centers and could be exceptionally price competitive when compared to Intel's Xeon series of processors. Also, there are credible people in the data center field that believe in using SOCs (ARM based designs) as a cost competitive alternative to Intel and AMD processors (X86).
We can also argue that Intel has the most advanced fabrication process, and that Bay trail could drive meaningful market share in mobile. The market share will not come from Apple, Samsung, and Google/Motorola. This means that Intel will heavily depend on Microsoft's mobile roadmap and other Android OEMS like Sony, Huawei, Lenovo, HTC, and LG to drive meaningful business to the bottom line. With Qualcomm selling the most powerful Snapdragon processors at $20, Intel's premium position will have limited pricing power. So even if Intel comes to market with an awesome lineup of mobile CPUs, Intel won't have any negotiating power, which negates Intel's ability to maximize profitability from its mobile solutions segment.
In a future article I plan on providing a more accurate outlook on future earnings, server shipments, and mobile shipments given the current condition of the mobile, consumer PC, and data center ecosystem. Thanks for reading, and I look forward to reading your comments.
Disclosure: I have no positions in any stocks mentioned, and no plans to initiate any positions within the next 72 hours. I wrote this article myself, and it expresses my own opinions. I am not receiving compensation for it (other than from Seeking Alpha). I have no business relationship with any company whose stock is mentioned in this article.