Rio Tinto (NYSE:RIO) is one of the largest mining conglomerates in the world, involved in processing the earth's minerals. RIO has been growing since its humble inception in 1873 through strategic M&A activity, to become one of the largest players in the global mining industry. The company's products are divided into 5 groups: Aluminum, Copper, Diamonds & Minerals, Energy, and Iron Ore.
RIO, like all its peers, is exposed to commodity risk. Selling its commodities at market prices, as opposed to entering into price hedging agreements, is common practice. Albeit with the current market, hedging will only do so much. The chart below depicts 99.8% of RIO's 2012 revenue segmentation from its product groups.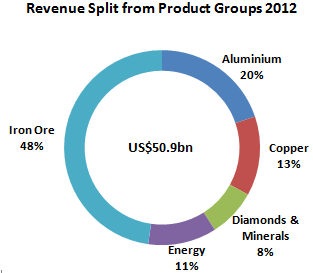 Iron ore represents close to half of RIO's revenues, hence it is mostly exposed to commodity risk related to iron ore, the biggest seaborne traded commodity after oil. A vast majority of RIO's iron ore is exported to China. With the decline of China's growth, and projected growth, the price of iron ore has also declined.
RIO's iron ore revenue growth declined 17% in 2012 even though production was up 4%. This was mainly attributed to lower iron ore prices, with prices falling in 2013 to US$118 per tonne (FOB Western Australia averaged in Q2 2013), down from an average of US$141 per tonne in Q1. A large bulk of iron ore is sourced from Australia by RIO. This fall in price can be attributed to both a reduction in expected demand as well as an increase in capacity. Iron ore is anticipated to reach US$91 a tonne in 2018 by the Australian Bureau of Resources and Energy Economics, while Goldman forecasts iron ore to be priced at US$95 a tonne in 2015. It is also forecasted that in the medium term, iron ore supply will start to outstrip demand, creating a surplus. All other major commodities that RIO operates within suffered from declining prices, with the exception of diamonds in this current period.
RIO is reacting to this negative iron ore price outlook. On November 28, 2013 RIO announced that it will pursue a new strategy, postponing more expensive Greenfield iron ore mines, and shifting to upgrading Brownfield mines. This revised strategy will save US$3bn and bring production up to 330mn tonnes by 2015. An astute move, considering production under the previous strategy planned to reach 360mn tonnes by 2015, with current production at 199mn tonnes.
Some have questioned this expansion strategy in the current iron ore market as a contributing factor to the fall in iron ore price. However, a motive for an increase in capacity could sustain RIO's iron ore market share. RIO's iron ore is indeed a profitable commodity, costing RIO about US$20 per tonne from Australia, as reported by Bloomberg's Dan Petrie.
RIO is also presumably trying to strengthen its balance sheet, improving it so that it can endure more in this current commodity market. It has reduced its CAPEX by 9% in H1 2013 with further planned CAPEX reductions up to the medium term. It has also reduced personnel by 2,200. Closure of non profitable locations is also another tactic being used, such as the Gove alumina refinery in Australia. These combined measures have been taken to improve RIO's balance sheet with an aim of reducing net debt. Consequently, these actions will likely prepare RIO for the current and future commodity markets.
It is unlikely that RIO's FY2013 revenues and margins will be as strong as those of 2011. 2013 half year revenues are down 4% compared to the first half of 2012, with underlying earnings down 14%. A rebound in iron ore prices most likely spurred by a revitalized Chinese economy is a hope of many, but unlikely in the short term. However in the long run Chinese urbanization, accompanied by growth from the Far East nations, India, and the Middle East could improve commodity markets, according to Sam Walsh, RIO's London CEO.
This stock peaked in 2011 Q1 when iron ore prices were on top. Since that peak, iron ore prices have been falling, dragging with it RIO's bottom line and share price. It is expected that RIO's FY2013 results will be weak, possibly with another net loss. This will most likely push RIO's share price further down, in the short term.
RIO's financial performance decline has not eliminated or reduced dividend payments as dividends per share increased by 15% in 2012. RIO's interim 2013 dividend payout was 89.7%, quite high with management possibly trying to maintain stock value.
RIO, according to Yahoo Finance, has a beta of 1.93, meaning it is expected to perform much better (almost twice) if the market performs well. This stock's performance is strongly linked to economic performance, as economic performance and commodity prices are strongly correlated. If the economic outlook changes it is expected the outlook for this stock will also change.
There is no doubt that RIO is under some stress due to the decline in commodity prices, especially iron ore. However, I believe this company will be able to sustain this pressure in the medium to long term. RIO is shifting towards larger volume trading, reducing CAPEX & costs, and finally concentrating on profitable products and locations. This is anticipated to enhance RIO's financials, generating more revenues and thickening margins. This company is on track and has the right strategy going forward to come out of this commodity market and see its performance improve over the long haul.
Disclosure: I have no positions in any stocks mentioned, and no plans to initiate any positions within the next 72 hours. I wrote this article myself, and it expresses my own opinions. I am not receiving compensation for it (other than from Seeking Alpha). I have no business relationship with any company whose stock is mentioned in this article.