Long before the FOMC outcome became public, world indexes were in rally mode. The Nikkei had closed up 1.6% and the EURO STOXX 50 was up more than a percent. The S&P 500 opened fractionally above Tuesday's close and hovered in a narrow range until the 2 PM press release. The index reacted with an immediate double-take on the news of a tiny taper -- instantly plunging to its -0.73% intraday low before accelerating to its 1.69% intraday high. It closed moments later with a 1.66% gain, which is a new all-time closing high. It will be interesting to see if Santa will now take the reins from Bernanke and extend the rally through the holiday season.
Here is a 15-minute look at the week so far.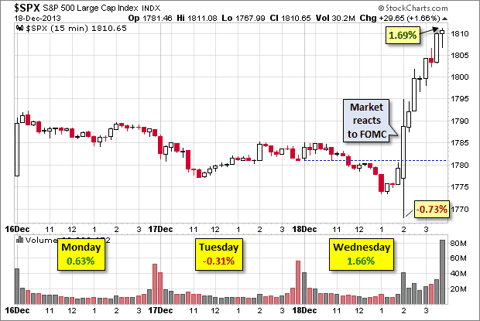 Click to enlarge
Volume was an impressive 41% above its 50-day moving average, although the actual number of shares traded only ranks in 12th place for the year.
An interesting detail in yesterday's chart is that the intraday low was a perfect bounce off the index's 50-day moving average.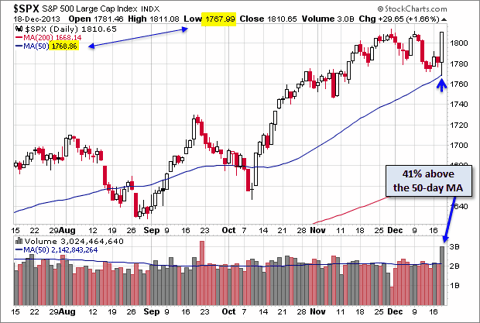 Click to enlarge
The S&P 500 is now up 26.96% for 2013.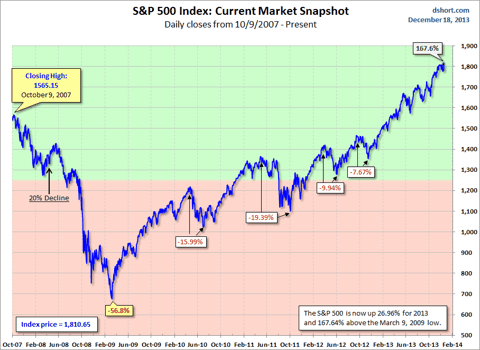 Click to enlarge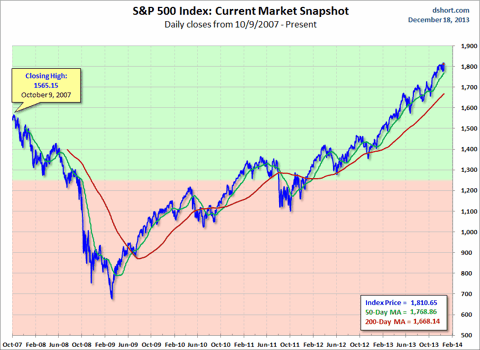 Click to enlarge
For a better sense of how these declines figure into a larger historical context, here's a long-term view of secular bull and bear markets in the S&P Composite since 1871.