As active investors know, 3D-printing stocks may hold promise for some legendary riches during the coming decade-or two. Article after article tout the industry as the next best thing to-you name it: PCs, computer software, copy machine, search engine technologies, or the 'revolution' of the wheel, as the tone of one articles read.
Three Cornell Researchers 3D-printed a working speaker. That's correct, a working speaker, "that's ready to use almost as soon as the printer stops," according to a top-tier computing magazine.
"Many people wonder whether 3D printing has reached its peak, whether this is a hype cycle that's now at its maximum," Hod Lipson, associate professor of mechanical and aerospace engineering at Cornell University, told PC Magazine on Dec. 17. "But really, I think we've only seen the tip of the iceberg of this technology."
Well said.
But, somewhere in all that hype and fanciful stories is a trade-a trade that will bless you with a huge capital gains tax sometime within the next decade.
After all, an industry projected to reach a cool $1 trillion dollars (a quadrillion if the Fed keeps up its QE to infinity train) by 2025 is a lot of money to cram into a space with only several names (so far) racing for market share.
Which Stocks Do We Buy?
Therefore, if you're sold on 3D-Printing, as I am, the question then becomes: which stocks should we own for the grand ride?
The simplistic and low-aerobic answer is: All of them.
Let me clarify. At this stage of maturity, betting on the race itself is a much better statistical play than choosing winners. How many knew Google (NASDAQ:GOOG) would emerge as numero uno early on during the epic search engine fight of the late 1990s and early 2000s (though the stock wasn't IPOd until 2004)?
However, the only snag in the diversification plan, however, is, that a 3D-printing Exchange Traded Fund (ETF) doesn't exist yet (1) .
So we'll have to make one. Right?
That's step number one.
Step number two involves timing the purchases of your 3D-printing ETF-a critical the difficult step needed to enhance overall returns throughout the least amount of time.
So, tackling step number one, first, is the easy step. The four 3D-printing plays out there which could serve as the foundation of your ETF are:
3D Systems (DDD) - $81.99
Market Cap: $8.43 billion
Forward P/E (Dec. 31, 2014): 64
Price-to-Book: 9.31
Quarterly Revenue Growth (y-o-y): 49.9%
Quarterly Earnings Growth: 30.6%
PEG Ratio (5-year expected): 3.77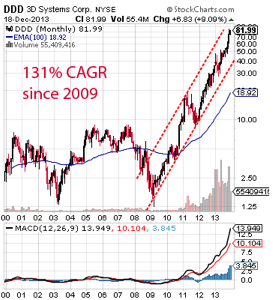 Stratasys (SSYS) - $120.11
Market Cap: $5.85 billion
Forward P/E (Dec. 31, 2014): 51.11
Price-to-Book: 2.31
Quarterly Revenue Growth (y-o-y): 152.6%
Quarterly Earnings Growth: N/A
PEG Ratio (5-year expected): 6.46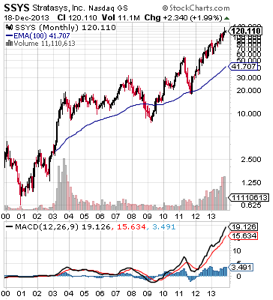 ExOne (XONE)
Market Cap: $756 million
Forward P/E (Dec. 31, 2014): 122.28
Price-to-Book: 5.07
Quarterly Revenue Growth (y-o-y): 36.5%
Quarterly Earnings Growth: N/A
PEG Ratio (5-year expected): N/A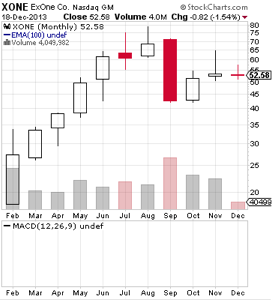 VoxelJet (VJET)
Market Cap: $356 million
Forward P/E (Dec. 31, 2014): 356.7
Price-to-Book: 250.28
Quarterly Revenue Growth (y-o-y): 77.0%
Quarterly Earnings Growth: N/A
PEG Ratio (5-year expected): N/A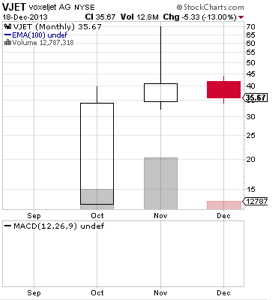 Okay, so we've put these four stocks on our watch list. Weight them evenly, arbitrarily, by market cap, or by some other metric.
Personally, I'd weight them by market cap. So the allocation based upon a collective market cap for DDD, SSYS, XONE and VJET equates to 54.7%, 38.1%, 4.9% and 2.3%, respectively.
How Much Do We Pay?
On to the second step, the step that requires the patience and commitment to successfully strike following the inevitable "hiccup," as Barron's Tiernan Ray puts it.
"The bulls are on the right side of history, and they've recently been on the right side of the stock market, but that won't necessarily last," argues Tiernan Ray of Barron's . "At some point, there will be a hiccup in one or more of the quarterly results; and valuations; the valuations of these [3D-Printing] stocks won't provide any wiggle room, and the shares will correct."
In other words, at what price do we buy these four to add to our ETF?
A pretty good metric, the metric I use to target a price of a stock undergoing a major secular correction is the 100-month Exponential Moving Average (EMA). Though as flawed as any other timing tool and no more comforting during a vicious sell-off, the 100-month EMA has called the roughly-marked bottom in rather significant secular declines of Microsoft Corp. (MSFT) in 2000, Apple (AAPL) in 2008-9 and Oracle Corp (ORCL) in 2001, to name only a few choice examples.
Which means, for our 3D-Printing ETF, these fab four need quite the spanking before we pull out our checkbooks.
In the case of DDD and SSYS-the only two tickers with long enough trading histories - 70% declines are in order. And as a guide, shaving off 70% (may change through time, of course) from the stock prices of XONE and VJET may work out for us, as other traders assess (arbitrage) the haircut needed to these newcomers to the exchanges.
Final Word
Put DDD, SSYS, XONE and VJET on your super-wish list, but don't chase them, especially at these valuations and media exposure. Let the story get old, earnings disappoint and the stocks get trashed before taking that long-term stake. And watch them periodically for the coming secular breakdown. Then strike!
Note: (1) Sorry, Stoxx Global 3D Printing Pure Play Index (SXG3DPP) and the Robo-Stox Global Robotics and Automation Index ETF (NASDAQ:ROBO) don't cut it.
Disclosure: I have no positions in any stocks mentioned, but may initiate a long position in DDD over the next 72 hours. I wrote this article myself, and it expresses my own opinions. I am not receiving compensation for it (other than from Seeking Alpha). I have no business relationship with any company whose stock is mentioned in this article.