Earlier this year, a poll of Analysts done by Reuters estimated that by 2020 6.3 Bcf/d of natural gas will be exported from the United states via LNG terminals (link). It is obviously a conservative view as seen by many companies, because thus far we have over 18 Bcf/d capacity worth of projects proposed by firms.
List of Proposed Projects (link):
-FreeportTX: 1.8 Bcf/d (Freeport LNG Development LP)
-Corpus ChristiTX: 2.1 Bcf/d (Cheniere) (NYSEMKT:LNG)
-Coose Bay, OR: 0.9 Bcf/d (Jordan Cove Energy Project)
-Lake Charles, LA: 2.4 Bcf/d (Southern Union-Trunkline LNG) (NYSE:SUG) - Approved
-Hackberry, LA: 1.7 Bcf/d (Sempra-Cameron LNG) (NYSE:SRE)
-Cove Point, MD: 0.82 Bcf/d (Dominion-CovePointLNG) (NYSE:D) - Approved
-Astoria, OR: 1.25 Bcf/d (OregonLNG)
-Lavaca Bay, TX: 1.38 Bcf/d (Excelerate Liquefaction) (ELS)
-Elba Island, GA: 0.35 Bcf/d (Southern LNG Company) (NYSE:SO)
-Sabine Pass, LA: 1.3 Bcf/d (Sabine Pass Liquefaction) - Approved
-Lake Charles, LA: 1.07 Bcf/d (Magnolia LNG)
-Plaquemines Parish, La: 1.07 Bcf/d (CE FLNG) (OTCPK:MISM)
-Sabine Pass, TX: 2.1 Bcf/d (Exxon-Mobil-GoldenPass) (NYSE:XOM)
In addition to the proposed projects, there are also potential projects identified with export capacity of almost 13 Bcf/d. Total current US natural gas daily production is just over 80 Bcf/d, according to latest EIA data, so the proposed projects alone amount to almost a quarter of total current production. We should remember that the United States is still a net natural gas importer. If all these export terminals will be approved, US natural gas production will have to rise by 18 Bcf/d in order to meet export demand as a result of the infrastructure in place. This need for production is in addition to expected increase in domestic natural gas demand, which will likely be fueled by increased industrial and transport demand.
We should not neglect the fact that while there are a number of natural gas extraction projects, mainly in the form of shale gas, which still has great potential for production increase there are also many fields in decline. Declining fields include shale gas fields, which only started significant hydraulic fracturing production less than a decade ago, such as the Barnett, Fayetteville, Niobrara and Haynesville. The low price of natural gas we currently enjoy is the reason most often cited for these fields being in decline only half a decade into the hydraulic fracturing revolution. The US spot price seems to have bottomed a year ago at $2, and is now trading at over $4, so we shall soon see whether these fields can reach new peaks in production as a result of price stimulation.
Lessons from EIA data on tight oil & gas.
The EIA tight oil & gas drilling productivity report has been a very useful source of data since they started publishing in October, which helps us better understand the current fracking revolution and its likely trajectory. Data such as monthly legacy decline, which essentially tells us how much new production needs to be added each month to offset decline from existing wells is very useful, especially since historical data going back to the beginning of the fracking revolution is provided, giving us a good sense of trajectory as well as factors affecting decline in rates.
One of the shale gas fields covered in the monthly report is Haynesville, which is already far past its peak and now produces 40% less gas than it did at its peak reached two years ago. The thing I find most intriguing is the fact that as the rig count dropped five fold from its peak almost three years ago, so did the legacy production decline. In 2011, almost 600 mcf/d of production was lost every month from existing wells. Now it is 370 mcf/d.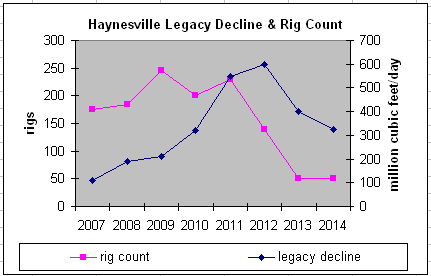 What this data tells us is that any increasing trend in drilling activity due to an increase in gas price will be accompanied by a corresponding increase in legacy production decline rate. What this means is that even ending and reversing the current trend of production decline will be hard, never mind reversing the field's peak. Therefore, the fields that already peaked, most likely did so permanently.
There are still many fields, which are currently expanding production, most important of them all being the Marcellus field. It is important however to understand that this continued production expansion is not going to last a very long time. Most fracking driven production expansion trends in the fields that already peaked lasted a very short time. On average, it took only five years from the start of production ramp-up to decline. The Marcellus will likely take considerably longer due to size and most likely increased price of gas, but we should not expect it to continue expanding production beyond 2020. Current legacy production decline in the field is 193 mcf/d per month. From the time that EIA started releasing the tight oil & gas drilling productivity data in October, the legacy decline rate increased by 22 mcf/d per month. Production addition will be just over 600 mcf/d for the month of January. If production increase rate were to stay the same, while legacy production decline rate will increase at the pace we have seen in the past three months, Marcellus shale gas production would reach a peak in just five years. At that time, US natural gas production will reach a peak as well. Price, technological changes and a few other factors could postpone this peak by a few years, but not much beyond 2020.
In light of this, investing about $5-6 billion for every 1 Bcf/d of export capacity (cost estimate based on current estimated costs of various facilities such as this one), just to see most of it remain idle, if the gas will turn out to be unavailable for export in the longer term, seems to me like a waste of resources on the part of the companies involved in these projects.
It remains to be seen how many of these proposed projects will actually be approved and built, but the projects that were already approved have a capacity of more than 6 Bcf/d. Hopefully, some of the companies involved in these project proposals will realize the potential for loss on these investments and pull out before things get too far and it's too late to minimize losses. If these companies do not sober up before it is too late, we could count them to be among the victims who bought into the shale oil and gas revolution over-hype and got burned as a result.
Disclosure: I have no positions in any stocks mentioned, and no plans to initiate any positions within the next 72 hours. I wrote this article myself, and it expresses my own opinions. I am not receiving compensation for it (other than from Seeking Alpha). I have no business relationship with any company whose stock is mentioned in this article.