Welcome to the deepest dive into the 3D printing sector, what the different business models are all about, and how a fair value for shares can be calculated in this hot technology space. It is important to understand the difference between all of the companies involved in this area in order to separate the firms with real potential from the pretenders that are simply riding the coattails of the others. In recent weeks, we have witnessed several companies' stock prices soar by being mentioned as players in this technology, even with no real products or revenue to show. We need to look into the various technologies and product holdings and analyze each of those individually, then analyze how it pertains to a portfolio for the future and the potential of those businesses.
We hope that potential investors are presented with a thorough and comprehensive view of the 3D printing sector, and at the end, can look at the facts presented and the insightful research in order to support our decision to buy or sell shares in the various companies examined. The discussion begins with an overview of the 3D printing technology and the different businesses and potential products being developed.
What is 3D Printing and the History Behind the Technology?
The 3D printing technology began in 1986, but did not gain importance until 1990. It has traditionally not been popular outside the world of engineering, architecture and manufacturing and is still in the very early stages of applications to multiple industries.
3D printing is also known as desktop fabrication. For creating an object, you need a digital 3D model. You can scan a set of 3D images, or draw it using computer-assisted design or CAD software. The digital 3D model is usually saved in STL format and then sent to the printer. The process of "printing" a three-dimensional object layer-by-layer with equipment is quite similar with ink-jet printers, and we believe this is the most difficult aspect of the technology that those not familiar with it have trouble visualizing it.
Nowadays, almost everything from aerospace components to toys are being built with the help of 3D printers. Potentially, one of the most important applications of 3D printing is in the medical industry. With 3D printing, parts of a patient's body can literally be built cell by cell. 3D printing can provide great savings on assembly costs because it can print already assembled products, and that is why this is such a disruptive technology to multiple industries. 3D printing is going to impact so many industries, such as automotive, medical, business & industrial equipment, education, architecture, and consumer-product industries. Many different materials can be used for 3D printing, such as plastic, polyamide (nylon), glass filled polyamide, stereolithography materials (epoxy resins), silver, titanium, steel, and wax.
Companies Involved or Mentioned in 3D Printing Recently - Separating Players from Pretenders
As of late, many new companies have emerged in this space, and investors are having difficulty separating the true players from the posers. The stocks of all of these companies have been extremely volatile lately, and understanding each company, its technology and the supporting fundamentals, are key when making an investment decision in this space. Expect some ups and downs in the short term, but long term, 3D printing will provide investors great returns, as long as investment are evaluated wisely and not based on hearsay.
3D Systems (NYSE:DDD) - 3D Systems Corporation develops, manufactures and markets 3D printers, print materials, on-demand custom parts services, and 3D authoring solutions for professionals and consumers. Its 3D printers convert data input from computer aided design [CAD] software or 3D scanning and sculpting devices to produce physical objects from engineered plastic, metal, and composite print materials. 3D Systems' market cap is currently $8.32 Billion.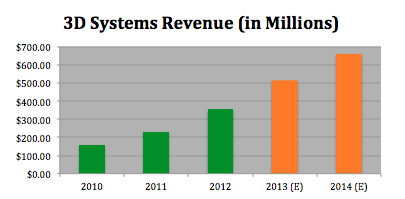 Stratasys (NASDAQ:SSYS) - Stratasys Ltd. provides additive manufacturing [AM] solutions for the creation of parts used in the processes of designing and manufacturing products and for the direct manufacture of end parts. Its AM systems utilize its patented deposition modeling [FDM] and inkjet-based technologies to enable the production of prototypes, tools used for production, and manufactured goods directly from three-dimensional [3D] CAD files or other 3D content. The company offers desktop 3D printers for idea and design development, a range of systems for rapid prototyping, and production systems for direct digital manufacturing. Stratysys currently has a market cap of $5.85 Billion.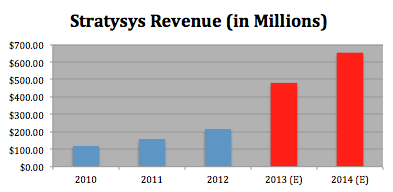 ExOne (NASDAQ:XONE) - The ExOne company engages in the development, manufacture, and sale of three dimensional printing machines and printing products in the Americas, Europe, and Asia. The company markets its products to industrial customers in the aerospace, automotive, heavy equipment, energy/oil/gas, and other industries. It currently has a market cap of $758.34 Million.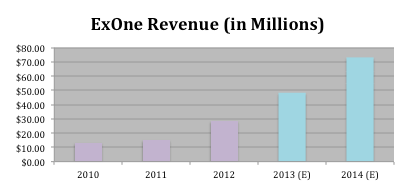 VoxelJet (NYSE:VJET) - Voxeljet AG provides three-dimensional [3D] printers and on-demand parts services. Its 3D printers employ a powder binding additive manufacturing technology to produce parts using various material sets. The company operates in two segments, Systems and Services. The Systems segment focuses on the production, development, and sale of 3D printers. The Services segment prints on-demand parts at its service center through its 3D printers, material sets, and in-house finishing capabilities. The company provides its 3D printers and on-demand parts services to industrial and commercial customers in automotive, aerospace, film and entertainment, art and architecture, engineering, and consumer product end markets. VJET has had some questions asked about financing terms offered to its customers, but the company does have the industry's only continuous 3D printer. Investors should keep an eye on earnings and the next conference call for this company for some clarity on these issues. VoxelJet's market cap currently sits at $378 Million.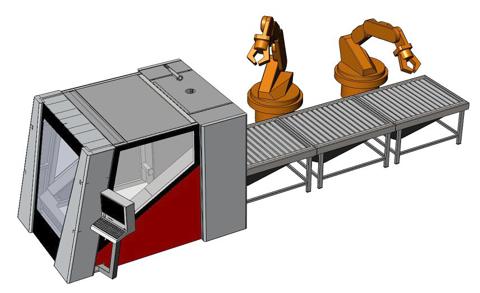 Organovo (NYSEMKT:ONVO) - Organovo Holdings, Inc. develops three-dimensional [3D] bioprinting technology for creating functional human tissues on demand for research and medical applications. The company's 3D bioprinting technology works across various tissue and cell types, and allows for the placement of cells in the human body. It offers the NovoGen MMX Bioprinter, a commercial hardware and software bioprinter platform to create tissues for research and development. It is another early stage company with what sounds like a great technology. The company recently filed for a secondary share offering. Investors should wait and see as this company develops the technology and begins to generate more revenue. Organovo's market cap is currently $721.78 Million.
Camtek Ltd. (NASDAQ:CAMT) - Camtek designs, develops, manufactures, and markets automatic optical inspection [AOI] systems and related products. AOI systems are computerized systems that optically inspect various types of electronic product components for defects caused during the manufacturing process. The company recently clarified exactly how involved the firm is with 3D printing by saying:
We are now in the advanced stages of the development of the GreenJet, a digital 3D printing system used for the deposition of solder mask designated for the printed circuit board industry (the "GreenJet System"). The first installation of the GreenJet System for evaluation in a customer's manufacturing environment is expected to take place in the beginning of 2014 and, subject to the results, the company expects the first commercial sales of the GreenJet System to take place during 2014.
This is an extremely early stage product with no proven results. A very speculative play in the 3D printing space that had its 15 minutes of fame when it was heavily covered for about a one week period. CAMT has been extremely volatile and has seen the company's market cap approach almost $200 Million within the last couple of weeks, but the recent pullback places the company value at $116.88 Million.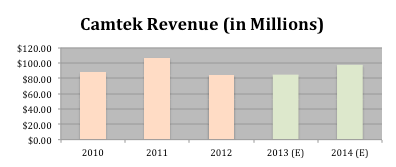 Industries Impacted by 3D Printing
Three-dimensional printing will have a major role in future manufacturing. Up until now, 3D printing has been most useful in creating prototypes, but 3D printers will increasingly produce critical parts and finished products in many of today's major industries. The following are the major industries that have already seen the impact of 3D printing and its increased role in the economy.
Food: Food products such as chocolates that are shaped like company logos, names, and other unique objects will be widely printed. Anything that can exist in liquid or powder form - in other words, ingredients that can then be extruded through a nozzle or syringe - can be printed. This includes sugar, cheese, sauces, and others. Estimates show that by 2020, food will potentially make up 5% of the overall 3D printing market.
Medicine: Medical solutions will be more customized for individual patients. Any simple soft-tissue organ such as an ear, finger, or kidney can be 3D produced and will soon be widely used. Metal hip implants, skull implants, orthopedic insoles, body braces, and jaw transplants have already been manufactured on 3D printers. This is where Organovo has entered the discussion as a player in the 3D printing space in the field of medicine, as the company has been attempting to produce living cells and tissues through the use of 3D printers. This is currently the highest growth area in the space, and by 2020, could approach roughly 25% of the overall 3D printing market.

Military: Much of the machinery for the military is complex and produced in relatively low volumes. Many parts are custom and replacement parts are constantly needed. We will see the instant production of replacement parts on-site in remote locations through 3D printing. The first 3D printed gun was already created earlier this year, raising new questions about potential regulations posed by the government in this space. As technology continues to develop, this is another high growth area in this space that could approach 5% of the overall market by 2020.
Electronics: Designing and 3D printing electronics with optimal shape and styling properties will be common. 3D printing is ideal for the complex geometric features needed in small, compact electronic circuit boards that use multiple materials ranging from low conductivity plastics to high conductivity metal materials. Headphones and other consumer electronic products and components have seen a significant impact from 3D printing. Electronics is one of the early movers in this technology space, as companies offering these products have seen the benefits of 3D printing already. By 2020, the electronics area of business is expected to provide roughly 20% of revenue in the 3D printing industry.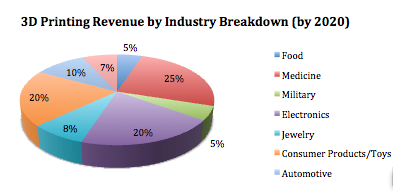 Jewelry: Jewelers will potentially abandon traditional manufacturing processes and use 3D printing to create custom, limited-edition chains and necklaces. Companies can instantly produce beautiful pieces that previously required large-scale, complex, and expensive machinery. As long as the materials are available, these new 3D printers along with CAD technology with allow companies in this space to move away from traditional methods of production. This will be a great technology for this industry as these significant price reductions in cost will be able to be passed on to consumers. By 2020, the jewelry area will potentially make up about 8% of total industry revenues.
Consumer Products and Toys: Children can potentially download 3D design files for the toys, modify, and customize them endlessly, and then 3D manufacture them at home. Many companies like Oakley sunglasses are already utilizing 3D printing as well as many other consumer electronic accessory companies looking to cut costs, but not quality. Consumer products and toys is currently the largest portion of industry revenues right now in this space and by 2020, will make up about 20% of revenue in 3D printing.

Automotive: 3D printing will manufacture vehicle parts and even whole cars. High-end, specialty cars that have relatively small production runs will particularly benefit. Motorcyclists and bikers will also be able to order customized helmets that are printed to fit the biker's individual head size and structure. Automotive on demand parts are an extremely interesting part of this business and will be a significant portion of business for all companies in this space going forward. It is expected that by 2020, automotive parts will constitute 10% of total revenues.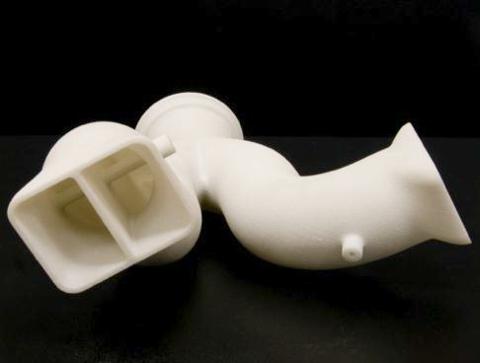 The Future of 3D Printing
The 3D printing industry is poised for huge growth in the next several years. By 2021, the industry should hit upwards of $10.8 Billion, with a compound annual growth rate of a healthy 23%. Much of that growth will come from the healthcare, manufacturing, and aerospace industries. Although the Americas currently lead the world in this new technology space, Europe is slated to surpass it in terms of revenue by 2020.
Factors contributing to the 3D printing industry's growth include advances in technology, the ability to shrink time frames, expiring patents, and heavy government investment. The industry will push into more materials such as polymers, metals and alloys, ceramics, sand, and even living tissue. The bottom line here is that the 3D printing industry is wide open and poised for continued innovation and investing as it is only in the infant stages. Companies getting in on the ground floor of a global explosion will reap huge benefits for years.
In 2013, combined end-user spending on 3D Printers will reach $412 million, up 43 percent from spending of $288 million in 2012. Enterprise spending will total more than $325 million in 2013, while the consumer segment will reach nearly $87 million. In 2014, spending will increase 62 percent, reaching $669 million, with enterprise spending of $536 million and consumer spending of $133 million.
As the products rapidly mature, organizations will increasingly use 3D printing's potential in the company's product development and manufacturing operations. In the next 18 months, we see potential consumers moving from being curious about the technology to finding reasons to justify purchases as price points, user applications, and functionality become more attractive and easy to use. This continued adoption of the technology will lead to strong growth prospects over the next 10 years.
Major retailers have the means to market the technology to consumers and enterprise buyers, generating demand for the devices and revenue by selling printers and supplies, as well as from sales of individual 3D-printed pieces. One of the largest companies involved in the space currently is Staples (NASDAQ:SPLS), which is a prime candidate to sell printers and finished 3D printed items. The presence in the market will have an impact on average selling prices and high demand of sales of consumer 3D printers by 2017.
Below is a list of some of the major companies around the world participating, using, and investing in 3D printing technologies. Overall, there are more than 8,000 customers worldwide utilizing different technologies.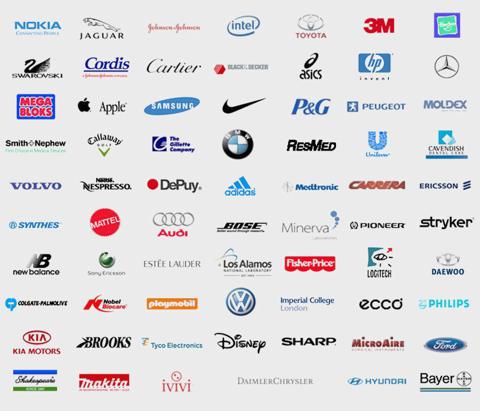 Growth Drivers for the Future of the Industry
Expand Sales and Marketing Presence

Create greater awareness
Increase customer adoption
Increase service center orders
Increase systems sales leaders

Continued Innovation

New printing machines
New material sets
Over 500 US and international patents and patent applications associated with 3D printing

Establish Large Scale Service Centers
Accelerating 3D Printer Adoption
Re-inventing the Engineers' Desktop with CAD and Software
Grow Consumer and User Presence
Grow Product and Healthcare Solutions
Expand Quick Parts Services and Capabilities for On-Demand Parts
Differentiation

Materials
Color Schemes
Cloud Printing
Consumer Ecosystem
Software Platforms

Fast Pace Revenue Growth and Margin Expansion (average industry revenue increased 31.5% and gross margins increased to 52.4%)
Favorable New Product Mixes Enhance Revenue Visibility (new product mix will account for over $300 million industry wide in 2014 - a 60% increase over 2013)
Continued strong cash flows for investment in business
Consolidation within the industry
Next Generation Printers Growth

Greater affordability
More functionality
Better printability
Multi-materials and colors

Long-Term Strategy

Maintaining and extending technology leads and growing through acquisitions
Identifying new applications for our proprietary 3D printing technologies and expand into new vertical markets and applications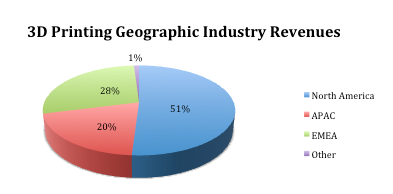 The hype around consumer 3D printing has made many companies aware that the price point and functionality of 3D printing has changed significantly since the introduction of this technology, driving increased shipments beginning in 2014. Most businesses are only now beginning to comprehend all of the ways in which a 3D printer can be cost-effectively used. This means that this technology is still in the very early stages of adoption and has still not been fully grasped by many industries with regards to the potential surrounding overall use. 3D printer prices will decrease over the next several years due to competitive pressures and higher shipment volumes, even after new devices with higher performance, functionality, and quality are introduced.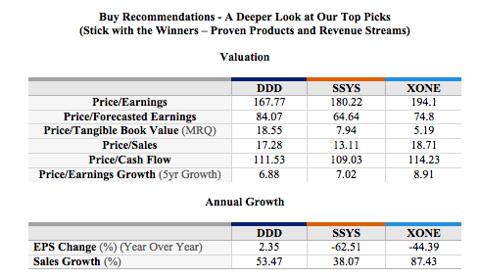 Sales Growth is another key metric to look at in the 3D Printing Sector. Growth across all areas of business and companies will provide a sustainable business across many sub-sectors. As these companies continue to diversify into higher growth and margin areas, investors should look for this metric to improve significantly over the next five years.

All of these best of breed companies boast a nice Gross Profit Margin of at least 44.59%, which outpaces others involved in this space and the other underdeveloped firms in 3D printing. The companies also generate a nice amount of Cash Flow Per Share for relatively young companies in a new technology. As these firms continue to generate larger cash flow per share, we would expect to see potential share buybacks on any pullbacks as the majority of growth is expecting through 2020.

Each of these companies is in a strong position from a financial standpoint as each company currently has very low Debt to Capital and Debt to Equity ratios and plenty of cash to expand business operations and execute on growth strategies going forward. In an industry that requires large investments for future growth, these companies have had early success with continued focus on and investment in the firm's most profitable businesses and other high growth areas with acquisitions.

Obviously when looking at these measures, there is great room for improvement going forward. When specifically focusing on the ROA, the companies are performing well when it comes to the operating efficiency based on the firm's generated profits from total assets, when compared to other early stage technology companies involved in other spaces. The ROE shows the improving performance in terms of the shareholders' rate of return on investment in the company as compared to traditional rates in the past, and this is a metric that will continue to improve. The ROI of shows the firms efficiency in utilizing invested capital. These companies have outperformed its peers in new age technologies and with big opportunities approaching in the near future, expect this outperformance to continue.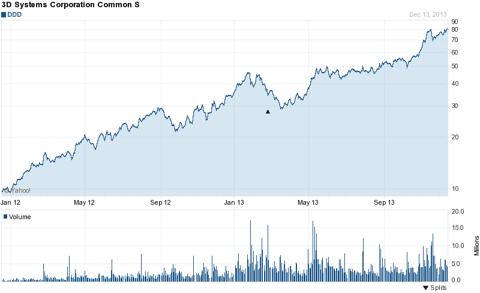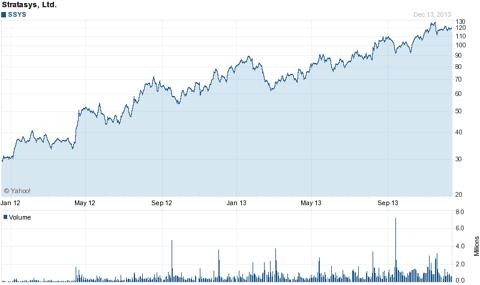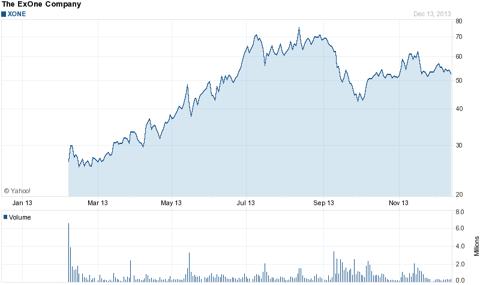 What Investors Need to Know
3D printing stocks have been on a tremendous run this year in terms of share price, but still have major potential to move significantly higher as the companies grow at an incredible rate. Investors and Wall Street have seen these companies as highly volatile plays in a new industry. The recent pull back in share prices has created an opportunity, and these companies will continue to thrive as best of breed in this space. We believe that the aggressive international business model will provide huge growth opportunities for these companies going forward. The next set of earnings releases will give investors insight into how the beginning of 2014 is shaping up so far.
Expect these three companies to continue to outperform in the 3D printing space, as the firms have the industry's best business models and management teams. The second half of the year proved that the companies could weather volatile markets, while positioning for growth next year. With strong continued revenue growth and value added acquisitions, investors will continue see the stocks move higher. We recommend buying 3D Systems, Stratysys, and ExOne, as continued momentum and strong earnings growth will continue. We expect to see these stocks gain an additional 25% in share price over the course of 2014 based simply on earnings growth alone.
Disclosure: I have no positions in any stocks mentioned, and no plans to initiate any positions within the next 72 hours. I wrote this article myself, and it expresses my own opinions. I am not receiving compensation for it (other than from Seeking Alpha). I have no business relationship with any company whose stock is mentioned in this article.
Disclaimer: AlphaStreetResearch is a team of Investment Research Analysts. This article was written by Mr. Hunter Orr, Director of Research, with research assistance from Mr. Aaron Zander, Junior Research Analyst.