By Brad Zigler
I used to dread going to my mailbox. Often the dross—everything from weighty and mostly useless packets of advertising coupons to solicitations for free trial memberships at local fitness clubs—outweighed the legitimate mail.
This week, though, a special treat awaited me. Emblazoned on a rather densely packed envelope from the Elite Stock Report was the promise ("Details Inside!") of "Monster gains inside the next 60 days!" Normally, these missives get round-filed without being opened, but I figured I could a spare a few minutes to better my fortunes with "monster gains."
The envelope yielded a 12-page "special report" penned by Elite Stock Report editor Colin McCabe crowing about his junior gold stock picks "screaming" as the market "explodes." (One has to wonder what war zone Mr. McCabe's subscribers live in. Have you seen explosions in the gold stock market recently?)
McCabe's latest pick will—will, mind you—not only hand his subscribers those "monster gains" in two months, he says, but also turn a tenfold profit within a year. Reading that, I quickly reached for my yellow highlighter to mark dates on my calendar. Let's see, the newsletter came to me on February 16, so I should be able to pay off last year's taxes with my "monster gains" by April 15 and still be rich enough to afford all those Christmas toys in December. Goody!
Turning back to the report, I note that McCabe has helpfully saved me highlighter ink. His report's important bits are pre-highlighted, starting with the slug exhorting me to "Buy shares immediately in Guinness Exploration [OTCBB: GNXP] while it still trades at about $1 ..." followed by the declaration that "This stock is an easy 'quick double' and it could be a ten-bagger before the year is out."
Guinness Exploration Vs. Market Vectors Junior Gold Miners (GDXJ)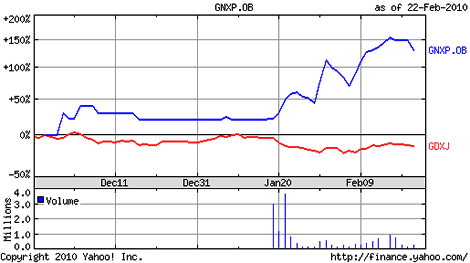 Wow! Pretty confident, ain't he?
And why shouldn't he be? The first few pages regale me with his past stock-picking acumen. Page 3, titled "My Gold Picks Are Going Bananas ... ," highlights some of McCabe's winning recommendations from 2009.
The first is Coral Gold Resources [OTCBB: CLHRF], whose chart is overlaid with the legend "Up 1,500%." Unfortunately, McCabe forgot to list the dates he recommended the purchase and sale of this stock. The accompanying chart, though, illustrates the stock's price trajectory from December 2008 through October 2009. Checking the historical record, however, reveals that the maximum possible gain over that period would have been no more than 700 percent.
Next up is Patriot Gold Corp. [OTCBB: PGOL], which McCabe claims "handed us 377%." Oops. He must be really absent-minded, as there are no in-and-out dates here, either. But the accompanying chart does show a price trail from February through July 2009. Odd, considering the most that could have been made during that time would have been 195 percent. Odder still is the fact that McCabe's chart looks nothing like the actual price record for the stock.
The chart for U.S. Gold Corp. (NYSE: UXG) does look familiar, though. McCabe claims a 292 percent gain on this stock, only slightly more than the maximum possible 287 percent for the January-September 2009 period illustrated.
"Minco Gold (NYSE: MGH) shot up by 243%" heralds McCabe's next bullet. Well, not actually, since McCabe used "MHG" as the stock ticker for the price chart between January and September 2009. The most that could have been taken out of Minco over that period would have been 141 percent, but what's a difference of 100 percentage points or so? Apparently, it's as piddling a matter as transposed letters in a ticker symbol.
The last of McCabe's illustrations is that of Midway Gold Corp. (NYSE: MDW), which trumpets a 222 percent profit sometime between May and September 2009. That's better than twice the maximum possible excursion of 106 percent for the period, though.
All this has got me a little worried about paying my taxes and buying holiday gifts with my Guinness Exploration winnings. "Monster gains" could mean virtually anything for a stock that closed at $1.28 on Feb. 16. Given the inflated results claimed in McCabe's track record (an average 526 percent gain), I should be prepared to settle for a "half-monster" 286 percent return—the average of the actual maximum returns.
Still, 286 percent's not bad. But I'd like to be sure that I didn't miss something in my calculations. Catching up with McCabe's not easy, though. The Elite Stock Report's issued out of the well-known financial capital of Fargo, N.D. Specifically, it's headquartered at 3120 25th Street South—you know, in the strip mall right behind the Arby's.
Oh, wait, that's the UPS Store! Yup, indeed it is. Box 347.
Fear not, though. There's a subscription discount card enclosed that points me to Elite's "order processing center" in Sumas, Wash.
Sumas? Never heard of Sumas? It's a town of less than a thousand souls that hugs the Canadian-U.S. border. And the order processing center? Well, it's not behind the Arby's, since Sumas doesn't have an Arby's. It does, however, have a Letterlock mailing service office. And that's Elite's order processing center. Through offices on either side of the border (Letterlock's other office is in Abbotsford, British Columbia), the mailing service offers Canadian post boxes to U.S. customers and U.S. post boxes to Canadians.
Are you starting to see the picture here? There's a pipeline for money to flow from the U.S. to Canada. Guinness Exploration is a Canadian company that just raised $1.5 million to fund the initial phase of the exploration project touted by McCabe. Some $350,000 was paid to Elite Stock Report's publisher to "enhance the public's awareness of Guinness Exploration and its securities." I'll leave it to you to connect the dots.
Clearly, McCabe and his publisher, Jake Landon Publishing, Inc., don't want to be found. Try tracking down the owners of Elite's Web site, www.EliteStockReport.com, and you'll run into a dead end created by Go Daddy's private domain registration service. Finding out who or what's behind the Elite Stock domain name means sending a subpoena through Go Daddy.
And you thought it was hard to get hold of your doctor or accountant.
All this ought to make you think twice, or thrice, about any recommendations made by Elite Stock Report. Or those like Elite.
I'm not giving up hope though. I've marked my calendar and put my copy of the Elite Stock Report in my top drawer along with my lottery tickets. You just never know.
Author's Disclosure: None