The previous article "How First Solar will Win in the Solar Market" outlined how First Solar's (NASDAQ:FSLR) technology and costs provided advantages in the utility scale solar market. With the addition of TetraSun products in 2014 First Solar will also be in a position to begin competing with SunPower (NASDAQ:SPWR) and the Chinese vendors for share in the rooftop market. As a result of that analysis it seemed appropriate to look at the valuation of First Solar. This article will review the market opportunity and then move to the more interesting question of the valuation of First Solar, reviewing its financials for clues as to whether it is undervalued.
Growing Market Opportunity and Improving Profitability
One of the key questions facing the valuations of the solar industry is what will be happening next year and in future years. A report from IHS indicated they expect shipments to grow by 18% next year. A longer range forecast provided an outlook taking 2013's outlook of about 35GW to over 140GW by 2020 - a 20% compound growth rate. These market outlooks are consistent with other market forecasts which see strong growth in solar over the coming years.
The other important aspect is the pricing and margins for the industry. This has been the major issue for firms over the last couple of years as margins fell across the industry causing heavy losses and some bankruptcies. Recent articles again indicate that this appears to also be moving in the right direction. Recently GTM Research said that prices were already starting to go up in 2013 and they expected a 9% increase in prices in 2014. Whether prices actually go up probably isn't as important as they at least stay flat. If they do that there should be improvement in the industry as solar companies continue to drive to their cost reduction roadmaps. With these two positive trends it isn't surprising that stock prices and valuations in the industry are improving.
Valuation Comparisons
Price Earnings (NYSE:PE) ratio is one of the generally accepted methods of viewing the valuations of different companies. The following table provides the PE ratios of a number of the largest solar vendors in the industry measured by the number of watts produced. What stands out is the PE of First Solar is the lowest of all the companies in 2013 and the second lowest in 2014 and significantly below the averages in both cases. However, just because First Solar has a low PE doesn't mean it's undervalued.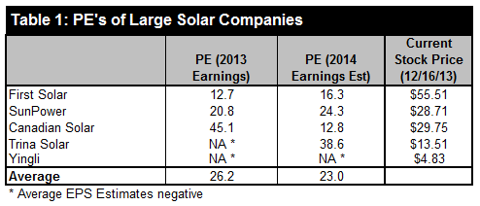 Searching for Clues
There are many reasons that companies have low PEs. The market may anticipate the company's revenue will be declining or perhaps their margins are eroding. In order to assess what might be causing First Solar's PE to be so low, the first place to look is analysts' projections for earnings over the next couple of years. Table 2 outlines the average 2013 and 2014 EPS estimates for these companies. What is apparent is that there is improvement anticipated for the Chinese solar companies. Canadian Solar (NASDAQ:CSIQ), Trina Solar (NYSE:TSL) and Yingli (NYSE:YGE) all have improved 2014 EPS forecasts. This isn't completely surprising. With module prices stabilizing and China's push on increasing their solar usage it would be expected that the Chinese vendors would be in a better position to increase their profits in 2014. However, both SunPower and First Solar appear to be declining year-to-year. The fact that they are expected to decline year-to-year seems contrary to the market forecasts and inconsistent with the Chinese firms. While both SunPower and First Solar deserve investigation, the balance of this article will focus on First Solar.

Digging Deeper Into First Solar's Results for Answers
The next step in our search for answers is to review First Solar's 3Q 2013 SEC 10-Q submission and its 2012 10-K submission to gain perspective on the underlying margins in First Solar's business. Table 3 summarizes some of this information. In its SEC submissions First Solar breaks out the revenues it gets from its "system" business and from its "components" business. The systems business consists of revenues associated with building utility scale installations. The component revenue is only solar modules which are recognized as revenue in utility scale contracts or sold as module only sales to third parties. What is apparent in Table 3 is First Solar's business has undergone a dramatic change as revenues for solar modules have gone from two thirds of the business in 2011 to only one third of the business in 2012 and 2013. So in reality First Solar is less of a solar panel company now than a specialized vertically integrated engineering, procurement and construction company specializing in the solar utility market. Arguably it is more like a vertically integrated SolarCity (NASDAQ:SCTY) focused on the utility market.
What Table 3 also reveals is the strength of margins in the system business running at 36% since 2011. On the component side of the business the story is quite different with margins plunging from 2011 to 2012 which is a result of the oversupply and price erosion in the market. These margins have rebounded somewhat in 2013.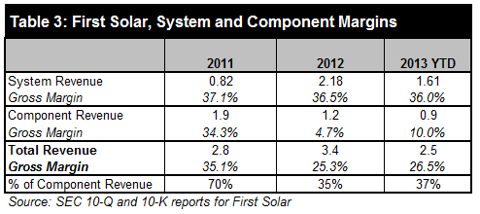 So a review of the current situation indicates healthy system margins which appear to be steady into 2013 with the margins on modules rebounding slightly. At face value this would suggest that these margins would remain steady into 2014 given the direction in the market for module pricing. However, these margins may be a result of previously signed contracts. It is possible that these contracts protected the high margins in the system and module business. Since the basic problem in the solar market has been the collapse of solar module margins that is a good place to look next.
Where are First Solar's Module Margins Headed?
In order to assess where margins are headed on First Solar's module business we need to look at where they think First Solar's costs will be and what sort of prices will be prevailing in the market in 2014. EnergyTrend provides estimates of current module prices. The current average prices of thin film modules being reported is about $0.617/watt and as already noted there is an expectation that prices will be roughly flat or up slightly in 2014. In First Solar's Investors Day conference they indicated that they expect that their average cost per watt will be $0.54/watt in 2014. This would suggest a 12% margin if prices remain flat in 2014. This margin is in the range of what they have reported so far in 2013. In their 3Q conference call First Solar indicated they remained on their cost reduction roadmap. So at this point, it appears that 2014 module margins should be in-line with 2013 margins. So is there something else that may be happening to the prices and margins in the system business?
What is Hiding in the Backlog?
In order to try to assess what is happening in the contracts we need to find metrics we can assess in both the current financials and the backlog. The only backlog numbers we have are the total dollar value of $7.8B and the total GW of 2.7GW. Using these metrics we see the backlog is priced at $2.89/watt ($7.8B/2.7GW). We take this metric in Table 4 and compare it to what was recognized in 2012 10-K and First Solar's 2013 guidance. As can be seen the price per watt has risen slightly between 2012 and 2013. However, the backlog shows a significant jump to $2.89/watt. This is unlikely. So understanding the backlog is more complicated than a simple calculation of the average revenue per watt analysis.

* 2012 shipped GW converted from GW (ac) to GW (dc) @.85
Dissecting the Systems Business Revenue from the Module Revenue
The likely problem is that most of the backlog is made up of power system revenues. In other words the bulk of the backlog is for contracts for installing a utility scale system including modules with very little module only sales. The annual figures are averaged down by module only sales during the year. So in order to do a proper comparison we need to separate the system business revenue from the module revenue in First Solar's Guidance. Fortunately, we can take known and estimate other factors from the available information and back-solve for average power system revenue. In Table 5 all of the known and estimated factors and their source is outlined.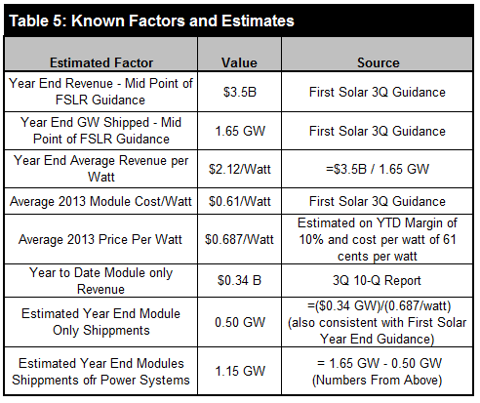 These variables are then put into Table 6. The key unknown - the year-end average power system revenue per watt - can be back-solved (in shaded cell). This number is actually slightly less than the $2.89/watt average in the backlog. So again the analysis doesn't expose any obvious erosion on the revenue per watt in the $7.8B backlog.

Margin for Error
While not all factors can be fully assessed, if significant top line price erosion existed in the revenue one would expect that it would have shown up in this analysis. In addition, given the general expectation that prices and margins are stabilizing in the market, the result isn't inconsistent with what we should have expected to find. Bottom line, there is no obvious smoking gun which suggests that margins would be in freefall for First Solar. More likely, as with the Chinese vendors, First Solar will see its margins stabilize in 2014.
Analysts are Under Estimating First Solar
Currently analysts are projecting about $3.78B in revenue for First Solar in 2014. This would be about 8% growth versus expected industry growth of 18%. In First Solar's analyst day forecast they expected 2014 to come in between $3.5B and $4.0B in revenue - they also provided estimates indicating about half of that was already under contract. Since that time First Solar has sold $2.3B (1.3GW) of new contracts for a total backlog of $7.8B. They currently are running about 80% of capacity and would have an opportunity to increase their revenue as a result of the new signings as well as bringing some 2015 backlog forward to 2014 - much as they did in 2013. In addition, in their 3Q conference call they indicated they would move approximately $200M from 2013 into 2014. As a result, one would expect that they would be at the high side of their analyst day estimate and perhaps above the $4.0B given the movement of $200M of revenue into 2014. This would suggest analysts' estimates on revenue are on the low side.
Reviewing their guidance for EPS from analysts' day, First Solar provided a range of $2.5 to $4.00. This forecast was made at a time that the industry was still in some turmoil. The analysis here would suggest that margins are likely going to be flat and therefore their EPS estimate would be toward the high side of the range and potentially higher with the movement of the $200M into 2014. However, if they maintained their margins and made $4B of revenue their EPS could be in the range of $5.00/shr in 2014. This would be significantly above the average analyst estimates of $3.40/shr.
Overall the analysis demonstrates that analysts are likely under estimating First Solar's 2014 revenue and EPS. This suggests that they are undervaluing First Solar.
The Bottom Line
In a recent CNBC interview First Solar CEO James Hughes responded when asked about JP Morgan's EPS forecast of $7 in 3 to 5 years saying, "We put out our three year targets at our analyst day and those show solid progress in that direction." In their analyst presentation they also indicated that the high end of their EPS range for 2015 was $6. Certainly the analysis here indicates that they may be on the way toward that target. Reaching the $7 goal in three years would effectively be a compounded growth rate of just about 20% for the next 3 years. This would lead to a PEG ratio of about 0.63 (Price Earnings vs. Growth) which would also suggest that First Solar is undervalued. As already noted, if revenues and earnings estimates are on the low side this would suggest that analysts are undervaluing First Solar in relation to the others in the market. Ultimately, only time will tell whether First Solar will maintain its margins and we reach a $7/shr EPS as suggested by JP Morgan. However, the clues in First Solar's financials indicate that First Solar may be significantly undervalued.
Disclosure: I am long SPWR, FSLR. I wrote this article myself, and it expresses my own opinions. I am not receiving compensation for it. I have no business relationship with any company whose stock is mentioned in this article.