Prada (OTCPK:OTCPK:PRDSY) is a high flying market darling that performs well because of explosive demand for its products in Asia. This inspired fellow Seeking Alpha contributor Helix Research to release this Alpha-Rich bullish article on the stock.
Helix Research did an excellent job making the bull case. I'd like to take this opportunity to expand upon the risks of an investment in Prada. In my opinion, this is an especially risky investment and these risks should be highlighted as well.
Luxury Goods makers are hot at the moment. If you follow the financial news section of your paper or subscribe to the FT or WSJ you will have noticed. For example, on December 16th, the FT published an article titled: Moncler shares ski-jump 50% on Milan debut.
Moncler, a skiwear maker that specializes in €1,000 jackets, pulled off the most successful European stock market debut of 2013 after its shares surged almost 50 per cent on the first day of trading. At the close of a frantic day on the Milan bourse, the Italian company was worth €3.7bn, after it received more than €20bn of orders from investors desperate to back the next luxury growth stock.
When the financial press is stoked on a sector, I become wary of overvaluation. For consistency, I will use the exact same peer group as Helix Research used throughout this article. This includes Prada, Coach (NYSE:COH), Michael Kors Holding (NYSE:KORS), Ralph Lauren Corp. (NYSE:RL), Tumi Holdings (NYSE:TUMI), Burberry Group PLC ADR (OTCPK:BURBY) and Euler Hermes Sa ADR (OTC:EURHY). The S&P 500 trades at 17.9 and the only stock in this peer group trading below that valuation is Coach Inc. Prada is trading well above all of them.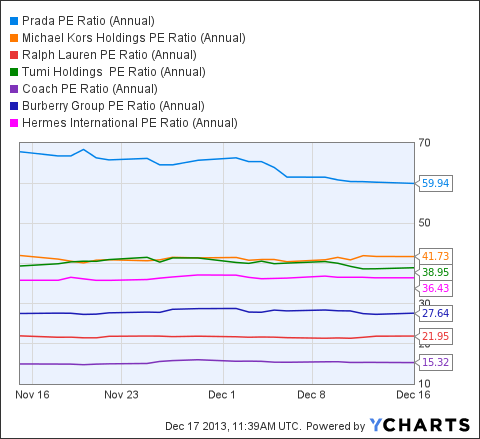 PRDSY PE Ratio (Annual) data by YCharts
Addressing the bull case
First, I'll address some of arguments of the bull case with counter arguments, to offer readers an alternative. After that I'll go into a few additional concerns and subsequently a valuation of Prada based on the discounted cash flow model I use in most of my articles.
Helix Research writes:
However, despite sector-leading growth in sales, profits, and EBITDA, shares of Prada trade at a meaningful discount to its peers on a price-to-earnings basis, and trade broadly in line with its peers on other metrics. When accounting for such above-average growth, shares of Prada are, under favorable assumptions, worth over 100% more than their present price.
I'm not able to find a meaningful discount to peers on a price-to-earnings basis. I've used the exact same peer group as Helix investments. On current P/E metrics the company is trading well above peers, as shown by YCharts above. On a forward earnings basis, Morningstar data shows the same picture: Prada trading at elevated levels.
| | |
| --- | --- |
| Company | Morningstar Forward P/E |
| Prada | 34.2 |
| Michael Kors | 23.8 |
| Ralph Lauren | 17.1 |
| Tumi | 23.4 |
| Coach | 13.5 |
| Burberry | 16.9 |
| Hermes | 27.6 |
The picture is not much brighter on a variety of commonly used valuation metrics: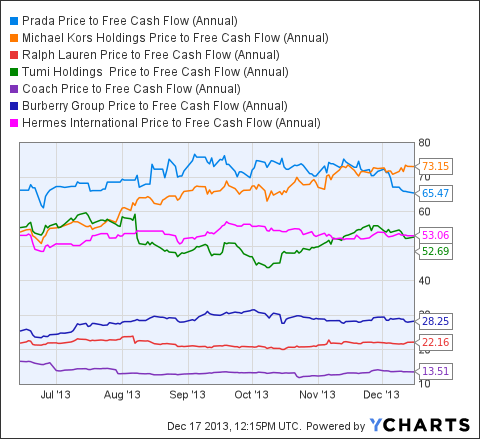 PRDSY Price to Free Cash Flow (Annual) data by YCharts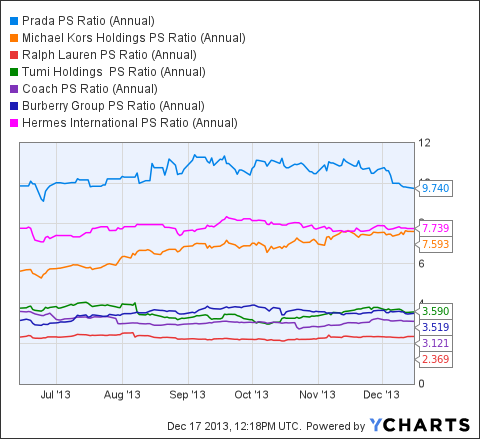 PRDSY PS Ratio (Annual) data by YCharts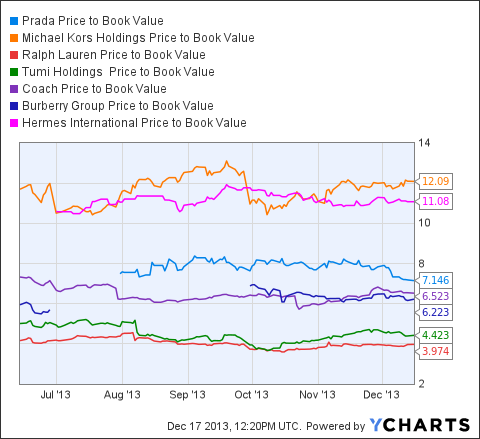 PRDSY Price to Book Value data by YCharts
Further, Helix's observations regarding valuation:
We also note that Prada trades at a PEG ratio of below 0.5
Doesn't match Morningstar data on Prada's PEG: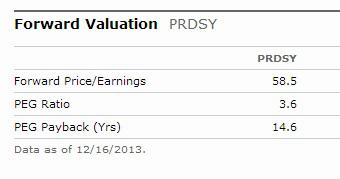 Competitive Advantage & Growth
Now I would like to address the assumption of sector leading growth being continued into the future. Plotting above average growth numbers as continuing into the future is dangerous if there is no clear competitive advantage established. Economic theory established that competition should come in and destroy excess returns.
In the case of Prada, a competitive advantage is debatable. Paul Swinand of Morningstar argues Prada has a wide economic moat:
We believe the Prada brand and product leadership transcend fashions that change year to year and is the major source of our wide moat rating. This brand leadership affords Prada pricing power, which protects gross margins in good times and in bad. We are also optimistic about the prestigious, younger positioned Miu Miu brand, named after Miuccia Prada, though we note that it does not earn the returns of the globally recognized Prada brand.
Note that Paul Swinand is generously awarding Prada a wide economic moat based on the Prada brand.
In contrast, I'm doubtful Prada really has a sustainable competitive advantage. A brand by itself offers no real sustainable competitive advantage. It takes continuous capital investments to sustain a brand. Limiting or destroying excess returns.
I can imagine the value of the brand may have built up over time. There is unique history to the Prada brand that is not easily copied. Maybe that's sufficient to derive a minor competitive advantage, but I don't think it establishes a wide economic moat.
Consumers more readily switch between a Prada and a Gucci bag than between Apple (NASDAQ:AAPL) OS and Windows (NASDAQ:MSFT) for example. Prada doesn't have any of the real sustainable competitive advantages such as: unmatched economies of scale, proprietary technology, unique know how, products that are addictive or have a high learning curve and there are no high searching costs for consumers when looking for an alternative.
There is no real competitive advantage.
Competition ramping up
In addition, take notice that competition is ramping up as the market realizes the above average returns on capital established luxury goods producers are enjoying. A cursory read of the financial press regarding the luxury market will reveal as much. For example, Karen Millen shifts to affordable luxury as it plans growth. I'd be surprised if excess returns were not competed away sooner rather than later.
Helix:
We note that over the past year, Prada has opened a total of 42 Prada stores, including 22 in H1 2013 alone, and that sales grew by double-digits in all markets except Italy. However, this implies that revenue grew double-digits in the rest of Europe, suggesting that Prada has, in the first half of 2013, been able to manage through macroeconomic uncertainty.
Here I'd like to offer two arguments to add some balance to a hopeful growth scenario. Luxury tourism, admittedly an attest of a strong brand, is currently an important sales driver. When the company opens additional stores in China and other emerging markets, some of the Italy, London and New York sales will be cannibalized.
In this luxury goods segment additional stores don't necessarily mean volume and margins are kept up. The most loyal fans are already willing to travel to get the goods.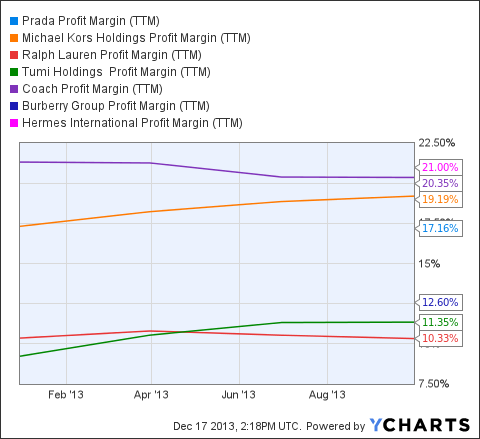 PRDSY Profit Margin (TTM) data by YCharts
Is this margin sustainable or not really? In my opinion it isn't, especially when expanding fast.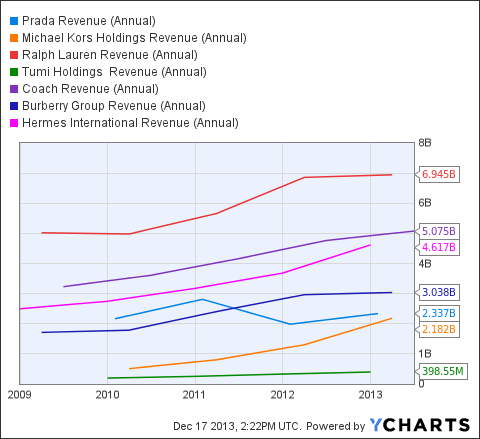 PRDSY Revenue (Annual) data by YCharts
Top line growth is solid year over year but not impressive in comparison with competitors over a longer period. With Prada's recent IPO, I'd like to be conservative about assuming big leaps here as well.
The takeover
Helix research alludes to takeover possibilities. Even raising the possibility of a premium of 100% over the current stock price in such a scenario.
Helix:
A potential sweetener in the form of a takeover as the issue of who is to succeed the company's CEO and design head, thereby opening up the door for an outright sale of the family-controlled company.
Granted there is a case to be made, as the younger generations do not appear to be interested to go into the fashion business. However counting on a takeover because of succession issues seems speculative. Since Prada is listed the owner/operators may just as well flood the market with their overvalued shares instead of selling to one bidder. With a forward P/E of 34.2 and trading at almost 10x sales, the latter might be more likely than a takeover. What happens when motivated sellers dump a 80% stake?
Helix views LVMH Moet Hennessy Louis Vuitton Sa (NYSE:MC) as the most likely candidate to bid for Prada:
We depart Milan (where Prada is based) and head to Paris, where LVMH (OTCPK:OTCPK:LVMUY) has turned acquiring family-owned luxury companies into a form of corporate art.

LVMH is the luxury sector's most acquisitive company, and it has turned the writing of sizeable checks into a pillar of its long-term growth strategy.
Even if LVMH wanted to pay 10x sales it would be hard. With LVMH's market cap of $89 Billion and Prada's market cap of $23 Billion, a 100% premium is hard to envision. Although, neither company has a lot of leverage, which helps the scenario.
In addition, in a recent FT article on luxury M&A 2014, Bernstein does not see Prada as potential prey:
In a new note, Mario Ortelli, an analyst at Bernstein Research, suggests hard luxury will see increasing movement in 2014, with acquisitions likely by Richemont and Swatch, and possibly a biggie from LVMH and some medium-sized moves from Kering. In fact, they even suggest likely targets.
If we take notice of the smaller size of acquisitions that are typical for LVMH and the 10 years it took it to build up a stake in Hermes, it just doesn't make sense to me to assign a meaningful high probability to a takeover. A merger would be more plausible. Which isn't always so great for shareholders.
Additional concerns
Jim Chanos has been preaching doom and gloom regarding China for a while now. His predictions might not come true, but it is good to be reminded of the possibility of China entering a crisis. A recent segment where he expresses his views on China can be found on Bloomberg.
If Asia and in particular China slow down that's a very big deal to Prada as 37% of sales come from Asia ex-Japan.
Some relevant signals are appearing in the media, Bloomberg reports a slowdown in Chinese luxury spending:
China's luxury spending grew this year at the slowest pace since at least 2000 as more shoppers traveled abroad and the government's anti-corruption efforts curbed purchases, consultant Bain & Co. said. Spending in luxury goods is estimated to have expanded about 2 percent in 2013 from 7 percent last year, the Boston, Massachusetts-based company said in a report released today. Growth in 2014 will be at a pace similar to this year, it said.
Stewardship
Strong owner/operators can be the perfect leadership to ride along with for minority shareholders. Other times their goals are very different from those of minority shareholders. Helix Research presented extensive background information on the owner/operators - CEO Patrizio Bertelli and creative director Miuccia Prada - motivation to exit the company. He argues this sets up minority shareholders for a windfall in case of a bid on the company. On the other hand, minority shareholders might face 80% of stock coming on the market.
Some of the comments by Helix meant to excite, worry me instead:
The lack of stock options may decrease shareholder dilution, but removes the incentive for mid-level managers to remain at the company long enough to be groomed for the top roles of creative director and CEO. A third of Prada's top executives left the company after its IPO, and sources close to the company have reported that Bertelli's "assertive" management style has stymied the ambitions of several top executives, causing above-average turnover at Prada.
The ambition for the strong owner/operator pair - who appear to fall short of the level 5 leadership designation by Jim Collins - to exit the company appear to be confirmed. Succession is a common problem for level 4 CEOs. Companies with such an executive often have difficulty to retain key personnel. Helix does not succeed in convincing me that a takeover is likely.
Instead, I view this as a warning sign that Prada might not perform as well, after the majority owners exit. Best case scenario, executive compensation will need to be jacked up considerably to replace leadership.
Valuation
Relative valuation is not my primary tool to value companies. I like to rely on discounted cash flow. Prada doesn't have a sustainable competitive advantage. Yet other analysts think it does and I'll adjust for that. I'll project cash flow growth 7 years into the future; considerably longer than the usual period of 3 years I use for no moat companies. I discount against the long-term results of the S&P 500.
Based on the analysts' high consensus estimates of long-term growth collected by Reuters of 19.14%, I'll assume a 25% growth rate. The calculation is based on current free cash flow of $0.19 per ADR.
This puts the net present value of an ADR of Prada (listed in NY) at $6.17. Yet the ADR is trading at $18.22
Helix assumes an EPS growth rate of 36% over 2014 and 2015. Even if I have the company grow at 36% for 7 years an ADR is not worth more than $10.41.
Conclusion
For an investment in Prada to pay off, miracles have to take place. The company would have to keep growing at an explosive rate for many years. Alternatively, a takeover would need to materialize. With the company trading at 10x sales, this bidder would require synergies. Given Prada's size and the premium required in the case of a bid on shares outstanding, the odds are against this event creating much shareholder value.
Disclosure: I have no positions in any stocks mentioned, and no plans to initiate any positions within the next 72 hours. I wrote this article myself, and it expresses my own opinions. I am not receiving compensation for it (other than from Seeking Alpha). I have no business relationship with any company whose stock is mentioned in this article.