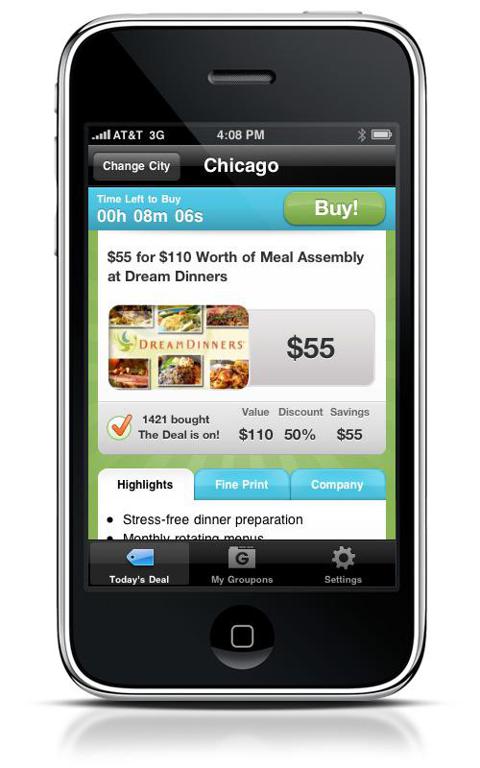 Will Groupon (NASDAQ:GRPN) be the rising star that shines in your portfolio or the one that got away? Is it possible that Groupon is on track to become the real deal in 2014 and beyond, or will you regret owning the stock? Before you answer, let's take another look at what's driving Groupon.
When Amazon's (NASDAQ:AMZN) IPO debuted in 1997 as an $18 per share online bookseller with $15.7 million in sales, few envisioned today's $70 billion in annual revenues or its current $384 share price. Had you bought into Jeff Bezos's vision and invested $1,000 in Amazon's IPO, your investment would be worth about $229,000 today, says Mashables's Zoe Fox. That's an astounding $14,312 per year for the past 16 years on a $1,000 investment.
When Amazon stumbled in 2001 and the stock plunged to $6, Bezos went to work partnering with retailers. The idea was genius. A one-stop portal where consumers shop for just about anything at a "sale price" cheaper than the brick and mortar outlets. Now I am not talking about Amazon, but Groupon -- let me explain.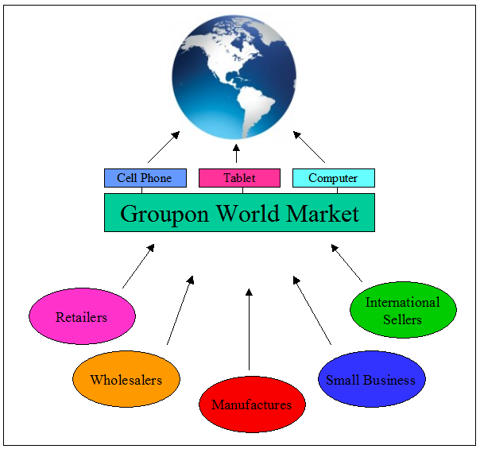 Groupon's partnerships with retailers, wholesalers, manufacturers, small business and international sellers under Groupon's World Marketplace is reaching local customers, but not with a "sale price" like Amazon, but with the "deal price" that is usually a 50% discount. Deal-lovers know value and simply cannot resist the incredible savings, especially when it pops up on their cell phones. It's kind of like a sales clerk showing up at your front door with a new $1,000 TV for $500. Your immediate reaction is to grab the "deal" and say, "If you come across any other "deals" please let me know!"
The name Groupon has become synonymous with the "deal." Think "deal," think Groupon. Groupon's branding strategy has embedded in the psyche of every deal-loving shopper that Groupon is the one-stop destination for unparalleled and unbeatable value. The physiological effects of scoring a huge discount deal results in deal-lovers experiencing intense feelings of satisfaction and enthusiasm each time they purchase a Groupon deal. Because Groupon's half-price deals offer unbeatable value, the deal triggers the release of Dopamine in the shopper's brain which causes the shopper to feel extremely happy. The more deals they buy, the more they save, the happier they feel. The entire experience is so exciting that deal-lovers can't wait to flood Twitter (NYSE:TWTR) with tweets, post their deal on Facebook (NASDAQ:FB) and text the link to all their friends. The enthusiasm is not only contagious but addictive. The Groupon deal makes every buyer an instant winner.
Now if you doubt what I am saying, ask 2 or 3 people this question; "Have you heard about the half-price deals at Groupon?" You will be hard pressed to find someone with a pulse that hasn't.
Financial Highlights
More upgrades for Groupon rolled in this December (10th and 11th) as Morgan Stanley raised their price target to $15 and Wells Fargo analyst Trisha Dill, upgraded her price target between $13 to $14 with an Overweight rating:
Wells Fargo upgraded Groupon after transferring coverage of the stock on expectations the company is well positioned to take market share in the local commerce market. The firm has a $13-$14 price target range for shares.
Dill believes Groupon is just "scratching the surface" in mobile e-commerce and poised for more growth. A recent Wells Fargo survey of Groupon's users seemed to be the catalyst for Dill's upgrade along with several metrics that indicate competition from Google (NASDAQ:GOOG) and Amazon will have little or no impact on Groupon's subscribers or its revenues. This confirms what I said earlier; Groupon owns the "deal." Think "deal," think Groupon.
In just a few years Groupon has grown revenues to $2.5 billion, and early indications for Q4 2013 are leaning to record breaking results thanks to Groupon's new mobile app and global expansion. Groupon's management believes that revenues of $100 billion could be obtainable in the future, but failed to qualify "future." I am less optimistic on this point and believe future revenues could double or triple over the next 1 to 2 years and we could see Groupon's share price eventually return to the $20 to $25 range.
In a previous article, 7 Reasons Groupon Is A Buy, I detailed the compelling fundamentals that are driving Groupon's growing revenues. Here's the abridged version:
Global Partner Network ("GPN") - This is a lucrative revenue channel that allows anyone with a website to drive traffic to Groupon and share in Groupon's prosperity.
Mobile E-Commerce Explosion - Groupon's mobile app (pictured in the upper right-hand corner of this article) is the first cutting edge app with searchable deals featuring up to 50% discounts. With 60 million apps downloaded and growing, this innovative revenue channel is driving Groupon's revenues and will take Groupon to the next level.
World Marketplace - Groupon's global footprint captures over 500 markets in 48 countries and growing. See the graphic above (Groupon World Market). This is a huge growth strategy that is in the early stages, especially when you factor in the global mobile explosion that is in the early stages with Groupon in the lead.
Five Major Revenue Channels - Groupon has developed 5 primary revenue channels: National Brands, Getaways, Local, Live and Goods. These channels are explained in the linked article above, but I would like to point out one area that you will want to watch closely -- Getaways. Half-price and deep discounted vacations will be a huge deal in 2014.
No Debt - Groupon is well capitalized with $1.1 billion cash and cash equivalents with no debt.
Navigating The Chart
The chart below forecast important technical indicators. Keep a close watch on the $12.67 breakout. We should trade into the new channel soon before breaking through the $12.76 resistance.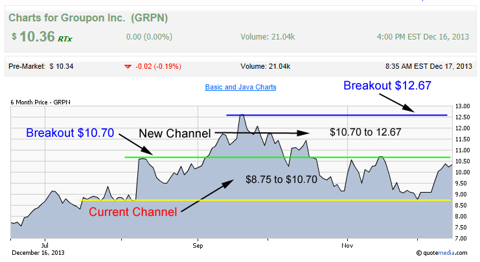 Conclusion
Recent headlines maintain a positive outlook on Groupon as shares continue to rise. Here's some of the sentiment surrounding Groupon.
As 2013 comes to a close, it has become impossible to avoid the Groupon question. Will Groupon be 2014's must own stock? Analysts' predictions have Groupon trading in the teens in the near future. Buying now may prove to be the wisest strategy as it appears the price will only continue to rise ahead of 2013 Q4's financial report.
Disclosure: I am long GRPN. I wrote this article myself, and it expresses my own opinions. I am not receiving compensation for it (other than from Seeking Alpha). I have no business relationship with any company whose stock is mentioned in this article.