Telestone Technologies (TSTC), a small wireless equipment manufacturer in China, has attracted quite some attention since late last year when its stock price ran from below $5 to over $20 in several months. Riding the opportunity of the 3G buildup in China, Telestone Technologies supplies wireless coverage products to the three wireless operator giants: China Mobile (CHL), China Unicom (CHU) and China Telecom (CHA), and is expected to double its revenue and earnings in 2009.
However, TSTC's stock is notoriously volatile, often moving up or down 10% in a single day. After hitting an all-time high of $24 in January, it plunged to a low of $12 intraday on February 1st and is currently trading at around $20.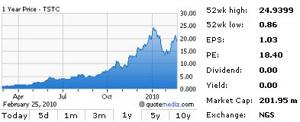 Certainly Telestone should be quite volatile as a Chinese microcap stock. But it's still intriguing that Telestone's volatility far exceeds that of most other Chinese microcap names. Researching a little into the company business and financials, I'm convinced that Telestone deserves its volatility.
The company has several major risks:
Low Barrier to Entry with Few Technological Advantages
The wireless coverage equipment market in China is highly fragmented, highly competitive, and has a low barrier to entry. Generally speaking, nobody has a strong technological advantage in the market, and business is mostly awarded based on relationships. China Grentech (GRRF) is one of the leading wireless coverage solution providers in China, with a 2009 revenue approximately triple that of Telestone, but only trades at 7.8x forward P/E and 0.4x its book value.
Highly Concentrated Customer Base
Similar to Asia Info (ASIA) and China Grentech, almost all of Telestone's revenue comes from the three wireless telecom operators of China. The company literally has no negotiating power over its customers. Contracts are awarded on a project by project basis, and they don't have much visibility into the future.
Unbelievably Long A/R Days
This is the direct result of the previous point, that Telestone has no negotiating power over its customers. The A/R days were once unbelievably high (over two years), and have recently come down to 400+ days as a result of management's efforts. Its larger peer, China Grentech (GRRF) is slightly better in this, with an A/R days of about 200 days.
Telestone's capability to generate cash flow is poor. Although its revenue and net income have grown three-fold over the past 3 years, its cash position didn't improve at all. Everything the company earned in the past has been used to finance the ever growing A/R. In any quarter, it has no more than a few million dollars on hand.
China Grentech's financial position is even poorer, obviously forced to take on quite some debt in order to finance its huge A/R. It is highly likely Telestone may soon follow suit. The company appears to have prepared itself for this scenario, having secured some credit facility.
Admittedly, the collection risk is small, as it is unlikely any of its customers will not have the ability to pay. However, I would not want to own a business that lends money to its customers interest-free for such a long time horizon.
Another company with similarly long A/R days is E-house China Holdings Limited (EJ). It has also demonstrated high volatility, although to a lesser degree. E-house is expected to report EPS growth of 164% in 2009; however, the stock only trades at around 12x forward P/E as of Feb 25th.
In summary, with these major risks, it is quite difficult to hold Telestone as a long term investment, particularly at its current price. The value of such a business must be discounted significantly. I believe most buyers are in the stock simply to chase the short term momentum, which in part contributes to the stock's high volatility.
It is possible that, at some point, when the momentum runs out, Telestone may be a good target to short, given the substantial risks. It may not be the right time yet, but I will keep the name on my radar.
Disclosure: No positions