Inter Parfums (NASDAQ:IPAR) has seen its share price rise 78.6% since the start of the year. As of the time of writing, IPAR shares are priced at $34.75 and management has provided guidance for 2013 net income to range between $0.93 and $0.98. Representing a PE of 35.5x including $9.34 in cash per share, ex-cash, the shares continue to trade at a lofty 25x PE. As a reference, Coty (NYSE:COTY) is trading at a forward multiple of 17x.
About IPAR
IPAR is the fragrance and beauty partner for a growing list of brands that include: Lanvin, Montblanc, Jimmy Choo, Boucheron, Van Cleef & Arpels, Karl Lagerfeld, Paul Smith, S.T. Dupont, Balmain, Repetto, Agent Provocateur, Alfred Dunhill, Anna Sui, Shanghai Tang, Gap, Banana Republic, Brooks Brothers, bebe, Betsey Johnson and Nine West. IPAR develops, manufactures and distributes its products in over 100 countries worldwide.
Financial Performance
Loss of a major revenue contributor
On October 11, 2012, IPAR announced the termination of the Burberry fragrance and beauty business, with effect from March 31, 2013. This resulted in a one-off $198.8 million gain recognized in Q4 2012.
Immediately following the discontinuation of the business, Q3 2013 net sales were down 23.8% to 126.8 million, compared to $166.3 million in Q2 2012. Management however, did stress that non-Burberry sales increased 45% from $87.2 million.
Insider Selling
In the last 12 months, the amount of insider selling compared to purchases was 65:1.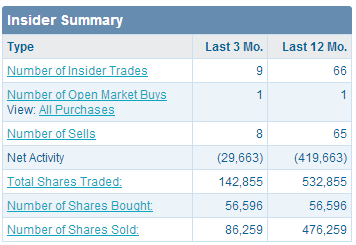 Source: http://www.nasdaq.com/symbol/ipar/insider-trades
Co-founder, Chairman and CEO of IPAR has been consistently selling his direct and indirect interest in the company over the last 12 months.
Lack of Future Growth Drivers
Management had shared in the Q3 2013 earnings call that ideally, the cash from the sale of their Burberry business would be reinvested in their core business. However, management did not sound like there were opportunities being evaluated at the moment.
Focusing on the core business, management has forecasted organic revenue growth of 15%, resulting in a net sales of $495 million for 2014.
In conclusion, IPAR's share price movement since January 1, 2013 is irrationally high. After taking into consideration the gains from the discontinuation of Burberry sales, IPAR still trades at a high PE multiple with no clear catalysts. Its co-founder and CEO is realizing his profits, so why should investors be buying at this point in time?
Disclosure: I have no positions in any stocks mentioned, but may initiate a short position in IPAR over the next 72 hours. I wrote this article myself, and it expresses my own opinions. I am not receiving compensation for it (other than from Seeking Alpha). I have no business relationship with any company whose stock is mentioned in this article.