Alcatel-Lucent (ALU) has been blessed with much good fortune this year. ALU is one of this year's surprise star performers with an impressive YTD increase of 223%. The stock price, $4.51 at the moment, is also 379% higher than its 52-week low of $1.19. Buyers of ALU last November 2012 are definitely overjoyed by this stock's performance for the past 13 months.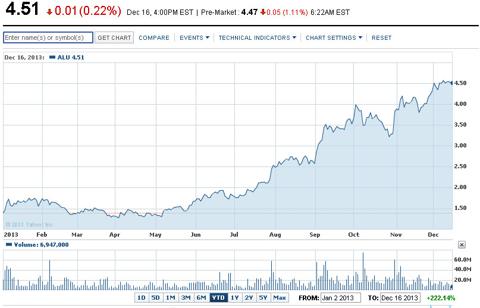 This great bull run on ALU is remarkable considering Alcatel-Lucent reported consecutive quarters of net losses from its recent business operations.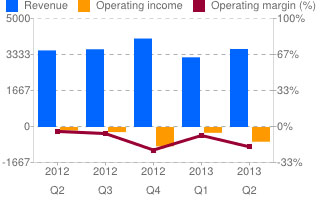 Several analysts are also predicting that ALU will still produce a negative EPS until December 2014. Despite this prediction, Citigroup Inc. still upgraded Alcatel-Lucent from Neutral to Buy last December 10. Citigroup Inc. also changed its Price Target for ALU from $5.51 to $6.75. This thumbs up is a big follow up to the endorsement from UBS which upgraded ALU from Neutral to Buy last November.
What's the Reason for This Infatuation with ALU?
I am not going to repeat what other Seeking Alpha articles have already discussed just why ALU is receiving so much love from investors this year. Alcatel's success is more than just the Shift Plan.
I have another very strong reason why Alcatel-Lucent is enjoying this much adulation…
Unlike Cisco (NASDAQ:CSCO), Alcatel-Lucent is not affected by the political backlash from Edward Snowden's NSA Spying Scandal. Cisco will have a hard time selling its 4G products to China-based clients and other emerging markets where governments are not happy about the NSA spying activities.
Alcatel-Lucent's much bigger rival faces government and private scrutiny on suspicions that Cisco allowed the National Security Agency to spy on the network infrastructures of Chinese institutions and universities. Cisco's product orders in China decreased by 18% Q1 FY14 which is a big decline from the previous China bookings of positive 8% in Q3 of Fiscal Year 2013.
Cisco's problem is not going to go away soon. It may even develop to a permanent discrimination against the company in China. This English-Language Chinese news site sums it very succinctly, Cisco and other U.S. technology company face long-term discrimination.
China is the Biggest Market for 4G and Ultra Broadband
There's a big possibility that Cisco's political woes in China will not be resolved soon. This is therefore a great long-term bonanza for Alcatel-Lucent. The company needs this important market to complete its mission to get out of the red. The company's legacy 2G and 3G business is in sharp decline all over the world. The industry's rapid shift towards the new 4G LTE standard is one major reason why Alcatel-Lucent suffered a terrible five years of operations with huge net losses.

China is now the world's biggest market for ultra broadband services and Alcatel-Lucent landed a fat contract with China Telecom to deploy more than 9,892 base LTE-TDD and LTE-FDD technology. China Telecom has 181 million subscribers and the Chinese market has an incredible 50% annual increase rate for mobile data services and smartphone sales.
The analysts at 4-Traders are highly optimistic of Alcatel-Lucent's future profitability due to the company's recent wins in China and other parts of the world. The company now has over 40 existing contracts for ultra-broadband or 4G LTE deployments around the world. Here's a predicted income chart for ALU.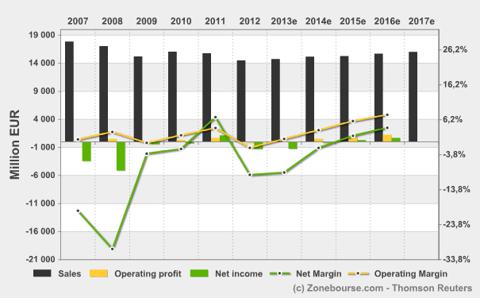 This income estimate may actually be achieved by Alcatel-Lucent and there's also a reasonable chance that it may even exceed the numbers given here. With Cisco currently discriminated in China, Alcatel-Lucent is on the spotlight as the preferred foreign supplier for Chinese 4G infrastructures.
Aside from the China Telecom 4G deployment contract, Alcatel-Lucent has also won another recent big contract to supply small-cell solutions for China Mobile's TD-LDE network. China Mobile has a strong 759,274,000 count of subscribers. The company will award more future contracts to suppliers to upgrade its 3G to 4G standard. Alcatel-Lucent is expected to win a lot of the said contracts.
What About Huawei and ZTE?
Huawei and ZTE, being Chinese companies, will probably win most of the 4G Chinese deployment contracts. However, China Mobile and Alcatel-Lucent have a very strong business relationship because they co-developed the lightRadio 9768 Metro Radio Outdoor (MRO) small cell solution. It makes perfect sense to assume that Alcatel-Lucent will continue for years to be China Mobile's preferred foreign partner in its LTE roll-out efforts.
Huawei and ZTE have small cell solutions too but I believe they cannot beat the lightRadio Metro Cell technology of Alcatel-Lucent when it comes to cost-efficiency. Furthermore, China Mobile has a strong vested interest to continue working with Alcatel-Lucent since as co-creator of the lightRadio 9768 Metro Radio Outdoor, it has access to the IP technology to help it optimize its TD-LTE network.
The amazing scientists and engineers at Bell Labs had engineered lightRadio to reduce telecom service providers' operating costs of building and maintaining their 4G networks. China's vast, underdeveloped, and far-flung provinces are perfect for lightRadio small-cell implementation.
China Mobile has more than 700 million subscribers which means the company will continue on building more small cell base stations for the next coming years. Alcatel-Lucent will certainly be one of the contractors building these base stations.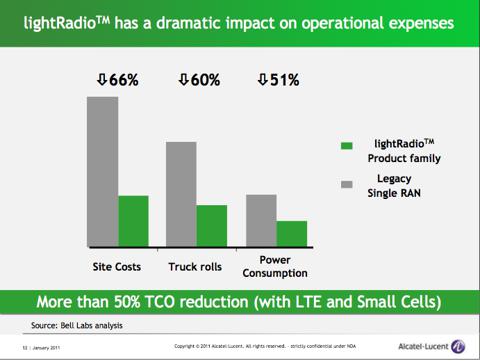 Conclusion
Alcatel-Lucent has a strong probability to enjoy long-term benefits from China and other emerging markets where Cisco and other U.S.-based rivals have political-related discrimination. Alcatel-Lucent has a strong portfolio of 4G LTE and ultra broadband solutions that is now helping it become the world's preferred supplier for major telecom service providers.
Alcatel-Lucent already won 14.5% of China's first mobile 4G tenders last year. It was the top foreign company to win the biggest pie in China's mammoth 4G infrastructure roll-out business. This achievement happened even before the Snowden NSA scandal. Alcatel's success in China will help it increase its total share in the global LTE market.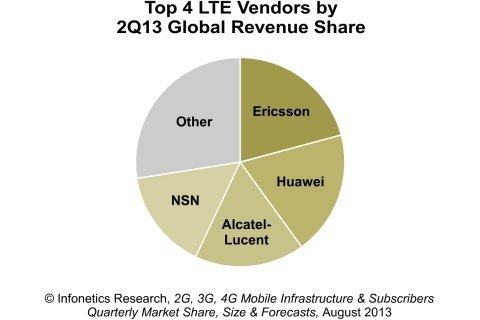 The future is indeed bright for Alcatel-Lucent. The company's China-friendly status may even help it sell its SDN services to Chinese and other emerging markets companies who are nervous about their old Cisco-installed networks.
Buy more ALU before it gets expensive. Hold it for the long term.
Disclosure: I have no positions in any stocks mentioned, and no plans to initiate any positions within the next 72 hours. I wrote this article myself, and it expresses my own opinions. I am not receiving compensation for it (other than from Seeking Alpha). I have no business relationship with any company whose stock is mentioned in this article.