Gap Inc. (NYSE:GPS) managed to beat consensus analyst earnings estimates by a penny for the fourth quarter of 2009 (see transcript here), as improving sales and substantially higher margins helped drive strong bottom-line growth from the year-ago period.
For the quarter, Net Income jumped 45% to $352 million and Diluted EPS increased 50% to $0.51/share from last year. Total Sales rose 3.8% to $4.2 billion, and Same-Store Sales increased 2%. Strong compound growth of 7% at Old Navy and 3% growth in e-commerce sales helped offset continued weakness at Gap, Banana Republic, and International chains. This was the first quarterly Same-Store Sales gain for the company overall since the first quarter of 2004.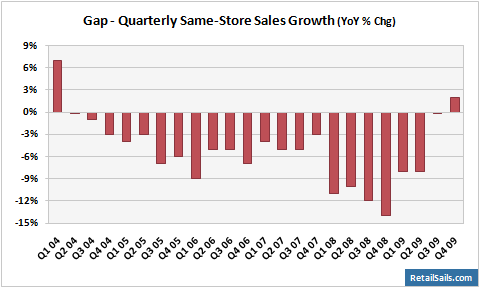 For the full year, sales decreased 2.3% to $14.2 billion and Same-Store Sales dropped 3% – this was the 5th straight year of declines in both, and sales for fiscal year 2009 were lower than in 2002. The company ended the year with 3,095 total stores, just a tad lower than they operated at the end of 2001.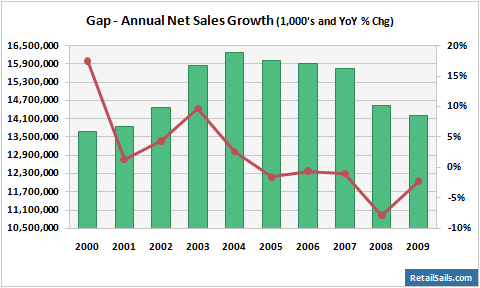 However, even in the face of declining sales and an extremely difficult selling environment, Gap has expanded margins and posted three straight years of earnings growth – gross (40.3%) and operating (12.8%) margins reached their highest levels in a decade for 2009, and diluted earnings have grown 19.3% annually over the past 3 years to $1.58 per share.
In addition, the company was an early mover in online selling, and e-commerce sales have expanded at a rapid pace even as total company sales have declined, growing at a compound annual rate of 15.8% over the past 7 years. Online sales grew 8.7% in 2009 to $1.12 billion, and now represent nearly 8% of total sales.
Up until now, only U.S. customers were able to place online orders, but Gap said they plan on leveraging the online shopping platform in 2010 to bring several of its brands to customers in Canada and the United Kingdom, as well as nine additional countries in Europe.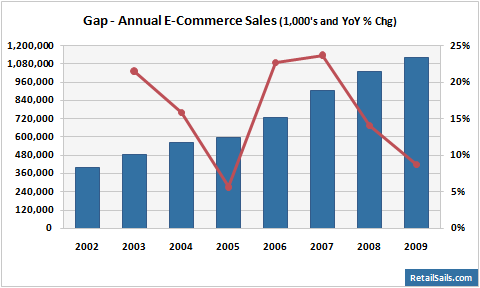 Gap announced they will raise the dividend by 18% to $0.40 per share, and authorized an additional $1 billion in share repurchases. They generated $1.6 billion in free cash flow in 2009, and now sport an extremely clean balance sheet with nearly $2.6 billion in cash and no debt.
However, we are skeptical the company can continue to squeeze more out of a declining store base and lower sales. After 54 net store closings in 2009, Gap said it will open 65 stores (mostly international) but close 110 stores (mostly Gap brand), and total square footage is expected to decline 3%.
This continues 10 years of stagnant store growth as they play musical chairs with openings and closings. While we are encouraged by their plans to enter new potential high-growth markets (China and Italy), Gap has yet to create any real brand cachet internationally, unlike rivals such as Abercrombie (NYSE:ANF), Polo (NYSE:RL), and Guess (NYSE:GES).
Considering the poor economic environment and intense competitive pressures, 2009 overall was a solid year for the company. Gap became an apparel powerhouse in the 90's on the back of its basic and classic styles, and with the introduction of its 1969 premium jeans line last year, the company seems recommitted to return to its roots.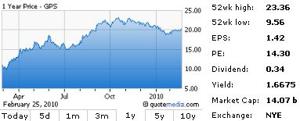 Click to enlargeThey recently brought back TV advertising for the namesake brand, have embraced innovative marketing strategies such as social media and mobile coupons, and have improved their merchandizing in recent months. However, until the company can post several quarters of improving results and turn around struggling brands, we are not buying into Gap as a turnaround story.

Disclosure: No Positions