When I wrote an article on Harley-Davidson Inc. (NYSE:HOG) in February of this year, I said I would buy shares on any significant drop in price. At that time, it was trading at $51.21. However, the stock has gone up at an amazing speed, and has recently hit a new 52-week high of $69.65. Today, it is trading at $66.66. Since January 1st, it has risen by 37.25%. In this article, I will be looking at several aspects of Harley-Davidson Inc. to determine if the current price can be explained by better fundamentals and future expectations.
We'll start by looking at Harley-Davidson's performance in the first 3 quarters of the current fiscal year. The table below shows the difference between Q1-Q3 of 2012 and the same period in 2013.
| | | | |
| --- | --- | --- | --- |
| | First 9 months of 2012 | First 9 months of 2013 | Difference |
| Revenue (in $millions) | 3931.7 | 4226.0 | +7.49% |
| Net income (in $millions) | 553.3 | 658.6 | +19.03% |
| Profit margin | 14.07% | 15.58% | +1.51% |
| Earnings per share ($) | 2.40 | 2.93 | +22.08% |
| Dividends per share ($) | 0.465 | 0.63 | +35.48% |
| Payout ratio | 19.38% | 21.50% | +2.12% |
| Current assets (in $millions) | 4747.7 | 4092.7 | -13.80% |
| Current liabilities (in $millions) | 2301.7 | 1981.7 | -13.90% |
| Current ratio | 2.063 | 2.065 | <0.1% |
Revenue was up 7.49% in the first 9 months of 2013, at $4.226 billion, while net income grew at a far higher rate, increasing19.03% to $658.6 million. Harley-Davidson's profit margin increased from 14.07% to 15.58%, which means it has become more effective in turning its revenues into profits. Revenue expectations for fiscal year 2013 are at $5.27 billion, which is 6.7% higher than the $4.94 billion in revenues HOG had last year. Expected revenues for FY2014 are even higher, at $5.77 billion. At the current market cap of $14.70 billion, this gives Harley Davidson a forward price to sales ratio of 2.80 for this year and 2.55 for next year. This is quite high compared to the last few years, as can be seen in the next graph: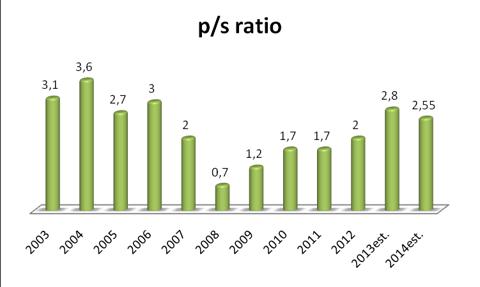 Earnings per share were $2.93 in the first 9 months of this year, which is 22.08% higher than last year's $2.40. You may notice EPS has grown at a much faster pace than net income. This is due to Harley-Davidson buying back its own shares. HOG spent $105.4 million in the first quarter to buy 2 million shares back at an average price of $52.70 per share. In the second quarter, 3.5 million shares were bought back at a total price of $186 million (average price per share: $53.14). Only 1.6 million shares were bought in the 3rd quarter, at an average price of $58.00, for a total price of $92.8 million. Harley-Davidson had 11 million shares remaining on board-approved share repurchase authorizations at the end of Q3.
At $0.21 per quarter, shares in Harley-Davidson currently yield 1.26%. While this is quite low, I feel the payout ratio of only 21.5% for the first 3 quarters of this year gives the company plenty of room for a dividend increase. Expected earnings per share for this year are $3.27, giving HOG a price to earnings ratio of 20.4. However, next year's earnings are expected to reach $3.92, reducing the p/e ratio to much more reasonable 17.0. Harley-Davidson's cash reserves have dropped to $1.03 billion in Q3 2013, compared to $1.79 billion in the same quarter last year. However, its current liabilities have gone down by $655 million over the past 4 quarters, and its long-term debt was decreased by $405 million.
Compared to historical valuations, HOG might be a bit on the expensive side at this point in time. However, it does appear to be constantly improving its financial position, thanks to a low payout ratio and improving profit margins. Share repurchases and growing revenue will keep the EPS growth rate at double digits, while there's still enough money left to increase the dividend.
I'd love to hear your view on Harley-Davidson, so feel free to comment below!
Disclosure: I have no positions in any stocks mentioned, and no plans to initiate any positions within the next 72 hours. I wrote this article myself, and it expresses my own opinions. I am not receiving compensation for it (other than from Seeking Alpha). I have no business relationship with any company whose stock is mentioned in this article.