(Editors' Note: This article covers a micro-cap stock. Please be aware of the risks associated with these stocks.)
After a long dry spell of some pretty nasty declines and gloomy news about the tepid future of global trade, overcapacity and over-indebtedness in the dry shipping space, shipping stocks are finally gaining momentum from the 'early birds' who had already bought in at ridiculously low prices earlier in the year.
More help for sector awareness comes from Morgan Stanley, whose recent recommendation includes a prediction that the sector has just begun a two-year rally, citing China's continued appetite for more iron ore, grains and haul coal.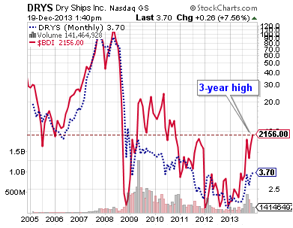 And we can't forget the continued 'liquidity' provided by the Fed as a boost to the sector, as recent movements in nearly all the shipping stocks have mirrored the Baltic Dry Index (BDI) since the start of 2013-a pretty good sign that large hedge funds are convinced an upside reward now exists for a sector parched from several years of no meaningful top-line growth.
My thesis is simple: The theme of Wall Street has been finding stocks left behind from the Fed's massive POMO (Permanent Open Market Operations) which has gushed into stocks since 2009. Shipping stocks fill that bill nicely, as the fundamentals coupled with battered stock prices now warrant the risk.
Top Pick: DryShips, Inc. (DRYS)
Starting with the stock with the most catch-up to do-DryShips, Inc. . This stock was nearly left for dead in the fourth quarter of 2012. Huge debt taken on as a gamble that "stock prices shipping rates have reached what looks like a permanently high plateau" (to borrow an old Irving Fischer quote of 1929) nearly bankrupted the company.
However, bad management at DryShips turned good with the purchase of a majority stake in Ocean Rig UDW, Inc. (ORIG), an offshore deep-water drilling services provider. Ocean Rig's Market cap exceeds DryShips' by a billion dollars, sports a PEG ratio (5-years expected) of 0.47, a Price-to-Book of 0.86, and y-o-y quarterly revenue growth of 15%.
So, investors should be cognizant that behind the DryShips facade is the real asset with value-Ocean Rig.
And if the riddle as to why DryShips announced a suspension of its $200 million ATM program on Dec. 5, it very well could be that suddenly DryShips can get a better deal on a loan to reduce its $180 million+ annual interest payment because of DryShips' Ocean Rig good collateral asset.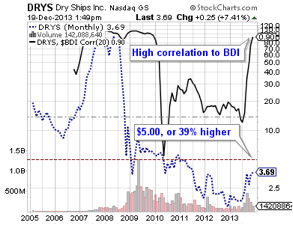 And speculation that DryShips will be able to grow out of its interest expense any time soon is just that, speculation. The top-line growth and margin would have to grow disproportionately higher than what global trade has to give in 2014.
The World Bank and International Monetary Fund forecast global growth for next year to reach 3.0% and 3.6%, respectively. Translation: maybe 1.5% to 2% growth, as both international institutions have a reputation for high-balling real growth via low-balling the effects of inflation.
I expect DryShips to reach its overhead resistance at $5 before sellers come in like droves to really test the bulls. But, until then, investors could be looking at another 40% move from $3.50 in DryShips just from Fed 'liquidity' needing a place to go as well as Ocean Rig's strong business model and potential for a much higher valuation.
#2 Pick: Diana Shipping, Inc. (DSX)
Priced at 79% of Book Value, Diana is another hefty dry-bulk shipper with lots of institutional affiliation (47.3% of float) and much less debt ($400 million) than DryShips' ($5.3 billion). Diana is an alternative to DryShips, as Diana is a pure play on dry-bulk shipping.
Following Morgan Stanley's upgraded of Diana of last week, the stock soared to $12.27 from $11.14, or 10.1%
#3 Pick: Navios Maritime Holdings Inc. (NM)
At a Price-to-Book of 0.84, Navios is another stock priced at a discount to net assets. As of Nov. 30, institutions owned 26.9% of Navios' float, while insiders owned nearly 25%, with the latter metric ranking among the top of the sector.
For the past 20 months, Navios-another pure play on dry shipping-has traded at a 0.90 correlation (on a scale of between 1 and -1) to the Baltic Dry Index, suggesting it, too, is a darling among hedge funds in the dry shipping space.
Avoid: Genco Shipping and Trading, Ltd. (GNK) & Eagle Bulk shipping, Inc. (EGLE)
The two stocks to avoid at this time are Genco and Eagle. Both shippers' balance sheets resemble DryShips', with tons of unserviceable debt. But, unlike DryShips, both don't have majority stakes in an Ocean Rig, either.
Genco and Eagle are good candidates to short, as the recent powerful move in nearly the entire sector left these two stocks behind. In fact, both of these stocks have dropped sharply during the fourth quarter, while, in contrast, the sector as a whole catapulted much higher since Sept. 30.
Disclosure: I have no positions in any stocks mentioned, but may initiate a long position in DRYS over the next 72 hours. I wrote this article myself, and it expresses my own opinions. I am not receiving compensation for it (other than from Seeking Alpha). I have no business relationship with any company whose stock is mentioned in this article.