The housing market has been recovering as sales of new homes are increasing and mortgage rates are decreasing. New home sales increased in July, August as well as in the month of September. In fact, sales of existing homes also increased by 6% for the month of October over the prior year. Low mortgage rates have attracted people to buy more homes, creating demand for home improvement retailers as new occupants spend on improving their new homes. So, home improvement players such as Home Depot (NYSE:HD) and Lowe's (NYSE:LOW) have been performing very well.
The benefits of a recovering housing market and increased customer confidence were evident from the recently reported results by both the companies.
In fact, most of the retailers related to this industry are benefiting largely from this progress. For example, Valspar, a coating and paint manufacturer, has also been witnessing an increase in demand for its products. Its revenue surged 8.2% in its recently reported fourth-quarter over the same period last year. Its earnings, too, jumped 13% to $0.97 per share, beating estimates on both the metrics. Moreover, the company also gave a bright outlook, since it expects consumer demand to continue to rise.
Performing strongly
Therefore, investors can eye on any of these companies, since each of them are set to grow. However, between the two home improvement players, Home Depot and Lowe's, it is difficult to pick one. Both the companies have provided great returns to investors as shown in the chart below: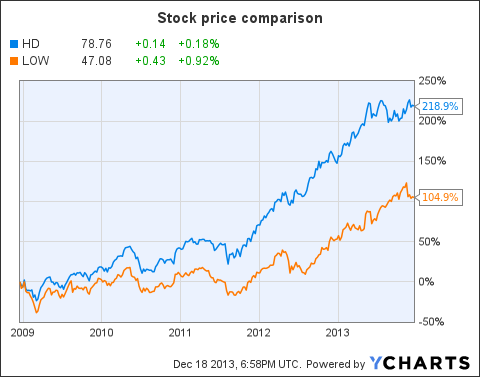 Although Home Depot's stock price has appreciated much more than that of Lowe's, the latter is making a lot of efforts to grow. For example, Lowe's has been enhancing its products in order to attract more customers. It has also tried resetting its stores apart from opening new ones so that it can attract more buyers. Lowe's has also started offering low prices for a number of items in order to lure budget conscious customers.
However, Lowe's recent quarter wasn't up to the mark. Although its revenue grew 7% to $12.96 billion, its earnings could not meet analysts' expectations. It could not manage its costs, which led to a weaker gross margin.
The winner
On the other hand, Home Depot seems to be outperforming Lowe's yet again. In the recently reported quarter, Home Depot posted great numbers which were way ahead of analysts' estimates. Its revenue jumped 7.4% to $17.5 billion, driven by 4% increase in the number of transactions and a rise of 3.2% in the average ticket. Also, its earnings jumped 51% to $0.95 per share over last year, helped by cost cutting measures and improving distribution.
Same store sales grew 7.4% as compared to Lowe's 6.2%. Home Depot's growth was derived from its merchandising and tailored marketing efforts. Moreover, Home Depot has a much larger market share of 18.7% as against 15.2% for Lowe's. This is in addition to a greater number of stores for Home Depot as compared to Lowe's. Therefore, Lowe's will take time to bridge the gap between it and its rival.
The road ahead
Home Depot is making a number of moves to attract maximum customers during the holiday season. It has recently launched a mobile app for customers which will make shopping easier for them. It is also enhancing its website to make its online operations even better.
Additionally, the home improvement retailer is launching new products such as Nest Protect smoke, carbon monoxide detector, Cree TrueWhite bulb and many other products to give consumers more reasons to visit its stores.
Also, to add to Home Depot's merriment, home sales are expected to grow by 5% to 6% next year. According to National Association of Realtors, home prices will also increase by 6% by the end of 2014. Therefore, Home Depot's future looks bright with a growing industry.
Fundamental comparison and conclusion
Both Home Depot and Lowe's are almost equally matched when it comes to valuation. Home Depot's trailing P/E is 21.3, while Lowe's has a trailing P/E of 22.5. So, Home Depot is slightly cheaper, and it also pays a higher dividend yield of 2% as compared to Lowe's 1.5%. Looking forward, both companies' earnings are expected to increase at an identical CAGR of around 18% for the next five years.
But Home Depot, with almost 2,300 stores, has a wider store presence than Lowe's 1,825 stores, which gives it a greater chance of getting more customers. Also, Home Depot has a more lucrative dividend yield. Moreover, Home Depot is making the right moves, launching new products, and marketing its products well to boost its top line. So, in my opinion, it looks like a better pick than Lowe's.
Disclosure: I have no positions in any stocks mentioned, and no plans to initiate any positions within the next 72 hours. I wrote this article myself, and it expresses my own opinions. I am not receiving compensation for it (other than from Seeking Alpha). I have no business relationship with any company whose stock is mentioned in this article.