The past few months have been some of the best for Apollo Education Group (NASDAQ:APOL) in the past three years. The company announced positive results during the third quarter which beat analyst expectations and helped the company achieve a 59% return on its stock price since hitting bottom in March 2013. Although this appears to be a validation that the restructuring that is occurring under the leadership of Peter Sperling (Chairman) and Gregory Capelli (NYSE:CEO), and their team is working, I believe that this improvement is temporary. It is my expectation that due to the strong forces acting against Apollo, that this stock resumes its downward trend.
Apollo Education Group is the largest domestic player in the for-profit higher education sector with the company's flagship brand, University of Phoenix, the third largest school system in the country (as of 2011). University of Phoenix and the other Apollo companies primarily cater to non-traditional students who are either working full time, married or have family responsibilities. The average age of the University of Phoenix student is early to mid 30's and a majority of students are minorities. The company grew rapidly through 2011 by recruiting the non-traditional students mentioned above and generated a lot of negative publicity, and later regulatory fines and judgments, from its efficient, but not always legal, process of obtaining federal student aid to help pay for the students education. Below is a chart showing Apollo revenue, EBITDA, and Income over the past thirteen years: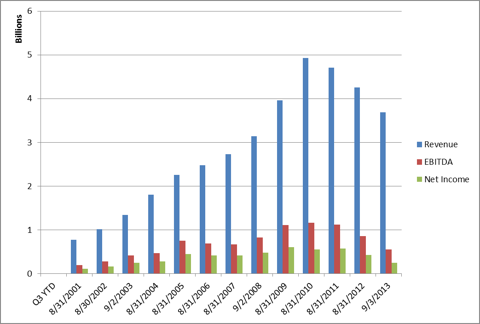 Click to enlarge
While the business model put forth by the University of Phoenix is simple and, in many ways brilliant, a fatal flaw going forward is the near complete reliance on federal student aid. As of 2012, the University of Phoenix received over 90% of its revenue from federal student aid, and it goes without saying that when one is that dependent upon one source of funding, it is highly disturbing to see that funding source threatened. However, in recent years, threatened that funding source has become.
Earlier this year, University of Phoenix as well as another Apollo company, Western International University, was given notice of possibly being placed on probation by their regional accreditor. This ultimately didn't happen, however, the University was officially placed on notice which means that it will be subject to enhanced compliance and regulatory burdens. It also means that the University of Phoenix will need to produce a full report outlining how the University is meeting and intends to meet the minimum requirements for accreditation. This report is due by fall 2014 and will inevitably be followed up by additional inquiries. Additionally, the University will further be subject to a prolonged evaluation by the accrediting authority during the 2016/2017 school year. While the University of Phoenix and Apollo will no doubt do what is necessary to ensure that the report is completed and that the visit goes as smoothly as possible, these regulatory overhangs will continue to provide a serious distraction to management and resources for the foreseeable future. In the event that the report or visit or follow ups don't go well and if accreditation is ultimately revoked, University of Phoenix will no longer be able to receive federal and state student aid. Although this likely won't happen in the next few years, it is still a possibility, especially if new violations are discovered.
In addition to the burdens required to comply with the regional accreditation authority, Apollo also has been dealing with federal and state lawsuits regarding other business concerns. Most of these lawsuits primarily focus on how recruiters could prospect and sign up students and rules associated with how the companies were processing and collecting student financial aid. Total fines and settlements paid were slightly less than $100 Million. Most recently, the University has been required to post a $150 Million letter of credit and has been dropped by the Department of Defense as a provider for soldiers. As these lawsuits and investigations continue, it further associates negative images in people's minds about the University, decreasing demand for a University of Phoenix education. This is a major problem for recruitment but poses a longer term risk from disenfranchised former students who may blame their high level of student loan debt or lack of business success on the University's missteps. And to add even more cause for worry, if these risks aren't properly communicated with shareholders, the company can be at risk for additional shareholder lawsuits (Apollo recently settled a $145 Million claim with shareholders).
Unsurprisingly, with all of the background noise, enrollments at APOL schools have declined markedly in the past few years. Below is a chart showing new and continuing enrollment: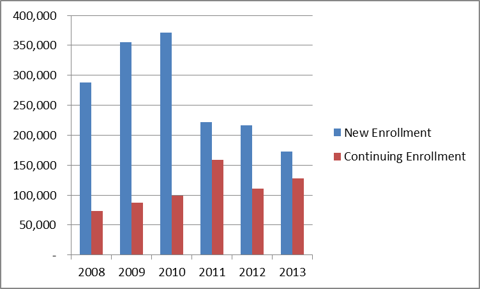 Click to enlarge
As can be seen in the above chart, overall enrollment is down significantly since 2010 and appears projected to continue to decline based on the reduction in new enrollment. Although the story that the chart is telling isn't by any means positive, one area that is mildly positive is that continuing enrollment has been increasing. During the boom years in 2008-2010, a large share of profits were gained from newly enrolled students, however, the vast majority of those students didn't stick around more than a year. Recruiters did a good job at finding students, but unfortunately a good number of those students either couldn't or wouldn't perform the work that was required and dropped out - necessitating further recruitment efforts to maintain the status quo. Although the majority of total enrollment still comes from newly enrolled students, it appears that a larger percentage of those students are continuing through into their second and third years. If this trend continues it would do a great deal to mitigate the total enrollment decline.
Another positive factor is that Apollo has a very small amount of debt ($692 Million) and holds a strong cash position on its balance sheet ($1.5 Billion). This will give management time to put into place a strategy that can take hold in the marketplace. The first aspects of that strategy have been to close most of the satellite brick and mortar campuses in order to focus on the online product. While corrosive to morale, these actions are likely necessary for the long term viability of Apollo's schools. A second strategy appears to be diversification based on recent news that Apollo has purchased a majority interest in an Australian educational company. These actions appear to be the right course to take, however the success or failure of these strategies will all come down to execution - and to execute the leadership team needs buy in from all employees. Ominously, it appears that trust between management and employees is at a low point. Not only have there been repeated rounds of layoffs, consolidations of departments and adjusted compensation schemes for those remaining, but the employees get to see all of this happen while top level management continues to pay themselves lavish salaries and benefits.
Despite the silver linings in the Apollo cloud, I am skeptical that current management will be able to successfully navigate the treacherous regulatory and legal waters it is currently in. For me there is simply too much risk for significant downside events and very little potential upside to make up for it. If invested currently in APOL, my recommendation would be to sell and load up on American Airlines (NASDAQ:AAL). If interested in shorting Apollo, my preferred way to short companies is to use put options. Currently, put options expiring January 17, 2015 at strike price of $13 are priced at $0.53 per share.
Disclosure: I have no positions in any stocks mentioned, but may initiate a long position in AAL over the next 72 hours. I wrote this article myself, and it expresses my own opinions. I am not receiving compensation for it (other than from Seeking Alpha). I have no business relationship with any company whose stock is mentioned in this article.