2012 saw the lowest shipping rates on record. Suezmax vessels that haul crude oil had rates sink to 5k per day in August. How does that old saying go? It's always darkest before the dawn. Well that period of darkness took place in the late summer of this year and there has been a dramatic turnaround as of late. Take a look at this chart.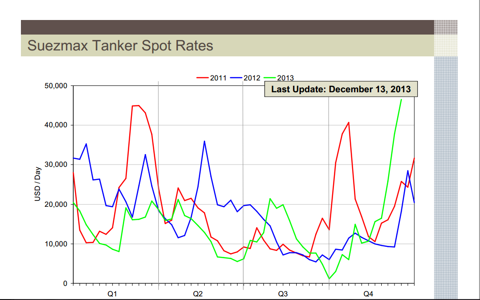 December saw rates for Suezmax exploding higher to over $55k per day. That is 11 times where they were in the summer. What does this mean for shippers that are loaded up with Suezmax vessels? The answer is simple; a dramatic turnaround in earnings. Will these rates last? Are we returning to a period of normalized rates in the industry? Have a look at the order book.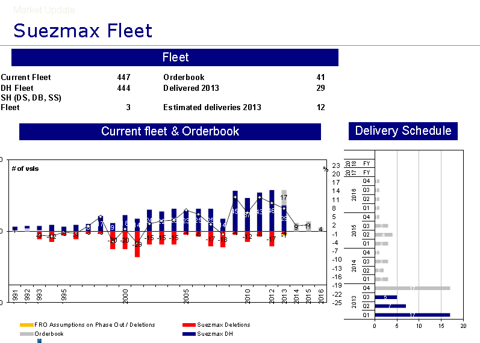 It appears that the order book has slowed, there are very few ships on order in 2014, and 2015, and there are serious doubts as to whether the shipyards will be delivering the ones on the book. At the bottom of any cycle there seems to always be an overshoot to the downside. When you take scrapping along with a weak order book, combined with shipyards in China going bankrupt, one could wonder if we may go negative in regards to supply in late 2014.
Who is poised to benefit from major turn in rates? My pick for 2014 is Nordic American Tankers LTD (NYSE:NAT). They have 20 Suezmax tankers, and have paid a remarkable dividend for 65 consecutive quarters, totaling over $44 dollars a share.
The CEO has been on Cramer a number of times throughout the last few years, when he was pumping the stock in the high $20s and the teens. Today the stock is trading in the $8 dollar range and is significantly undervalued. When Cramer says "it is not working." I have to take a serious look. If you loved it at $24, why don't you love it at $8? With rates stabilizing and the economy continuing to improve, I believe the stock can double from this level. I for one want to be in now.
I've received several comments from my previous article on 3 stocks that could double in 2014. You can view that article here. Some of the comments have to do with dilution; investors are frustrated and rightly so, by the precipitous drop in the value of their stock in part because of dilution and the ridiculously low rate environment. Here is the way that I see it, when you have rates for a $60M ship leasing at $5k per day, as an experienced owner, intuition tells you that the current environment can not last. The number one priority at this point is to survive and be in as good a cash position relative to debt that you can create for your company. That is what this CEO has done, it may not be pretty, it may not be fair, but it is what it is. You have to live in the real world, in real time, and that sometimes involves making unpopular decisions.
Nordic American Tanker Ltd. has several key reasons why it should be considered for 2014.
First, 15 out of 20 of their tankers have gone through surveys since 2012 at a cost of $40M, an expense that is on the books. Only two vessels will be dry docked in 2014. This means higher revenue at a time of significantly higher rates. Normally vessels incur a 90 day down time. Genco Shipping and Trading LTD (NYSE:GNK) will be going through this experience next year at precisely the wrong time, as they have a significant number of vessels scheduled for dry dock and surveys.
Second, regardless of whether you like him or not, the CEO gives you a balance sheet that is easy to understand, no smoke and mirrors here. In a letter to shareholders, he simply lays out his plans for the coming year. I for one like the way he communicates to shareholders in his letter that you can view here. For the cost of one ship, approximately 65M, he invested in Nordic American Offshore Limited (NYSE:NAO), the company owns and operates 6 supply vessels with an option for a seventh. Nordic American Offshore Ltd is currently trading on the Norwegian OTC (over the counter) market with Nordic American Tankers Limited as its biggest shareholder, holding 26% of the company. They plan to take the company public on the NYSE in the first quarter of 2014. You can view this letter here.
Make no mistake, this CEO is committed to paying dividends, and some would criticize this as it seems he has diluted shareholders for that purpose. However, I believe that this is a strategy for future record that in spite of the global economic downturn, Nordic American Tankers weathered the storm all while paying a hefty dividend to shareholders. A risky strategy that very well may pay off if rates stabilize from here, which I believe they will. The current dividend paid out was $.16 for an approximate 8% yield.
Earnings
Earnings are continuing to improve; the Company posted a net loss of 19.24M or $.29 a share for the quarter, compared to a loss of 83.2M or $1.34 from Q3 of 2013. However it is important to note, operating cash flow was $2.5m for 3Q 2013, compared with -$10.6m for 2Q 2013. Being cash flow positive after paying the dividend is a good thing. These dismal results came at the absolute bottom of the industry, at lows not seen for over 25 years. While these numbers are ugly, it is reflected in the price of the stock. The fact remains that rates have dramatically increased, and earnings should go positive in the near future. Expectations of future gain are the catalyst for this stock. You can view the earnings report and balance sheet by clicking here.
Net debt
Nordic American Tanker has one of the lowest net debt to vessel in the industry, standing at 6.4M per vessel. Having low net debt makes it much easier to have a low cash break-even level. Frontline Ltd. (NYSE:FRO) has a cash break-even level of $16,400, while Nordic American Tanker is at $12,000 per day per vessel. The company stands with 93M in cash and 250M debt on their balance sheet, with an interest only payment. This gives the company a distinct advantage over competitors with higher debt going forward.
Short squeeze?
According to shortsqueeze.com, there are 9.4M shares short Nordic American Tanker Ltd. That is 14.9% of the float. The cover ratio based on current volume would take 4.4 days to cover. Clearly there are some investors, or possible banks hedging their bets. The short interest will be getting very nervous if these shipping rates hold even for a few more days. $8.20 seems to be the line in the sand. Shorts will be forced to cover at much higher prices on any positive news coverage in the industry.
It is very difficult for investors to buy at the bottom, it can be dangerous, and is a process. Stocks usually do not bottom overnight. They test and retest, and then test again until an investor is shattered and gives up. It is called behavioral finance, a testing of the will and the psyche. Let's look at a long term chart of NAT.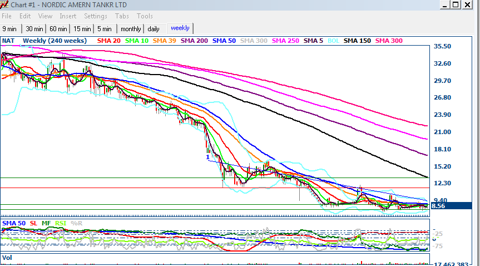 You can see the long painful walk down to the miserable bottom. It is enough to make a person sick to their stomach, but time and time again we see the recovery. One has to have ice in their veins at these times to stick with it, or take a chance to buy. In June of this year the share price hit $7 a share, it then quickly rebounded to $10.47, and tested again three months later at $7.65 and recently retested, undercutting the September low by $.06 cents to $7.59 in November. This is a classic long term bottoming process, painful as it may be, this is how it works. Can it go lower? Yes, but what are the fundamentals? Why has this not moved with spiking rates? Could it be manipulation? Looking for a proper entry point is crucial when buying a company out of favor. In my opinion, you have that right here, right now. My first price target is $13 for this stock, from there, with good volume, and continuing favorable fundamentals, the next level of resistance would be around $16 a share.
Conclusion
I like the potential of Nordic American Tanker Ltd. The balance sheet is understandable; the CEO is committed to returning value to the shareholders via the 8% dividend. The balance sheet is strong; the net debt level is low. The fundamentals are improving; and long term chart shows massive pain.
In a market where valuations are rich, finding the right companies becomes paramount to maintaining a successful portfolio. I urge you to do your own research, draw your own conclusions and make sound unemotional decisions, with an exit strategy in place.
Disclosure: I am long NAT, DRYS. I wrote this article myself, and it expresses my own opinions. I am not receiving compensation for it (other than from Seeking Alpha). I have no business relationship with any company whose stock is mentioned in this article.