Long Term investors are determined to find the next Microsoft (NASDAQ:MSFT) before it explodes or identify a a company that unique and positioned to make waves in the market such as Apple (NASDAQ:AAPL) has recently done. Who is the next company to lead investors into the next decade? An article from James Glassman of MSN Money says a good place to start is by looking at past performance and thus, he provides the top 25 stocks of the past decade (total return) as a starting point for finding the next decades Super Stocks.
In his search he only included stocks that trade on US exchanges and have a market cap of over 1 billion. One visible trend from this list is smaller market cap stocks with heavy foreign exposure seemed to fair well over the past decade. No Mega-Cap companies made this list as it is extremely difficult if not impossible for a Mega-Cap company to grow 50-fold in 10 years. In other words it is impossible for a $200 billion company to grow to $10 trillion in market value in a $14 trillion economy.
The 25 stocks that made the list include…
• 5 Energy Companies
• 4 Health Care Companies
• 3 Chemical Companies
• 5 ADR's
• Top 3 are Brazilian companies
Of the top 25 top performers of the last decade we will give our breakdown of the attractiveness of these companies going forward to see which still seem attractive. Using The Applied Finance Group's (AFG's) Economic Margin (EM) methodology and valuation techniques and overall investment criteria, we have ranked the 23 companies that made the list from most likely to outperform to least likely according to valuation and expected change in economic profitability. AFG's model portfolio results have shown that companies that have attractive valuations and expected improvements in their economic profitability are more likely to outperform those companies with expensive valuations and expected declines in economic profitability.
VE.com recommends that the companies with unattractive labels within this table be carefully reviewed to see if they are worthy of owning/adding in your portfolio.
click to enlarge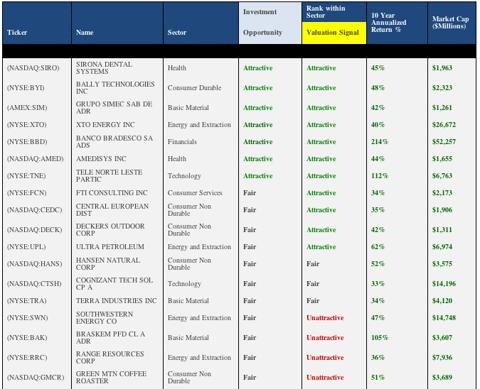 To stay updated on companies AFG believes are attractive investment opportunities register here.
Disclosure: None