There are rumors floating around that Sprint (NYSE:S) may in fact buy out T-Mobile US (NASDAQ:TMUS). There are very strong arguments that favor a T-Mobile deal, but there are a ton of arguments that support the conclusion that T-Mobile would not be a very good buyout candidate for Sprint. The arguments that go against the deal are numerous, but I'm going to try and highlight a couple of them in order to specify whatever it is that is going on.
Setting the stage
Usually I like to identify key trends in an industry and give a basic overview of a whole sector space in order for you all to grasp the context of whatever it is I am saying. This is important because I often make really strong claims, but to make these claims means that I have to substantiate whatever it is I am saying from a rigorous foundation of knowledge. So hopefully I can get you all on board with my thought process.
Softbank, one of Japan's largest telecoms bought out Sprint. The buyout was considered to be the largest foreign acquisition of a U.S. company in history. Sprint stock was tanking and what saved the downward spiral was a buyout valued at $21.6 billion. The buyout was smaller than what was offered by DISH Network (NASDAQ:DISH) at the time, but promised to return shareholders substantially more value. In fact, following the buyout of Sprint by Softbank, Sprint is still publicly traded on the New York Stock exchange as there's still a bit of a float because the terms of the buyout still necessitated the need for a secondary market for Sprint shares.
Shortly following that event, Sprint eventually bought out Clearwire at a $14 billion valuation, granted Sprint already owned 50% of Clearwire at the time, so the actual cash spent to buyout the remaining half was closer to $7 billion.
Currently, I'm borrowing data from a DISH Network acquisition presentation. The fact is, DISH Network never got to acquire Sprint and Clearwire. But if we combine the spectrum of Sprint and Clearwire the wireless spectrum dedicated to the Sprint network is approximately 185 Mhz, which is almost twice that of both AT&T (NYSE:T) and Verizon (NYSE:VZ).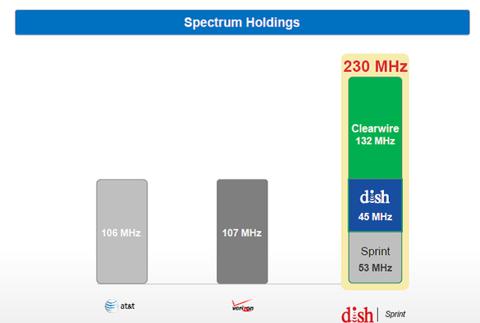 Source: DISH Network
So if the capital expenditure on the part of Sprint can scale further, at least in theory, Sprint would have the best wireless network in the United States.
T-Mobile and Sprint can be a happy marriage
Currently T-Mobile has 50 MHz of wireless spectrum. T-Mobile has the lowest amount of spectrum among all the major telecoms in the United States. Plus, it also has the worst network according to consumer surveys, which doesn't help T-Mobile whatsoever.

Source: PiperJaffray
Currently T-Mobile may have no other practical exit strategy than to be bought out. Approximately 55% of T-Mobile customers want to switch networks, which is bad. T-Mobile is known to have awesome pre-paid packages, so if you want to save money, go with T-Mobile. However, T-Mobile isn't the only low cost carrier. Sprint operates the Virgin Network, which offers price competitive pre-paid plans as well.
So in a sense a vast majority of the product niches in the space have been saturated. While some have argued that T-Mobile offers compelling international coverage, it doesn't change the fact that T-Mobile will never catch up to the Sprint, Verizon and AT&T.
According to Dylan Tweney from Venture Beat:
Second, the wireless technologies underlying the two companies are quite different. Sprint is still running on a CDMA network, like Verizon's, while T-Mobile's network is based on GSM and HSPA+. Phones from one type of network won't work on the other, and vice versa. That means Sprint and T-Mobile would have a massive integration problem.
However, that may true with regards to GSMA and CDMA technologies when it comes to 2G and 3G frequency bands. The same exact case doesn't exactly play out when dealing with the 4G LTE standard, which standardizes the frequency bands just enough so that various OEMs like Apple (NASDAQ:AAPL) can fit all the necessary frequency bands within a single device to account for network compatibility.
So the argument that Sprint and T-Mobile can't pool together network resources simply isn't true. Sprint and T-Mobile can have interoperable compatibility with their 4G LTE networks helping to push greater economies of scale between the two cellular telecoms assuming a merger were to take place. So even if T-Mobile and Sprint are technically building out 4G LTE networks with varying frequency bands, technology is making up for that. To be more specific, within the Apple iPad air is the Qualcomm MDM 9615M 4G LTE Modem, which will eventually be integrated into other SOCs (system on a chip) for other device manufacturers assuming a two year rolling refresh cycle. For those unfamiliar to mobile semiconductors, Qualcomm (NASDAQ:QCOM) has a monopoly on modem technologies in the mobile space, so it's highly probable that any handset shipped in the next couple years will come with this new modem technology. There will no longer be any need for differing modems inside of mobile devices in the United States. This neutralizes the argument that T-Mobile and Sprint will not be able to integrate 4G network technologies together.
According to Dylan Tweney from Venture Beat:
First of all, there are regulatory concerns. AT&T tried to buy T-Mobile less than two years ago, for $39 billion, and was ultimately shot down by the U.S. Justice Department. Justice's concern: So much consolidation hurts competition, and that tends to drive up prices for consumers.
This argument also falls flat on its face, because regulators probably wouldn't mind having a 3rd well capitalized competitor with comparable subscribers and network resources competing with AT&T and Verizon. Some will mention the Sherman Act (1890) to base their claims of anti-trust scrutiny, but that legislation is very limited in scope when compared to the acts that follow, which include the Clayton Act (1914), Robinson-Patman Act (1936), and Celler-Kefauver Act (1950).
According to Foundations of Microeconomics, the acts prohibit the following practices only if they substantially lessen competition or create monopoly:
Price discrimination
Contacts that require other goods to be bought form the same firm (called tying arrangements).
Contracts that require a firm to buy all its requirements of a particular item from a single firm (called requirements contracts).
Contracts that prevent a firm from selling competing items (called exclusive dealing).
Contracts that prevent a buyer from reselling a product outside a specified area (called territorial confinement).
Acquiring a competitor's shares or assets.
Becoming a director of a competing firm.
So because AT&T was attempting to create a monopoly through its acquisition of T-Mobile, it wasn't allowed to acquire competitor's shares or assets. But in the case of Sprint and T-Mobile being merged it would not substantially lessen competition nor would it create a monopoly, which negates the penalties that are imposed on companies that are either engaged in a monopoly or attempting to create one.
According to Dylan Tweney from Venture Beat:
Third, regulators or not, the two companies are in the process of being wiped out by their larger rivals. It's not clear that tying together two losers is a good recipe for making a winner in this market. Both Sprint and T-Mobile have been losing customers for years, as AT&T and Verizon have scooped them with their larger networks, faster technologies and more aggressive marketing. A combined Sprint and T-Mobile would still be well behind both of its rivals.
This argument also falls short of logic. Sure, T-Mobile and Sprint combined wouldn't amount to much. But when you combine the scale of resources between Softbank, T-Mobile, Sprint and Clearwire the picture starts to change quickly based on the graphic below.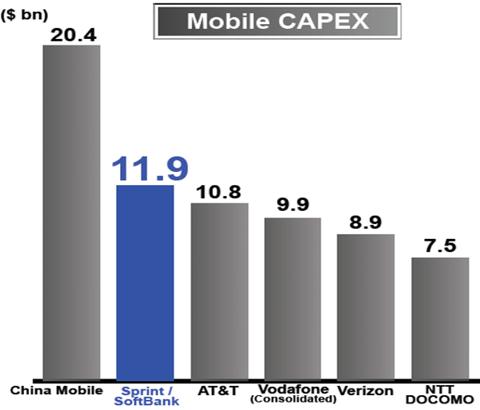 Source: Softbank
Now, currently Sprint/Softbank's capital expenditure is $11.9 billion. However, when you combine the capital expenditure of $3.7 billion from T-Mobile into this equation, the consolidated capital expenditure would climb to $15.6 billion on an annual basis.
Softbank's 4G network build out in Japan will slow as the net geographic area in Japan is pretty limited. Softbank's network build out in Japan is nearing completion allowing for CAPEX to be redirected to its Sprint subsidiary.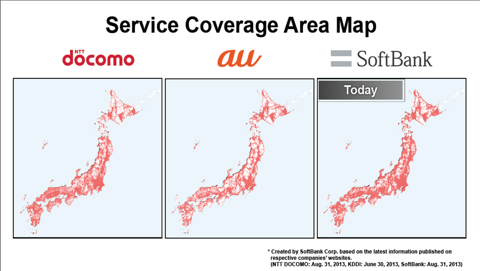 Source: Softbank
Therefore the combined capital expenditure of $15.6 billion (T-Mobile included) would primarily go toward building out a more competent 4G LTE network in the United States. This means that a Sprint and T-Mobile merger may at least result in a coverage map that gets closer to AT&T's and Verizon's.
Currently 44% of consumers believe that 4G is important when considering their next phone purchase. This implies that whoever has the fastest 4G LTE network build out will at least win the hearts of consumers, and right now Verizon is winning by a significant landslide.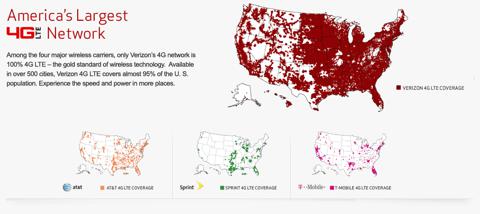 Source: Verizon
Currently Verizon is rolling out its 4G LTE network fast so that it can also use Voice over LTE technologies. The Voice over LTE technologies avoids the frequency bands of older network technologies from the CDMA and GSM days. When considering voice over technologies can also run through LTE, it's imperative for T-Mobile and Sprint to merge sooner rather than later. This is so they can leverage voice over technologies on LTE frequency bands rather than balance costs of cell towers on older CDMA and GSM technologies.
Reasonable buyout value
When considering Clearwire was bought out at a $14 billion valuation just for owning spectrum without having a single wireless customer, it's improbable that a T-Mobile buyout will only be worth $20 billion.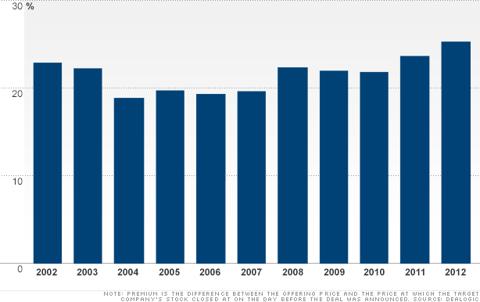 Source: CNN Money
The premium paid for a stock is closer to 25% in the case of M&A. T-Mobile's share price prior to rumors of a buyout was around $25.44 per share. That gave the stock a market capitalization of around $20.39 billion prior to rumors of a buyout. If we assume that a buyout were to materialize, assuming a 25% M&A premium it would take Softbank/Sprint $25.5 billion to take T-Mobile private.
However, if we look at history, it took Softbank a 52% buyout premium to buy out Sprint. This involved a bit of a tug of war that was unprecedented in American telecoms. That being the case, if in the event Verizon or AT&T attempt to thwart a buyout of T-Mobile by getting into another bidding conflict, we could easily see the buyout premium expand significantly. The question is whether the other major phone carriers will even bother to put in a bid when anti-trust regulation would work heavily against them, and heavily favor a T-Mobile and Sprint merger.
So in the best case scenario, T-Mobile may end up trading at a frothier value of $30.6 billion. Now, I know the question you're thinking. Can Softbank/Sprint even afford a $30 billion merger? The answer is a resounding yes.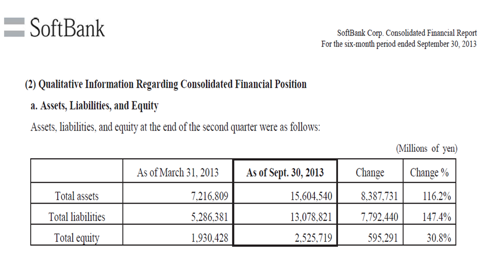 Source: Softbank
After converting the total equity figure into dollars, Softbank when including Sprint has $24.512 billion in shareholder equity. So it can technically borrow cash against the value of its assets and reach a tender offer that can at least reach $30 billion. Also remember that Japanese interest rates remain miserably low (2.87% for generic 10-year Japanese treasury), so a corporate issuance of bonds along with other sources of credit can be used without diminishing the financial stability of Softbank too severely. T-Mobile has shareholder equity of $3.35 billion, which would add equity (in the event of a merger) to Softbank's balance sheet. In other words, T-Mobile's and Softbank's assets and liabilities would be consolidated in order to borrow cash. This would add enough collateral to bridge any funding gaps needed for a leveraged buyout.
I also want to mention that there are plenty of investment banks willing to lend cash to telecoms as cash flows are fairly predictable. The cost efficiencies by combining Sprint and T-Mobile will help to pay down the debt and interest sooner. So from a financial standpoint it's definitely workable.
Conclusion
Much of the speculation with regards to the buyout has been misguided. Of course the financial impact would be huge as it would take significant leverage on Softbank/Sprint's balance sheet to be pulled off.
An acquisition of T-Mobile would be accretive to Sprint shareholders while an upside catalyst for T-Mobile investors. I will write a more in-depth discussion of financial impact, gains in market share and potential earnings that may be realized by long-term equity holders of Sprint once a deal has been formally announced.
Disclosure: I have no positions in any stocks mentioned, and no plans to initiate any positions within the next 72 hours. I wrote this article myself, and it expresses my own opinions. I am not receiving compensation for it (other than from Seeking Alpha). I have no business relationship with any company whose stock is mentioned in this article.