Buy Pick of the Day: Ultrashort Proshares Oil and Gas ETF (NYSEARCA:DUG)
Analysis: Going into the morning session, we are continuing to see the market losing value in its futures. The GDP news does not seem to be much of a shock to the market, and it is reacting more to some bad news out of AIG (NYSE:AIG) of an almost $9 billion loss and questions over whether they will be able to pay back the money they owe the government and a lot of other people. This news is in two ways good for oil prices to decline and the market to decline, which in turn, should help a play in an inverse on the oil market, a la Ultrashort Proshares Oil and Gas ETF (DUG).
For one, a positive reading on the GDP, showing a stronger economy should be good for the dollar. The dollar's value is directly tied to GDP. As we continue to grow our economy, relative to others, we should see the greenback rise in value. Further, the market is looking a bit downwards in reaction to the news out of AIG and the GDP was not good enough to give us that rise many thought we would get. For that reason, DUG will also be moving upwards.
The oil market, in addition, should be in a longer term trend downwards. It had moved all the way to $80 per barrel and is stuck at $78. Analysts are suggesting that the data is pretty mixed, and things are going to be driven by the outside markets and dollar for awhile. China is showing rising demand, while the US is showing no demand. Its a mixed market. With the dollar looking stronger, though, we should see oil continue to lose out today.
Technically, DUG is pretty much at a neutral point right now. It is neither oversold nor overbought. In the short term, it has become slightly overbought, but it is in an upwards trend and has not gotten much over the mid point in between, so it should continue upwards towards overbought. Technicals, though, on ETFs are hard reads.
Get in this morning, despite the fact that oil is up going into the open. It should not last fundamentally.
Entry: We are looking to get involved with DUG at 13.10 - 13.20.
Exit: 2-4% on top of entry price.
Stop Loss: 3% on bottom of entry.
Short Sale of the Day: AXA (AXA)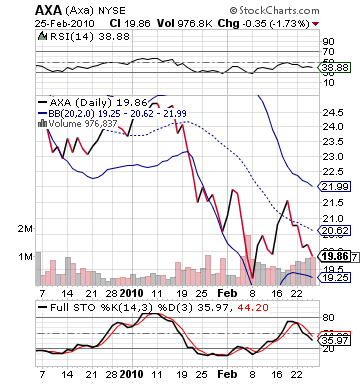 Analysis: We like AXA on the AIG news. AIG reported an $8.87 billion quarterly loss in Q4 of 2009. That is a loss of $53.23 EPS... not good, especially since investors were only expecting a loss around $3.00 per share. Further, the company warned that it may still need more government aid before it can get the ship right, despite already owing $182 billion in bailout money. This news is just all around very bad for insurance companies across the board. One company that is rather similar to AIG is AXA, who should feel some pain today due to the news on AIG.
AXA is a property and casualty insurance company for the most part. The company functions in similar business ways to AIG. One thing we often see in the market is that a company in the same industry that has either a very negative news story or positive one, can truly move the entire market in one direction or the other. This is what I think will happen to AXA today.
Further, I am still behind that I think the market probably will be going more red today than green. Additionally, AXA is in the middle of a pretty powerful downward trend that just does not seem appropriate to be recovering out of on such a weak day as today. So, I think, overall, it presents a solid short sale.
Entry: We are looking to get involved at 19.85 - 19.95.
Exit: 2-3% below entry price.
Stop Buy: 3% on top of entry.