SandRidge Permian Trust (NYSE:PER) is an oil-heavy, oil and gas trust that owns "royalty… interests in specified oil and natural gas properties located in Andrews County, Texas" (Source: PER 10-Q 9/26/11, p5.) As recently as October of this year, PER traded as high as $15/share. However, due to questions about future oil prices and PER's production levels, share values have declined more than 20% in less than two months.
My analysis, which uses an engineering-style model to forecast trusts' future distributions based on individualized forecasts of production, prices, and expenses, indicates that the steep decline may have created a value opportunity for investors. This article discusses the assumptions and results of this model.
A General Model Used to Value Trusts
An oil and gas trust is a type of commodity investment in which investors receive periodic royalty payments from the sale of oil and gas from a set of underlying properties. For investors, the value of a trust is the net present value, or NPV, of its future royalty payments. Although each trust has a unique process for determining its distribution, most resemble the generalized model shown below; the total distribution for a period is the gross revenues from the sale of oil and gas, less production-related expenses incurred by the proprietor, times the share of income owned by the trust, less the trust's own administrative expenses.
Of course, the devil is in its details. Future distributions are subject to uncertainties in well production, sales prices, and expenses, as well as unforeseen events. In addition, well proprietors and trust administrators may use various accounting and contractual techniques to manipulate net income and, indirectly, their distributions (see "Tricks that Inflate the Value of Oil and Gas Trusts"). While these techniques are legal and often spelled out in a trust's SEC filings, they can mislead investors. If you are considering a trust investment, I recommend becoming very familiar with these techniques.
The rest of this article discusses my assumptions regarding forecast revenues, expenses, and other underlying circumstances for PER.
PER: Key Model Assumptions and Considerations
Well production will hold steady and then decline beginning mid-2015
PER owns royalty interests in two sets of wells, both of which are developed and operated by SandRidge Energy, Inc. (NYSE:SD). The first owns 80% of the net income from 517 "production" wells that were completed and producing by September 2011. The second owns 70% of the net income from 888 "development" wells that are currently undergoing construction and completion operations. As of August 2013, 593 of the development wells were producing.
PER's total well production has significantly underperformed original expectations. SandRidge's initial well production forecast planned for 2,000 mboe in 2014 (source: PER prospectus, p13). However, based upon current production trajectories, actual production may struggle to yield even 1,600 mboe, only 80% of target. Furthermore, other trusts run by SandRidge, Mississipian Trust I (NYSE:SDT) and Mississippian Trust II (NYSE:SDR), also show significant underperformance (see David Moore's report on SDT, for example). Put together, these signs suggest proceeding with caution.
To forecast future production, I developed two generic well models, one each for the production and development wells, that use a power curve to represent well production. The generic well models were applied to PER's historical well activity reports and fit to total historical production using a least squares method. Future forecasts are based upon these generic "best fit" models and the assumption that the pace of completing the remaining development wells will be consistent. The chart below shows historical production and three scenarios for future production; the middle case represents the "best fit" models modified to require a minimum production decline of 1.4%/quarter in the out years (see note below) and the best and worst cases are +/- 3 standard deviations from the middle.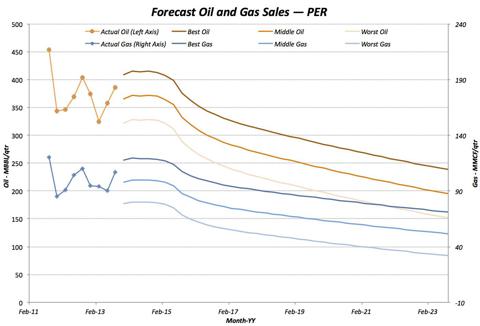 Note: At this point, I suggest that all well production forecasts for PER be viewed with a critical eye. As shown in the chart above, production has fluctuated, at times dropping significantly, despite the addition of more than 200 new wells in the past 12 months. This fluctuation and the overall underperformance of PER's wells reduce my confidence in the forecast. The 1.4%/quarter minimum decline discussed above is added as a conservative measure and to bring the best-fit forecast inline with SandRidge's initial well decline estimates. This requirement affects production estimates from 2018-2031 only.
Production will continue to be sold at a discount to WTI and HH prices
PER's oil and gas production is sold by SandRidge at prices similar to the WTS (though the sales contracts are not publicly available). As proxy for future prices, I use NYMEX WTI/Light Sweet Crude and Henry Hub futures and subtract the average historical spread between PER's published prices and the closing end-of-month spot prices ($9.25/bbl for oil and $0.62/mcf for gas).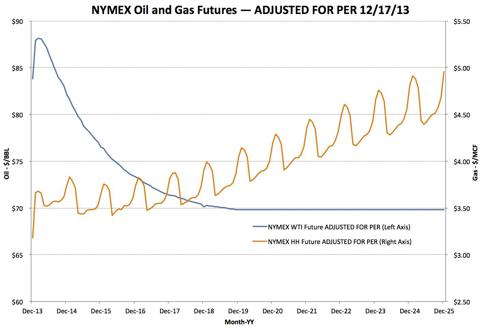 In addition to future sales, PER's revenues also include any profits related to a series of gas hedges that are owned by the trust. These hedges run through March 2015.
Production related expenses will decrease and trust expenses will hold steady in time
PER's overall expense ratio for the most recent quarter was only 7.5%, which is lower than most trusts that I have reviewed. Expenses include two production-related costs that are deducted by SandRidge and a single charge deducted by PER trust administration that covers administrative costs, franchise taxes, and property taxes. SandRidge does not bill the trust for development expenses.
The model assumes that "Production Taxes" will change in proportion to the future gas and oil production revenues; "Post-Production" will change in proportion to the future gas production volume; and the PER administrative charge will continue at the average historical level.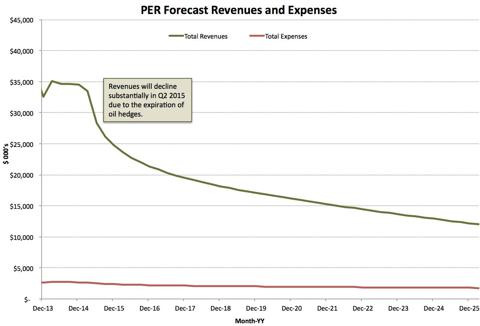 PER's subordinated shares will convert on Dec. 31 2015
Per the rules underlying the trust, 25% of the trust's shares are subordinated. Subordinated shares provide an incentive to SandRidge to complete the development wells; these shares only receive a portion of the distribution if the trust meets specified thresholds and they convert automatically to regular units at the end of the 4th quarter following the completion of the last development well. Based on historical construction rates, the model anticipates that SandRidge will complete its construction obligation in Q4 2014, which will cause the subordinated shares to convert on Dec. 31, 2015. Because of the overall underperformance of PER's wells, the subordinated shares are not likely to receive a full payout in 2014 and 2015 and their conversion will dilute the trust's earnings substantially.
PER will liquidate on or shortly after Mar. 31, 2031
Upon liquidation, the trust will disburse the final production revenues and a non-trivial residual payment. I approximate the value of the residual as a 10x multiple of prior year distributions, multiplied by a 1.5 "fudge factor," less a 50% stake owned by SandRidge (the PV-10 of the residual for the middle case is forecast to be $0.74).
PER: Results show a 4.9% undervaluation at 10% ROR
Shown below are the NPV of future distributions for the best, middle, and worst cases and for various rates of return, as calculated by the model on 12/17/13.
As the table suggests, a fair valuation for PER, which assumes the middle case and a 10-12% ROR, is between $11.11 and $12.30 per share. The current market price ($11.70, as I write this) appears to fairly value PER, but does provide for a limited accretive valuation of 4.9% at 10% ROR. Using the best and worst case results, the upside potential is $14.21, or 17.7% accretive, while the downside is $10.48, or a loss of 11.6%.
Given the current accretive value and upside potential, I have elected to take a small position in PER.
PER Distributions May Plunge in late 2015 and 2016
Over time, the fair value of PER will decrease as distributions are made. The following chart illustrates the forecast of future distributions and the future fair share valuation.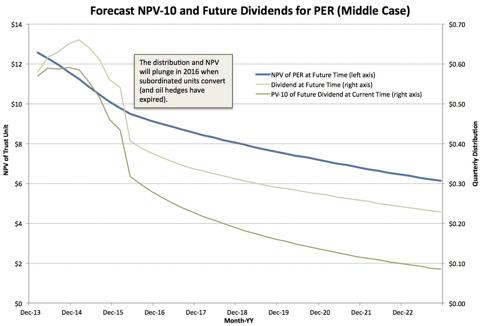 As shown, PER's distribution is forecast to hold steady or increase through Q3 2015, and then decrease substantially, as hedges expire and the distribution is diluted by the conversion of subordinated shares. If you are considering an investment in PER, you should be aware of this event.
PER model valuation may be compared to other analyses
Another author on Seeking Alpha, Daniel Moore, has also reviewed PER (SandRidge Permian Trust: Third Quarter Results Show Solid Performance). Unfortunately, his work is now behind a pay wall; but I have found his analyses of other trusts to be insightful and thorough. Mr. Moore also considers a trust's reserve reports when developing his forecasts, which presents a different perspective on the valuation. I highly recommend reading his analysis if you are interested in PER and have access.
PER's value is favorable as compared to other trusts
PER is the sixth trust that has been evaluated by the model. Others include:
The table below shows a ranking of trusts based on the difference between the model NPV and the market price at the time of evaluation. For PER, the difference is +4.9%; which ranks it second.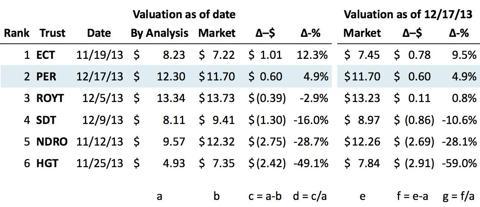 In addition to the trusts mentioned above, investors wishing to do their own comparative analysis may wish to compare PER against:
Chesapeake Granite Wash Trust (NYSE:CHKR)
Mesa Royalty Trust (NYSE:MTR)
MV Oil Trust (NYSE:MVO)
Permian Basin Royalty Trust (NYSE:PBT)
SandRidge Mississippian Trust II
Whiting USA Trust I (NYSE:WHX)
Whiting USA Trust II (WHZ)
Disclosure: I am long PER, ECT. I wrote this article myself, and it expresses my own opinions. I am not receiving compensation for it (other than from Seeking Alpha). I have no business relationship with any company whose stock is mentioned in this article.