Introduction
In this article, I'll have a closer look at Nike (NYSE:NKE) which is one of the best-known sports brands in the world. I will provide my view on the recently-released financial statements and the company's balance sheet. Thereafter I will move over to briefly discuss the outlook for Nike, and this will result in my investment thesis at the end of this article.
My view on the financial results
As the company's financial years end in May, Nike has just reported its Financial Year 2014 Q2 numbers. Total revenue for the quarter came in at $6.4B which is an increase of 8% compared to the same period last year. But the real good news is that the cost of goods sold increased by just 5% and this golden combination of increasing revenues and slower increasing costs have resulted in 12% bump in the gross profit numbers to $2.8B. Unfortunately the general and administrative increased by 14%, so the profit before taxes was only up marginally, by 1%. Fortunately the effective tax rate dropped from 26.8% to 25.1%, and this caused the net profit to increase by 3% in the second quarter to $537M or $0.60/share.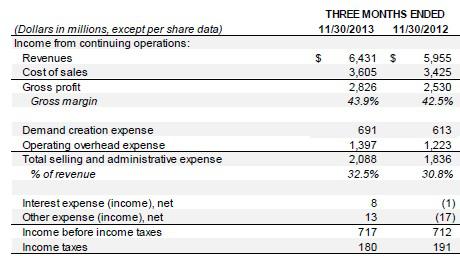 When looking at the entire first semester, things are looking a bit better as the net income was up 38% to $1.32B or $1.48/share.
As most of my readers know, I always like to look at the cash flow statements as well, as I firmly believe these statements offer a better indication of the quality of the underlying business. Unfortunately Nike hasn't provided a cash flow statement yet so I'm unable to check if the company was still in track to generate in excess of $2.4B of free cash flow, as it was able to do in financial year 2013.
My view on the balance sheet
Moving over to the balance sheet, Nike's working capital increased to almost $10B, which obviously puts the company in an extremely enviable position. Compared to the same period last year, Nike's working capital increased by more than $2B, despite treating its shareholders very well as Nike repurchased 5.5 million shares for cancellation.

At the end of the quarter, the current ratio of the company was an extremely healthy 3.57, which is actually a bit high, so I would expect the company to continue to aggressively repurchase shares. Nike announced a share repurchase program which allowed the company to buy back $8B worth of stock over a four-year period. 14 months into the program, Nike spent 'just' $1.7B on those repurchases, so I really expect the company to step up the plate and buy back more shares, as the company is profitable and the current working capital would be sufficient to fund those repurchases.
Looking at the book value per share, Nike was able to increase the BVPS to $12.77/share, coming from $11.10. This book value looks relatively 'clean' as -surprisingly, I admit- Nike isn't carrying a lot of goodwill and intangibles on its balance sheet.
Outlook
The management hasn't offered an official update on the outlook for the remainder of the year, but I'm aiming for a net profit of $2.7B which would result in an EPS of $3.08 based on 875M outstanding shares (the current share count is a bit over 880M). In terms of free cash flow, I am estimating a slight increase from last year's free cash flow and I hope Nike will generate $2.5B in FCF this year, which will primarily be used to pay dividends and buy back more shares.
Investment thesis
To be honest, Nike had a pretty boring quarter and first semester. The company does a good job in continuing to increase its brand awareness and is able to show revenue and profit growth.
However, as the company is trading at a price/earnings ratio of 25 and has a free cash flow yield of just 3.75%, Nike isn't exactly cheap, and I am not interested in buying shares at this moment. Usually I would write an out of the money put option in such circumstances, and I'm particularly looking at a July 2014 P60 for an option premium of $0.90 and a January 2015 P55 for an option premium of $1.35. These option premiums result in an annualized yield of respectively 3% and 2.25% but would result in buying Nike stock at a FCF yield of respectively 4.75% and 5.25% (based on 870M outstanding shares and 865M outstanding shares on those respective dates).
Disclosure: I have no positions in any stocks mentioned, and no plans to initiate any positions within the next 72 hours. I wrote this article myself, and it expresses my own opinions. I am not receiving compensation for it (other than from Seeking Alpha). I have no business relationship with any company whose stock is mentioned in this article.
Additional disclosure: I might write an out of the money put option, as explained in this article, depending on the option premiums.