2013 has not been kind to American Capital Agency Corp. (NASDAQ:AGNC). The company has been hammered by the taper related volatility seen in the MBS market, causing both book value declines and lower net interest margins. As a result, American Capital has seen its shares lose over 30% of their value YTD while its quarterly dividend has been cut nearly in half. However, the company is taking steps to remedy this situation, mostly via an accelerated share buyback program.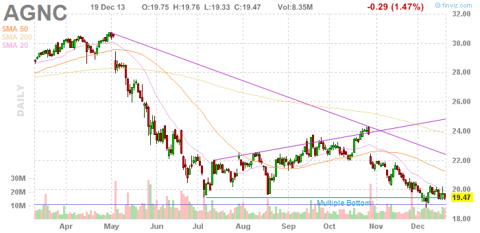 American Capital lowers its dividend to $0.65 per share, now yields 13.20%
On December 18, American Capital announced a $0.65 per share dividend for Q4 2013. This would be a 19%, or $0.15 per share, decline from the Q3 2013 dividend of $0.80, and a 48%, or $0.60 per share, decline from the Q4 2012 dividend of $1.25. The Q4 2013 dividend would mark American Capital's fourth straight dividend cut. As can be seen below, American Capital's share price has closely followed its dividend YTD decline.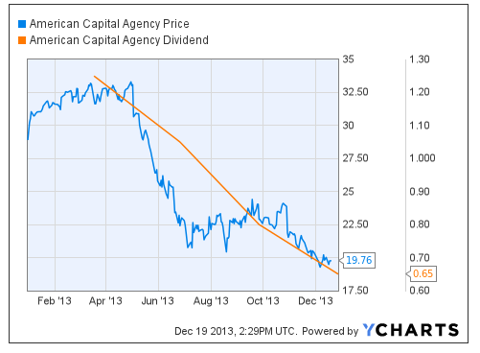 What has caused these lower dividends?
American Capital has been seeing lower dividends mostly as a result of worsening net interest spreads along with its use of lower leverage. As an example, during Q3 2013, American Capital's net spread fell 20% to roughly 1.20%, largely a result of a decline in the average yield on its portfolio.

In addition, another factor in reduced dividends would be American Capital's TBA dollar roll position, which changed from a net long position to a net short in Q3 2013. Previously, TBA income has made up quite a bit of American Capital's interest income. Shifting to a net short TBAs functions as a hedge for the company as it lowers "at-risk" leverage with relatively low costs.
Due to the uncertainty regarding tapering, American Capital's focus has been shifting more and more towards book value preservation rather than generating income. This shift can be seen in its most recently released portfolio allocation and hedges summary. Simply put, American Capital is more worried about the idiosyncratic long-term risks it is facing due to tapering than its quarter to quarter dividends.
Accelerated share buybacks are likely to increase book value
As I mentioned above, American Capital's focus has changed to preserving its book value. Much like nearly all of its mREIT peers, American Capital shares are trading at a very deep discount to their book value of $25.27 as of September 30, 2013. This discount has widen greatly over the past few weeks, averaging over 20%.
However, the company is trying to somewhat reverse this. Along with its dividend announcement, American Capital also mentioned that so far Q4 2013, it had bought back nearly 28.2M shares at an average price of $20.82 per share. This equates to about 7% of total shares outstanding as of Q3 2013. In total, American Capital has spent about $586M in share buybacks in the quarter. Over the past twelve months, American Capital has bought back 43.0M shares for about $934M.
American Capital is likely to see a small benefit to its book value when it reports Q4 results due to buying back so many shares in the quarter. Doing some simple math, buying back 7% of shares at a 20% discount is likely to boost the book value by nearly $0.35 per share.
Some might wonder how American Capital can afford to fund these buybacks if it pays out nearly all of its interest income in dividends. The answer here is quite simple. American Capital is selling its highly liquid MBS to fund these buybacks. This benefits the company in two ways. First, it naturally reduces leverage and hence risk. Second, due to the accretive effect on book value, it offers shareholders an alternative method of generating returns.
Buying dollar bills for $0.75 is always a good thing. I believe American Capital is likely to continue this trend of large buybacks until its shares trade near or at par with book value.
Tapering has finally been announced
On December 18, the Federal Reserve announced that it will ease back on its easy money policy. This expected monetary easing is widely known as "tapering" and has been the main culprit in MBS price volatility in 2013. The Fed has been waiting for the economy to show some improvements before unwinding its stimulus program. Starting January, the Fed will now buy $75B a month in government bonds, down $10B from $85B, $40B in Treasury bonds, down $5B from $45B, and $35B in MBS, down $5B from $40B.
While the Fed's tapering is hardly significant in percentage terms, it is likely to cause some turmoil in the MBS market. For starters, the 10 year rate will likely rise to 3% in Q1 2014. Meanwhile, the yield curve will likely steepen, which may result in weaker MBS prices. However, prepays will likely slow down greatly. New mortgage originations may slow due to the higher rates, which may increase demand for legacy older MBS.
The end result of tapering will be less volatility in MBS, larger interest rate spreads, and lower MBS prices. For American Capital, this means it will likely see higher interest income in future quarters, coupled with gradual declines in MBS prices. However, the company is hedged exactly for this scenario. Therefore the negative impact on its book value may come in less than expected. Overall, the Fed's modest tapering should benefit American Capital more than it harms it as it finally brings stability to the MBS market.
Final Thoughts and Conclusion
Given its over 20% discount to book value and current 13% yield, American Capital appears to be a good bet short to medium term. American Capital is likely to continue to sell agency MBS at par to buy back its stock at $0.75 for the dollar. The company should not focus on short-term income generation, especially if it can lead to substantial long-term book value declines. Due to the announced tapering, MBS prices should decline while the yield curve steepens. Due to American Capital's reduced leverage and increased hedges, it should see very little impact to its book value. However, net interest income will likely remain suppressed short to medium term, likely resulting in lower dividends for the first half of 2014.
Disclaimer: The opinions in this article are for informational purposes only and should not be construed as a recommendation to buy or sell the stocks mentioned. Please do your own due diligence before making any investment decision.
Disclosure: I am long AGNC. I wrote this article myself, and it expresses my own opinions. I am not receiving compensation for it (other than from Seeking Alpha). I have no business relationship with any company whose stock is mentioned in this article.