BlackBerry (NASDAQ:BBRY) may never come back. BlackBerry fired Thorsten Heins and hired John Chen as interim CEO as if he has all the answers. It almost reminds me of how the New York Knicks played Jeremy Lin as a backup to another backup point guard. The New York Knicks luckily saved their season, and Jeremy Lin was soon labeled Linsanity.
Heck, we'll have Chensanity on our hands if John Chen turns around BlackBerry.
Can John Chen hold back the tide?
Many believe there's the potential of a turnaround because of his previous success with Sybase's turnaround. However, that market was enterprise, and this market is consumer. The consumer is a little different, because once you lose momentum; it's hard to gain back your momentum.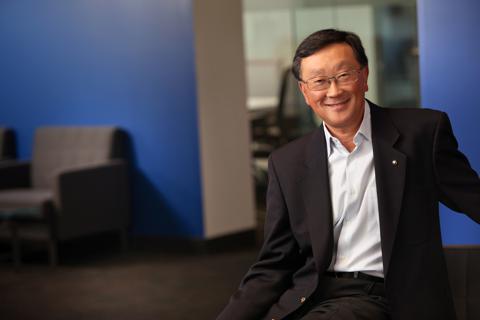 Source: BlackBerry
However, I have to admit, his credentials and track record as a CEO are quite impressive. He began his career as a design engineer at Unisys (NYSE:UIS), and was eventually promoted to Vice President and General Manager of the Unix Systems Group. Following that he served at Pyramid Technology Corporation as Executive Vice President, CEO of Siemens' Nixdorf's open enterprise computing division, and then in 1998 he became the CEO of Sybase.
At Sybase he turned around the company and was able to turn its focus to productive revenue growing products like analytics and mobility. Analytics wasn't a huge market at the time; today we refer to analytics as Big Data, which is the marketing name that IBM coined, for its smarter planet initiative. Sybase was able to grow revenue from $867.5 million in 1998 to $1.22 billion in 2010 under his tenure as CEO, before it was eventually bought out by SAP AG for $5.8 billion. His strategy involved identifying niche markets and serving them exceptionally well with software driven products.
Mr. Chen's turnaround of Sybase took place from 1998 to 2010. This implies that any results over the short term with the exception of costs are within his control. He cannot speed up development times of key products, nor can he invent a miraculous way for creating a parachute for investors to be able to jump out of. For all we know, he may have to sell off strategic patents to live through the cash burn. In other words he needs a long runway, and if he's not given a long enough runway to turn the company around, he will most definitely fail. This is the case with any start-up or turnaround.
BlackBerry is in a lot of trouble
BlackBerry's financial statement deteriorated even further in 2013. Anyone who had invested into the company has lost a significant amount of capital over this past year.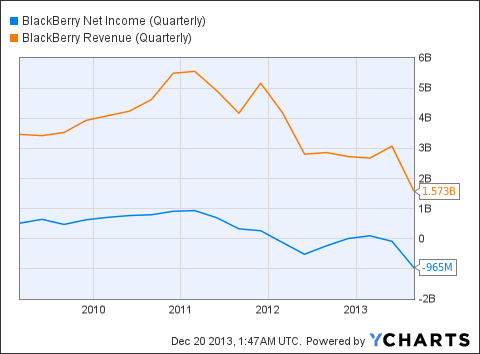 Source: Ycharts
The true extent of the problem is severe. BlackBerry generated $1.57 billion in annual revenue in the most recent quarter. The company lost $965 million, so for BlackBerry to return to breakeven, the company would need to cut $605 million in quarterly expenses. Now if cost cutting of that scale were to occur, the company's operations would be ruined. The negative repercussions from such a rapid restructuring would be analogues to chopping off a leg to save the rest of your body, but you end up bleeding out, and dying from a total lack of blood.
I remember Jamie Dimon (CEO of JPMorgan Chase) mentioned in his annual report that he wants to intelligently cut back on expenses. But in this specific instance, I'm sure the Wall Street veteran couldn't come up with a smooth strategy, for "cutting expenses effectively."
The other alternative is to grow revenue, but how? The BlackBerry Z30 was at best a mid-end device when it came out. With the iPhone 5S released I' m doubtful of any turnaround in BlackBerry Z30 device demand. Some have speculated that BlackBerry could jump full force into the low-end, but that means that the company will be generating extremely small margins, which would only make it more difficult for BlackBerry to orchestrate an effective recovery. Things look even worse going into the first quarter, because it will be dismantled by the Samsung Galaxy S5. Now, mind you, the Samsung Galaxy S5 has a ton of its own hurdles to overcome, but nothing anywhere near as insurmountable as BlackBerry's weak prospects with its BBZ30. The BBZ30 comes loaded with a mid-end screen (pixel density below 300), processor (Krait 300) mid-end, and 16GB of built in storage (same as everyone else).
BlackBerry's refresh cycle is falling behind its competitors, and recently T-Mobile (NASDAQ:TMUS) decided to pull back retail support for the device. BlackBerry lost a billion dollars due to unsold BlackBerry Z10 devices. Accepting a loss on the devices by selling at an extreme discount is the way to go, but unfortunately it has to compete with other phones sold on a postpaid contract for $0. Selling cheap is also hard in the smartphone space, darn it.
Conclusion
Analysts are expecting the company to report a 41.5% year-over-year decline in sales. The consensus EPS estimate is (0.44). The company has $2.65 billion in short-term cash and assets, so John Chen has enough time to work with the company for 6 months before it has to start selling assets or come up with creative ways to manage receivables and payables on the balance sheet.
I'm confident earnings are going to stink, and there's going to be a window of opportunity to initiate a short and earn some quick profit with the momentum working in your favor.
Disclosure: I have no positions in any stocks mentioned, and no plans to initiate any positions within the next 72 hours. I wrote this article myself, and it expresses my own opinions. I am not receiving compensation for it (other than from Seeking Alpha). I have no business relationship with any company whose stock is mentioned in this article.