Initially, I had no interest in researching Polaris Industries (NYSE:PII), until I came across its 5 year chart. The stock has risen roughly 900% over the last 5 years without any major corrections or price drops. I know there are plenty of stocks that have gained well over 900% in a 5 year period, but I haven't found one that does so in such a smooth and consistent manner. After doing research on the stock, I found not only an extraordinarily well run company but also a company with outstanding growth prospects. Polaris Industries began producing snowmobiles in 1956 as a way to make hunting locations more accessible. Since then, the company has expanded its product line to all-terrain vehicles, motorcycles, small electric vehicles and a wide array of parts and accessories. Through the years, Polaris has continued to refresh its product lineup and is known as a best-of-breed throughout its vast product lineup.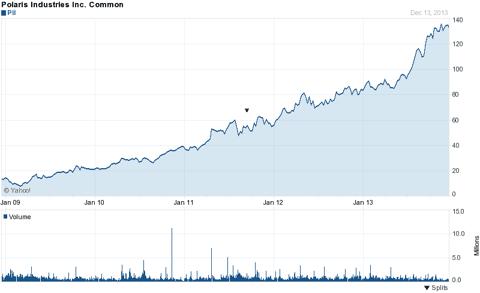 Analysis
| | | | |
| --- | --- | --- | --- |
| Products | 3Q2013 ($ mil) | 3Q2012 ($ mil) | % change |
| Off-Road Vehicles | $ 702.0 | $ 573.0 | 23% |
| Snowmobiles | $ 143.5 | $ 114.9 | 25% |
| Motorcycles | $ 49.4 | $ 52.4 | -6% |
| Small Vehicles | $ 31.7 | $ 11.0 | 188% |
| Parts, Garments & Accessories | $ 175.9 | $ 128.6 | 37% |
| Total Sales | $ 1,102.6 | $ 879.9 | 25% |
| Net profit | 10.6% | 10.7% | |
3Q2013 Highlights:
Record quarterly sales over $1 billion for the first time in company history.
25% sales growth
Raising full year 2013 EPS guidance to $5.30-$5.37, up from $5.2-$5.3
Largest product line-up launched during third quarter
International sales grew by 38% in part due to the Aixam Mega acquisition
3.96 million share buyback plan from Fuji Heavy Industries for $497.5 million
Polaris turned in a very strong 3Q2013. Sales growth continues to outpace the company's long-term projections and the company now expects to achieve sales of $8.0 billion by 2020. A strong quarter is nothing new for Polaris. Chairman and CEO Scott Wine provided very encouraging company guidance:
"Our record third quarter results reflect both the ongoing demand for our existing products and the potential contained within the initial shipments of our model year 2014 vehicles, the largest new product introduction in the Company's history. In the third quarter, we launched more new vehicles than in any previous model year, led by the much anticipated debut of Indian Motorcycles along with several innovative variants of RANGERS, RZRs and Victory motorcycles. While the new model year 2014 vehicles and accessories are just now arriving at dealers in meaningful quantities, the initial feedback has been extremely positive from consumers to the trade magazines."
Reason for optimism:
Indian Motorcycles
Indian Motorcycles was founded in 1901 and was America's first motorcycle company. The company produced motorcycles until 1953 when the company went bankrupt. Since then, there have been a number of failed attempts to resurrect the motorcycle. In 2011, Polaris purchased Indian Motorcycles, the iconic American motorcycle company, and spent the last 2 years reengineering and designing the classic motorcycle. Polaris revealed the new Indian motorcycle in mid-2013 and received positive reaction from motorcycle enthusiast.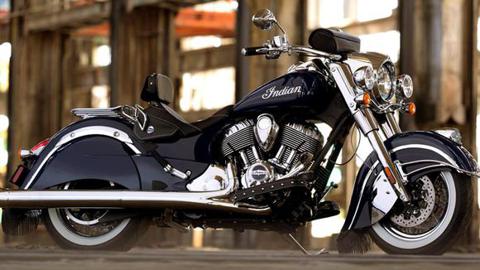 Polaris launched 3 new models, the Indian Chief Classic, starting at $18,999; the Indian Chief Vintage, at $20,999, and the Indian Chieftain at $22,999. Until now, Indian motorcycles have been priced as high as $37,000, but Polaris has repositioned the brand to go head-to-head with Harley-Davidson (NYSE:HOG) by cutting thousands off the price tag and improving quality at the same time. Initial models were shipped to dealers in September 2013 and have seen success. Kevin King, GM of Arlen Ness Motorcycles in California, said, "They're moving very well. We have retailed everything they've sent us, and I could have sold many more if we'd had more." Polaris expects 120-140 dealers to be selling Indian motorcycles in the US by the end of 2013. The company is also targeting dealers in England, India, China and Japan to start selling Indians in early 2014.
Indian Motorcycles represents huge market growth for Polaris. Polaris currently produces Victory motorcycles, but sales only account for roughly $200 million in annual sales. This is just a drop in the bucket compared to Harley-Davidson's $5-$6 billion in annual sales. If Indian can grab even a small portion of this market, it will be a huge win for Polaris. UBS projects Polaris will ship 15,000 Indians in 2014 and 21,000 units in 2015. That projects to roughly $300 million in sales in 2014.
Motorcycles were the only business segment that didn't see growth in 3Q2013, but this was due to only small initial shipments of Indian Motorcycles being shipped late in the quarter and Victory motorcycle dealers recalibrating their inventory during the quarter. 4Q2013 should see strong market growth with the full product line of Indian Motorcycles receiving strong positive reviews from dealers.
International Growth
Polaris continues to see tremendous growth in international sales. The past quarter alone saw 38% growth in sales despite a weak economic environment. The company saw market share growth across all product lines. The acquisition of Aixam Mega, which makes small cars and commercial vehicles in France, is a strategic acquisition to accomplish the company's goal of building a $1 billion business in its small electric vehicles business by 2018.
Bottom Line:
Polaris is like a broken record. It keeps raising revenue and earnings forecasts quarter after quarter, year after year. Management has done an unbelievable job innovating its products and keeping customers interested. I really think Indian Motorcycles can be a game changer for Polaris and will continue to lead sales growth over the next several quarters. The last 5 years have seen tremendous EPS growth and the company expects continued strong growth going forward. Polaris is a best of breed and has a strong track record of successful moves. 2014 should be another strong year for Polaris.
Disclosure: I have no positions in any stocks mentioned, but may initiate a long position in PII over the next 72 hours. I wrote this article myself, and it expresses my own opinions. I am not receiving compensation for it (other than from Seeking Alpha). I have no business relationship with any company whose stock is mentioned in this article.