Linn Energy, LLC (LINE) and LinnCo, LLC (LNCO) finally sealed the deal and completed the announced merger between LinnCo and Berry Petroleum Company on December 16, 2013. The related press release summarized the relevant deal terms:
In connection with the transaction, LinnCo has issued 1.68 common shares for each common share of Berry outstanding as of December 16, 2013, the last trading day prior to the completion of the acquisition, totaling approximately 93.6 million shares. The transaction, which is structured as a stock-for-stock merger between LinnCo and Berry is expected to be tax-free to Berry stockholders. Pro forma for the transaction, LINN Energy will have proved reserves of approximately 1.1 billion barrels of oil equivalent (54 percent liquids).
Mark Ellis, Chief Executive Officer, Chairman and President of Linn Energy, expressed conviction with respect to the transformational value the acquisition has for the company:
"We are pleased to complete the combination of LINN Energy and Berry's highly complementary assets to create one of the largest independent oil and natural gas companies in North America," said Mark E. Ellis, Chairman, President and Chief Executive Officer. "This transaction positions our company for great success in the future as we continue to drive long-term value for our investors. Berry's long life, low decline assets are a perfect fit with LINN Energy. We are excited to welcome the Berry employees to the LINN Energy team as we continue to build our leading position in the industry."
After completion of the Berry Petroleum transaction, Linn Energy will be the 8th largest publicly listed master limited partnership and the 12th largest independent E&P company in the US (as measured by pro forma enterprise value).
Share performance
Units of Linn Energy are down about 20% over the last 12 months. Units tanked at the beginning of July as Linn Energy LLC and LinnCo LLC disclosed an inquiry by the Securities and Exchange Commission. After release of such news, units dropped sharply from $33.29 to $22.79 just two days later. As a result, Linn Energy lost 32% of its market capitalization in a matter of days. As is often the case with abrupt destruction of market value due to panic reactions, the units subsequently recovered and are now trading close to $30 again.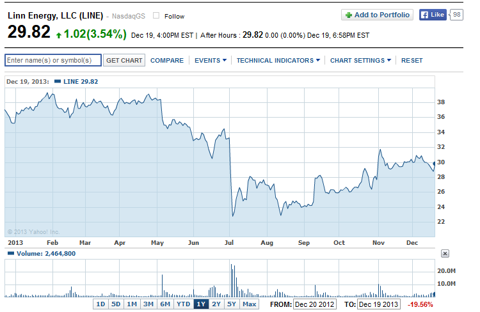 Linn Energy has underperformed its E&P peers over the last two years. Linn Energy lost 21% over the most recent two-year measurement period, while Apache Corp. (NYSE:APA) lost 2% and Devon Energy (NYSE:DVN) 1%. Anadarko Petroleum (NYSE:APC) gained 6%, Marathon Oil (NYSE:MRO) 27% and EOG Resources (NYSE:EOG) 69%.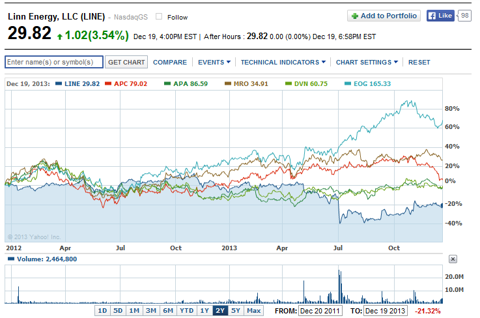 Background
Linn Energy has a diversified asset footprint in the United States. The company has main exploration operations in the Mid-Continent, Green River Basin, Permian Basin and Hugoton Basin as well as smaller operations in California, East Texas and other areas of the US. Linn Energy has embarked on an extensive acquisition spree over the last four years. Since 2010 the company has spent more than $11 billion on acquisitions and joint ventures. Over the last eleven years, Linn Energy spent a total of $15 billion to grow its asset portfolio and broaden its production footprint across the United States.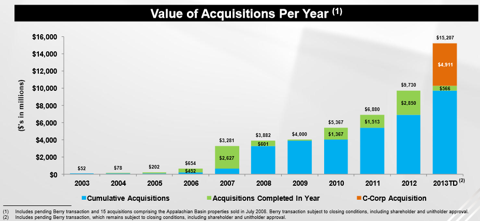 Linn Energy has been growing aggressively over the last decade and the acquisition of Berry Petroleum Company should provide meaningful tailwinds for further production and distribution growth. The pro forma company now has a reserve base of around 1,107 MMBoe of which approximately 54% relates to liquids. I have previously argued that I think exploration companies with a focus on liquids will do better than natural gas focused companies because the liquids business offers better margins and higher growth potential.
The US oil and gas exploration sector currently experiences a boom which is driven by a surge in hydraulic fracturing. Oil and gas companies with large proven oil reserves like Linn Energy should profit from this buoyant momentum in the industry.
Peer group comparison
Linn Energy is an independent exploration company that is structured as a master limited partnership and therefore required to pay out most of its earnings to unitholders.
Compared to other E&P companies in the sector, Linn Energy has one of the highest P/E ratios at 20.77. Only EOG Resources trades at a similarly high multiple of 18.31. I have previously written about EOG and I think the company does not offer a great risk/reward ratio. The peer group average P/E ratio stands at 14.78.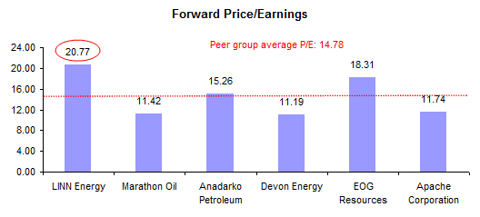 In terms of distribution/dividend yields, Linn Energy offers the highest yield among the E&P companies. Linn Energy paid $2.90 in distributions in 2013 giving the units a distribution yield of 9.73%.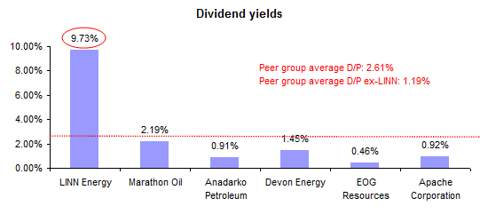 Since Linn Energy is structured as an MLP for tax purposes, it is more appropriate to compare Linn's distribution yield to the yields of MLP pipeline companies. The following chart compares Linn's 9.73% yield to other high-yield MLP plays in the energy sector. The peer group consists of Kinder Morgan Energy Partners (NYSE:KMP), Plains All American Pipeline (NYSE:PAA), Enbridge Energy Partners (NYSE:EEP), Energy Transfer Partners (NYSE:ETP), Energy Transfer Equity (NYSE:ETE) and Enterprise Products Partners (NYSE:EPD).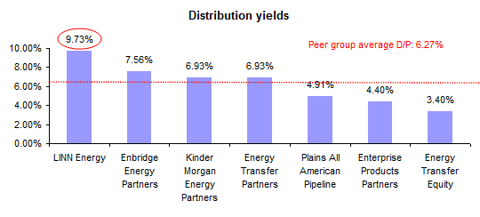 The summary table below compares Linn Energy's valuation and yield metrics to its peers in the E&P sector.

Conclusion
Investors who seek exposure to a fast-growing energy company which increased its liquids footprint via the Berry Petroleum merger, should have a closer look at Linn Energy. While the P/E ratio is relatively high at 20x forward earnings, the company has an attractive asset footprint, large proven oil reserves and the credibility to integrate transactions into its corporate structure. Furthermore, Linn Energy ranks favorably in peer yield comparisons and has a very attractive distribution yield of just below 10%. Long-term BUY.
Disclosure: I am long APA, DVN, LINE, KMP, PAA. I wrote this article myself, and it expresses my own opinions. I am not receiving compensation for it (other than from Seeking Alpha). I have no business relationship with any company whose stock is mentioned in this article.