Aside from lobbyists, and government spending, the only real organic growth story I can find is this mobile internet thing.
TriQuint Semiconductor (TQNT) is one of the many names that should be benefiting from it, but last quarter the market was disappointed in a report that I considered just fine. [Oct 21, 2009: TriQuint Semiconductor Destroyed in After Hours Trading] But you cannot argue with the herd, and the stock faced a sledgehammer. More recently, the company raised guidance in mid-January but was still able to beat that raised guidance by a bit. More importantly, the smartphone side of its business is now really taking off and the network side is finally showing some recovery for 2010, per executives.
Chart-wise, TriQuint now has amongst the best charts with yesterday's positive reaction finally taking the stock over January's highs. It now has to work through the huge gap down created by the ill received earnings report of October. (Click to enlarge)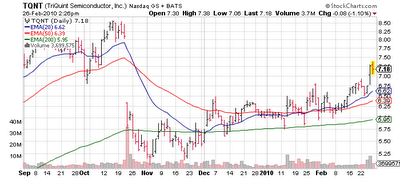 Some snippets from the report, via Reuters: (My comments in parenthesis)
Wireless communications products supplier TriQuint Semiconductor Inc posted a quarterly profit that edged past Wall Street expectations, driven by its mobile devices business, and forecast better-than-expected first quarter.
For the fourth quarter, the company posted net income of $17.5 million, or 11 cents per share, compared with a loss of $34.3 million, or 23 cents per share, a year earlier. ...posted earnings of 14 cents a share, excluding items.
Revenue rose 30% to $193.3 million.
Analysts expected earnings of 13 cents a share, excluding exceptional items, on revenue of $188.3 million. (again this guidance was raised just 6 weeks ago)
The company

expects 2010 to be a "solid growth year" for its network business, with market recovery, and also said demand for its products is expanding with higher broadband requirements, a company executive said on a conference call with analysts. Within mobile devices, TriQuint is expecting revenue growth with all its major customers, helped by increased smartphone unit volume and expanded Radio Frequency content.
The iPhone is TriQuint's strongest device at this point, but the company is seeing strength for other customers as well, like Korea's Samsung Electronics (OTC:SSNLF), Charter Equity Research analyst Edward Snyder said. "Their handset business is doing really well and it looks like their networks business is going to do particularly well next quarter," Snyder added. The company has a very high book-to-bill ratio, which suggests that it is holding a lot of orders for the networking business for the next period, the analyst said.
TriQuint explained that its

fourth-quarter revenue from mobile devices grew 55% year-over-year and 15% sequentially.
Guidance:
The company expects adjusted earnings of 8 cents to 10 cents a share on revenue of $170 million to $175 million for the current quarter. The company anticipates its first-quarter revenue will fall between $170 million and $175 million. Analysts had predicted revenue of about $169 million. Analysts were looking for earnings of 7 cents a share, excluding items on revenue of $168.6 million, according to Thomson Reuters I/B/E/S.
"As of today the company is nearly fully booked to the midpoint of revenue guidance for the first quarter," the company said in a statement.
Disclosure: Long TriQuint Semiconductor in fund; no personal position