Kohl's (KSS) reported earnings up just over 28% for its fiscal 2009 fourth quarter. As a result, Kohl's stock price advanced strongly during an otherwise abysmal day in the market. To us, this validates the principle that short-term price volatility is potentially erratic and unpredictable.
Therefore, we would argue that investors need to look past the short run and focus more on the longer run. Of course, this can only be true if the long run is more reliably predictable. The real question then becomes: Can investors rely on certain factors to help forecast future results? Our research tells us yes, but only within reasonable limits and ranges of accuracy.
Beyond day-to-day volatility, our analysis has identified what we consider the two most important attributes for long-term investing: value - or more precisely, valuation - and growth - or more precisely, the growth rate of earnings. We believe that both are critical factors for investors to evaluate. Ignoring either one in favor of the other can be hazardous to long-term results.
Growth Rate
The faster a company grows, the more valuable it is to its shareholders. This is simply because a faster growing business will generate a substantially larger income stream for stakeholders overtime than will a slower grower. Consistent with this idea is the fact that investors must typically pay more (a higher multiple, or P/E ratio) for a fast grower than a slow grower.
Utilizing our Fundamentals Analyzer Software Tool, we will first test the growth rate principle by looking at Kohl's and two well-known competitors, Ross Stores (ROST) and Wal-Mart (WMT), since 1996. Note that F.A.S.T. Graphs for Kohls and Ross Stores are PEG ratio graphs indicating growth above 15%. Wal-Mart's graph is a Graham-Dodd EDMP modified graph, due to growth below 15% and a dividend yield.
We will start with Kohl's in figures 1A & 1B. First note that Kohl's grew earnings at a compounded rate of 19.2% (red circle, figure 1A). The green line with triangles plots earnings at a 19.2% growth rate (P/E ratio). The black line represents monthly closing stock prices for the period (1996-2/24/2010). Note that price was close to touching earnings in the beginning (red arrow) and just under earnings at the end (yellow arrow).
Figure 1A. KSS 15yr EPS Growth correlated to Price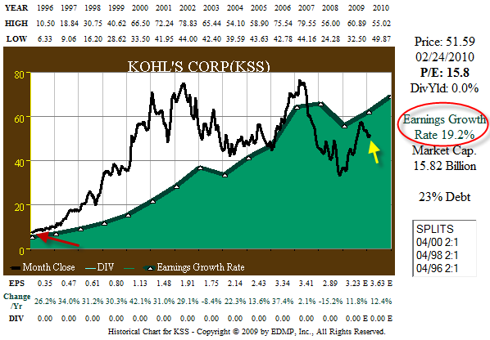 Figure 1B calculates the rate of return that applies to figure 1A. Note that the 15.2% result is slightly below the earnings growth rate due to valuation being over in the beginning and under at the end. Also note that since the S&P 500 only generated a 4% return, Kohl's shareholders were rewarded by Kohl's individual earnings growth and not the general market's return.
Figure 1B. KSS 15yr Price Performance


With figure 2A, we look at the smaller but faster growing competitor Ross Stores. In addition to slightly faster growth - 22% (red circle) - we add a small dividend yield (light blue shaded area on graph). Even though there is a lot of volatility from one year to the next, the long-term correlation of price to earnings is evident. Note a similar undervaluation, although hard to see, in the beginning (red arrow) and at the end (yellow arrow).
Figure 2A. ROST 15yr EPS Growth correlated to Price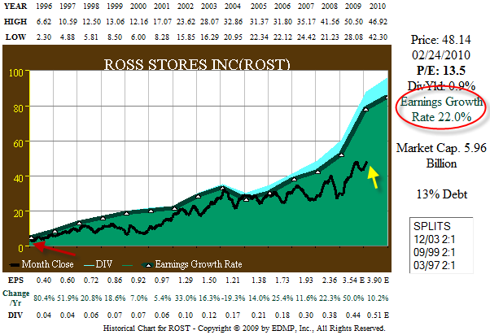 Figure 2B calculates the rate of return associated with figure 2A. We want to emphasize two points here: note how closely capital appreciation equates to earnings growth (22% earnings growth generated 23.4% appreciation; no dividends); and note how quickly the dividend yield increased on a cost basis over the period, due to Ross Stores' fast earnings growth rate.
Figure 2B. ROST 15yr Dividend and Price Performance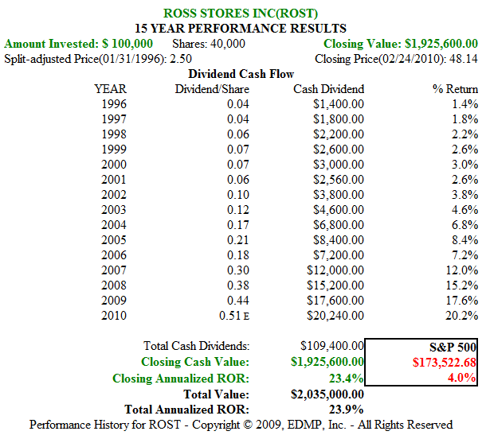 Figures 3A & 3B look at Wal-Mart, the 800-pound gorilla of the sector, from the same perspective and during the same time frame. Wal-Mart grew earnings at 13.9% (red circle, figure 3A) and started in value (red arrow) and ended only slightly below value (yellow arrow).
Figure 3A. WMT 15yr EPS Growth correlated to Price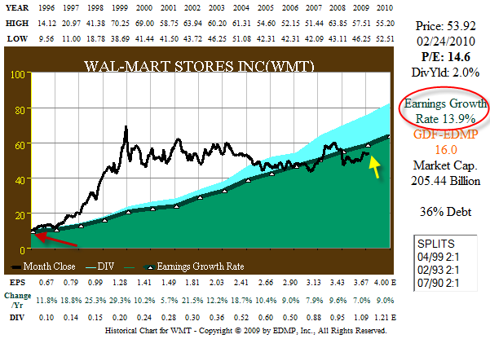 Figure 3B again shows that the earnings growth rate was the primary driver of appreciation and dividends.
Figure 3B. WMT 15yr Dividend and Price Performance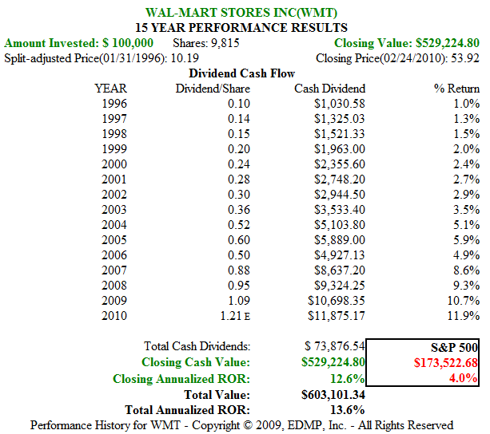 Valuation
Figures 1A & B through 3A & B above were offered to illustrate the importance and the relationship of long-term earnings growth rate to shareholder returns. The impact of valuation was evident but not dramatic. Since valuations at both the beginning and the end of the 15-year period were within reasonable tolerances of True Worth™, the importance of growth rate was featured. With figures 4A & B through 6A & B, we will change our focus to the importance of valuation.
We will cut the time frame by four years, or the period 2000 through 2/24/2010. This is the so-called "lost decade" which begins at the pinnacle of the irrational exuberant period and includes two recessions.
Figure 4A starts with Kohl's, which begins this period with an exorbitant P/E ratio of 46.3 (red arrow). This extreme overvaluation is more than three times the 15% earnings growth rate. How irrational short-term market movements can be! Note that both the stock price and P/E ratio increased over the next couple of years, before moving back to a more rational value.
Figure 4A. KSS 11yr EPS Growth correlated to Price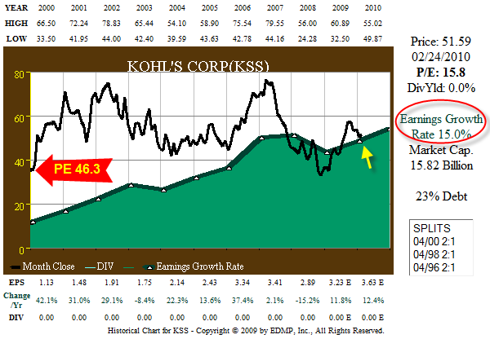 Figure 4B shows how shareholder returns were impacted by overvaluation. Even though the results were better than the stock market, at 3.6% compounded, they hardly compensated shareholders for the risk they took. Overvaluation prevented strong earnings growth from rewarding shareholders commensurate with growth.
Figure 4B. KSS 11yr Price Performance


Figure 5A looks at Ross Stores during the same 2000-2/24/2010 "lost decade." Interestingly, note that Ross generated about the same growth rate (15.2%) as Kohl's (15%) during the period. The big difference, for whatever reason, was that Ross started out this period with a low P/E ratio of 10.6 (red arrow, figure 5A) versus the 46.3 P/E for Kohl's (red arrow, figure 4A).
Figure 5A. ROST 11yr EPS Growth correlated to Price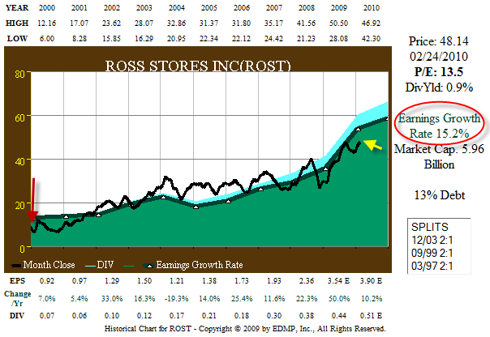 Figure 5B shows that Ross Stores' shareholders enjoyed a very attractive 18% appreciation and a dividend kicker, thanks to valuation in line with growth. Their earnings growth was virtually identical to Kohl's, but more attractive valuation made all the difference.
Figure 5B. ROST 11yr Dividend and Price Performance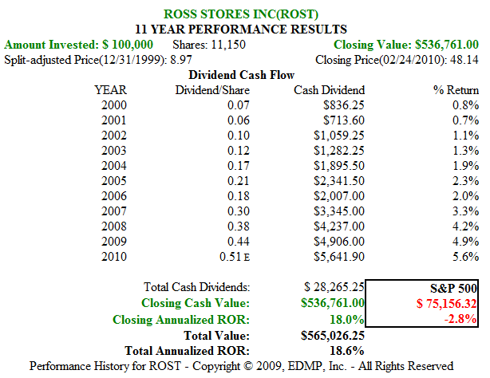 Our final examples, figures 6A & 6B, review Wal-Mart over the same "lost decade." Wal-Mart starts this period with a whopping P/E of 55 (red arrow, figure 6A). Remarkably, considering two recessions, it generated the most consistent growth rate of the three. However, it grew the slowest, averaging 11.1% (red circle, figure 6A).
Even though earnings growth was strong, especially for this now-$205 billion behemoth, its stock price inevitably had nowhere to go but down, then sideways for several years.
Figure 6A. WMT 11yr EPS Growth correlated to Price - Graham-Dodd Modified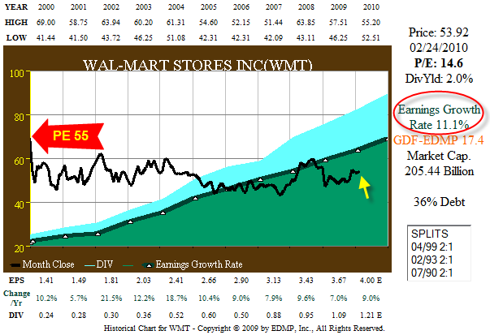 Figure 6B shows Wal-Mart shareholders lost money through the "lost decade" at about the same rate as the general market (S&P 500). Even the growing dividend could not save it from the ravages of overvaluation caused by irrational exuberance.
Figure 6B. WMT 11yr Dividend and Price Performance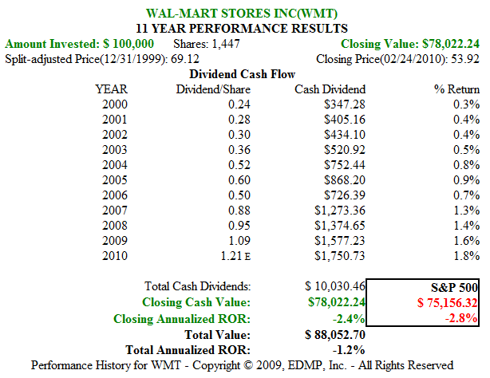 Conclusion
Over the short run, stock prices are liable to do anything - Kohl's Feb. 25 price action speaks to that. However, over the long run, measurable and important factors come into play, i.e., operating results or growth rates, and value or valuation.
We reviewed three well-known companies in essentially the same industry through identical time frames and economic environments. To us, the importance of individual operating results and the value investors apply to those results are paramount (growth and value). The evidence we presented reflects that neither the general economy nor the general market matter nearly as much.
As a final aside, all three of these retailers appear attractively valued today. Therefore, future shareholder returns are likely to be dependent on the respective growth rates each can achieve.

Disclosure: Long KSS, ROST at the time of writing.