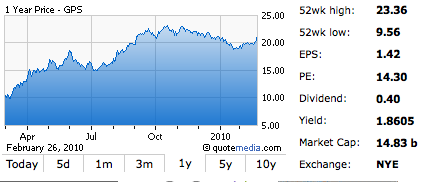 Gap Inc. (NYSE:GPS) shared jumped 5.5% Friday after reporting a fourth-quarter 2009 earnings beat and offering upside 2010 earnings guidance. The company announced plans for additional share repurchases, and a boost in the dividend gives the stock nearly a 2% dividend yield. (See earnings call transcript.)
I've liked this stock since last May for two main reasons: (1) CEO Glenn Murphy is a fantastic operator who is widely underappreciated by Wall Street; and (2) The company's valuation, both on a P/E and Free Cash Flow Yield basis is too cheap.
For more detail on my reasons for owning it, see here and here. Back in November, I said, "With only a modest improvement in operating margin next year, they could earn over 1.90 per share, putting the stock over $30," and that remains the case today. The company took 2010 EPS guidance to a $1.71-$1.75 range, and I think it will beat that handily. My one change is that, given the quality of the execution, the shares deserve a higher multiple, meaning they should hit $30 before they earn $1.90.
In 2009, Gap's focus on sourcing and its diligent promotional stance helped gross margin increase to 40.3%, almost 300 basis points higher than the previous year. This gross margin increase comes despite a 2% decrease in comparable-store sales (sales from stores open at least a year). The gross margin allowed operating income to increase to 12.8% from 10.7% in 2008, despite store-level costs increasing.
Expectations for 2010 were mixed going into this call. One key question the street has is whether the increases in operating margin are largely behind or if there's still room to improve. For its part, management still sees room for improvement, guiding 2010 to an operating margin of 13%. Some upside may come from an improvement in sales per square foot, which decreased again in 2009. The company confirmed expectations that 2010 will be a year in which it aggressively pursues market share, meaning it might give up some gross margin to get those new shoppers.

Among Wall Street's reactions, FBR Capital thinks the stock is under-owned, the story is unappreciated, and the sentiment on the company is low, all of which should work to investors' advantage. FBR likes Gap's outlook in 2010. Oppenheimer was very impressed with Gap's 2009 performance; that said, it is not a fan of the stock at current levels. Wedbush likes the stock in 2010 and sees upside to earnings estimates, believing the company's targeted promotion, international expansion, and new store prototypes could boost results. Deutsche Bank sticks with its Sell rating, believing this year's forward estimates are too high. Deutsche gives the stock an 11 P/E ratio, and apparently do not add back the cash per share.

I think the stock will trade at 15-17 times trailing earnings estimates by the end of 2010, and adding back $3.70 per share in balance sheet cash puts the stock near 30. As other investors warm to the story - a fantastic CEO turning around a former category leader, with the extra kicker of a dirt-cheap valuation and prodigious free cash flow generation - the stock will head up.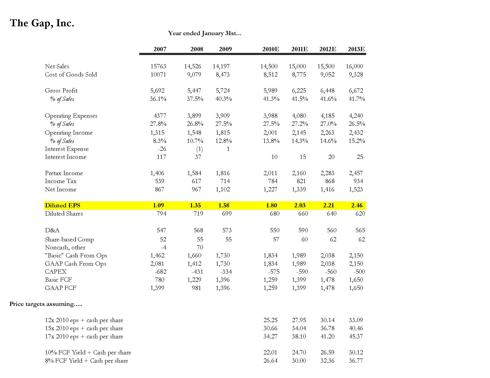 Click to enlarge


Disclosure: Long GPS