Editors' Note: This article covers a stock trading at less than $1 per share and/or with less than a $100 million market cap. Please be aware of the risks associated with these stocks.

Mass spectrometry is the standard method of chemical analysis. This is because of its general applicability, high sensitivity, and molecularly specificity. It applies to materials in all states and provides molecular, elemental, and isotopic information. It is especially valuable in characterizing the complex materials of interest in the biological and pharmaceutical sciences, in forensics, public safety, and environmental analysis. Major companies in the field include Bruker, Safran Morpho, and Fisher Scientific.
Mass spectrometers are a $10 billion industry. The equipment, until recently is large, delicate, expensive and restricted to use in the laboratory.
To be more generally useful, and in particular to be useful to clinicians, first responders, safety officers, and on the factory floor, mass spectrometers must be miniaturized and they must produce almost instantaneous, readily understood data.
From an academic standpoint, Dr. Graham Cook of Purdue University, is the recognized leading expert in the field has been leading a a team at Aston Labs in developing miniaturization.
There are several start-ups currently in the process of miniaturizing mass spectrometry to allow use outside of the laboratory thereby increasing the potential market. Sources estimate the potential market of $1 billion by 2015. As a result investors are searching for methods of taking advantage of the growth and profits.
908 Devices has received multiple rounds of funding from venture capitalists and Schlumberger (NYSE:SLB) and has put together a team to develop a hand held mass spectrometer. Microsaic Systems has been working on desktop units.
The only listed company working on miniaturizing mass spectrometry is 1St Detect a unit of Astrotech (NASDAQ:ASTC).
Astrotech is engaged in providing service to the Space program and had developed a miniaturized mass spectrometer for the space program and has released the product for the commercial market. The team that developed the units was spun off into 1st Detect. The company is in the process of developing a hand held unit although no release date has been announced.
Astrotech was recently in the news regarding a patent awarded for their ion trap technology. The company is profitable has about a 14 p/e and traded Friday December 14th at 1.82 at the close the day this article was first written.
Since then the stock has taken off and traded as high $3.24 today 12/19 and is extended although volume is high. It is unclear which company will benefit the most from the miniaturization of mass spectrometry.
The potential uses in the medical, biological, security, chemical, and military fields is vast and investors should be aware of the fact and treat their investment much like investing in small biotech firms with large potential.
One of the most interesting facts I discovered is that Mass Spectrometry can be used for early detection of many common diseases.
Additional Links:
Aston Labs list of Mass Spectrometry Links
Thesis and Catalyst for Astrotech Corporation
Company is currently fairly valued based on current business but may increase substantially upon release of hand held mass spectrometer. Since Astrotech is the only pure play on miniaturization of mass spectrometry is may be worth a speculative play.
Valuation
The opportunity is speculative based on the successful design and release of their product.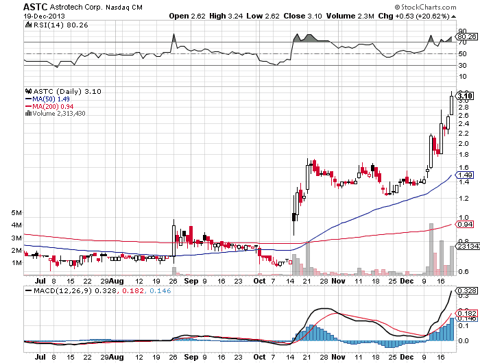 Disclosure: I have no positions in any stocks mentioned, and no plans to initiate any positions within the next 72 hours. I wrote this article myself, and it expresses my own opinions. I am not receiving compensation for it. I have no business relationship with any company whose stock is mentioned in this article.