One billion dollars in $100 bills: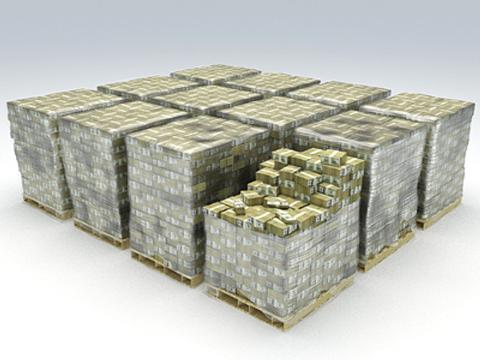 Click to enlarge
The difference between $999,999,999 and $1 billion is a lot more than $1. With $1 less than $1 billion, you are just some guy but with $1 billion, you become "billionaire X" for the rest of your life or at least the rest of your life unless you manage to lose your billion dollars. Our political debate is dominated by a choice to demonize and envy such people on one side or to learn, copy and someday to join them on the other. As Charlie Munger said,
What good is envy? It's the one sin you can't have any fun at. It's 100% destructive.
Prof. Thomas Sowell said that,
I have never understood why it is 'greed' to want to keep the money that you've earned, but not greed to want to take someone else's money.
So, I will leave the demonizing and envying to others and will instead focus on learning and copying. It has been a fine year for America's top billionaires. According to a recent study from Wealth-X, these are the top gainers for 2013: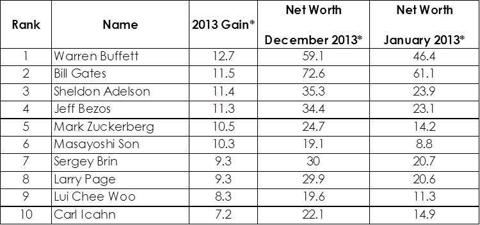 Click to enlarge
It should almost go without saying that all figures are in US$ billion.
Unlike wealth gained though salaries or inheritance, most of these gains were through the capital markets. While capital markets may increase inequality (because everyone increasing a given percentage increases the difference between individual wealth), they also are more replicable than other forms of wealth creation.
#1: Warren Buffett
Most of Buffett's wealth is in shares of Berkshire Hathaway (BRK.A/BRK.B) which is up almost 30% this year.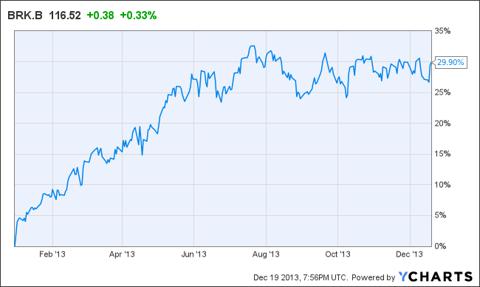 Click to enlarge
One can replicate much of Buffett's wealth generation (at least in percentage if not in dollars) by purchasing BRK.A or BRK.B. I used his buyback announcements as opportunities to buy BRK.B on a number of occasions. Specifically, we used the prices around Buffett's buyback price limit as strike prices for BRK.B options. Alternatively, Berkshire's current holdings, purchases, and sales are worth tracking via SEC filings. Today, Berkshire's top five positions include WFC, KO, IBM, AXP, and PG. One can also learn from Buffett. His shareholder letters are each worth studying carefully. I have probably learned even more by studying his Buffett Partnership letters.
#2: Bill Gates
Most of Gates' wealth is in shares of Microsoft (NASDAQ:MSFT) which is up by over a third this year.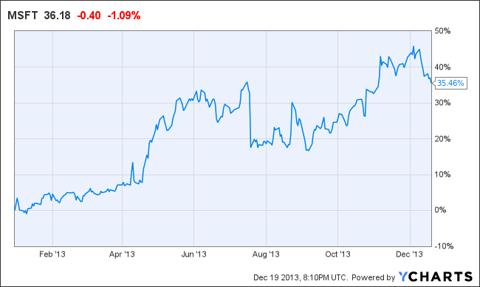 Click to enlarge
I initiated this investment idea in late December 2011 in part due to the amount of their cash and cash generating ability and in part due to a view that their management was suboptimal and likely to change. I am thrilled with ValueAct's success this year in earning a seat on MSFT's board. They will benefit all share owners by influencing management selection, capital allocation, and corporate strategy. A breakup to unlock shareholder value may be in the works. While ValueAct is represented on the board, their standstill agreement precludes them from discussing this publicly, so more could be happening then is public and priced into the market. If you are interested in learning to think more like Bill Gates, you might start with his reading list and his foundation's annual letters.
#3: Sheldon Adelson
It would take a lot of restraint for a writer to discuss Sheldon Adelson without making some analogy to hitting the jackpot in 2013. His Las Vegas Sands (NYSE:LVS) shares are up by over two-thirds.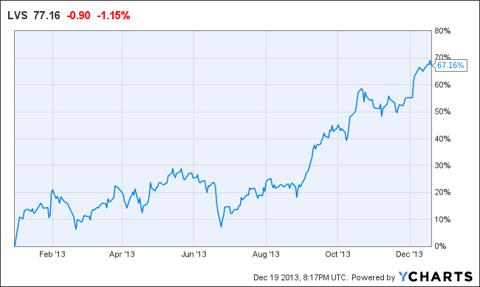 Click to enlarge
This has been an investment idea of ours since early March of this year. This company has had one of the most spectacular recoveries of any public company from the depths of the financial crisis until today. He has been one of the great successes at developing gaming in Macau and Singapore. His is an industry that holds great fascination. This is in part because of all of the parallels between Texas Hold 'Em Tournaments and value investing. Additionally, I am in the process of studying Chinese lucky numbers and whether Chinese interest in lucky numbers creates any anomalies in Chinese gaming.
#4: Jeff Bezos
Most of Bezos' wealth is in Amazon (NASDAQ:AMZN) equity, which is up over 50% this year.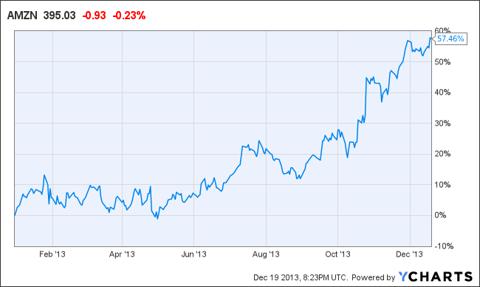 Click to enlarge
He is coming off of a year with over $60 billion in sales and is constantly innovating and improving his site. Sadly, I have followed the company since the 1990s and have never managed to buy a single share. That being said, I do about 100% of my shopping via Amazon Prime. Also, their affiliates program may be of interest to writers who blog or contribute to sites such as Seeking Alpha.
#5: Mark Zuckerberg
Zuckerberg has had a very good year after his Facebook (NASDAQ:FB) shares doubled in value.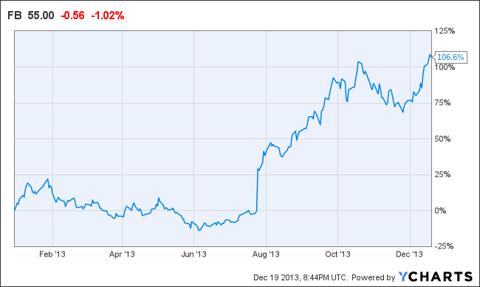 Click to enlarge
There has been a fabulous boom in technology IPOs over the past few years. As economist Herb Stein said, "if something cannot go on forever, it will stop." This is the largest holding of the Renaissance IPO ETF (NYSEARCA:IPO) which is my favorite short idea for 2014. As insider lockups expire, I would anticipate this ETF to decline in market price.
#6: Masayoshi Son
Masayoshi Son, Chairman of Sprint (NYSE:S) and CEO of SoftBank, may continue his M&A efforts in the US in the coming year. S is up by almost two-thirds so far YTD.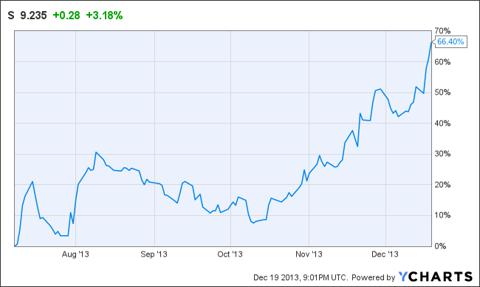 Click to enlarge
S was one of the many deal targets that received bumps in deal prices this year. Next year, we could see Masayoshi Son back in the deal market with a S bid for TMUS. This is one of five potential takeout opportunities that we anticipate are most likely in the coming year. One key advantage to Masayoshi Son of his foreign acquisitions has been diversifying out of Yen (NYSEARCA:FXY).
#7-8: Sergey Brin and Larry Page
The Google (NASDAQ:GOOG) guys stock is up over 50% so far this year.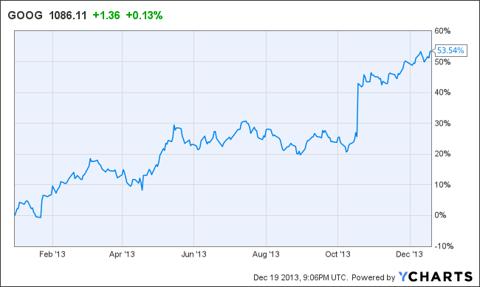 Click to enlarge
I once was an investor in a small business that was sold to GOOG. I received GOOG stock but it pains me to admit that I sold it all. If offered a do over, that was not a decision that I would repeat.
#9: Lui Chee Woo
Lui Chee Woo, Chairman of K. Wah Group, is the second richest man in Asia. He pioneered the construction materials industry in Hong Kong. While I have never invested and have shorted more Chinese equities than I have owned, I denominate much of my personal cash holdings in Chinese Yuan. One convenient tool for doing so is the WisdomTree Chinese Yuan ETF (NYSEARCA:CYB) which has had a modestly positive year.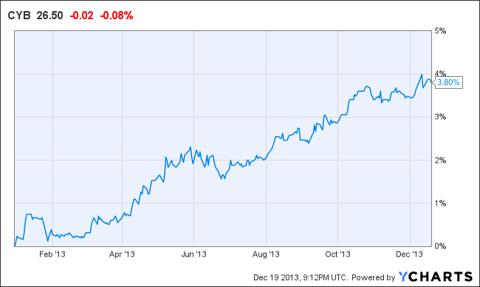 Click to enlarge
#10: Carl Icahn
2013 has been a pleasure romp for Icahn who has seen his Icahn Enterprises (NYSE:IEP) flourish.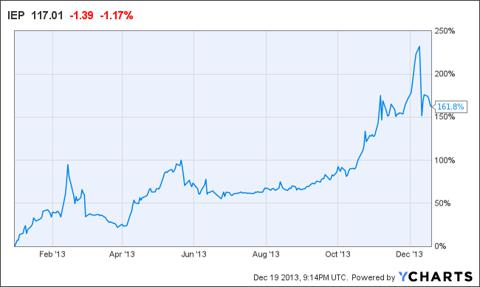 Click to enlarge
Major contributors include his bets on Netflix (NASDAQ:NFLX), Herbalife (NYSE:HLF), and Dell (NASDAQ:DELL). Sadly, I sat out NFLX and HLF. However, DELL was one of the many bumps this year that we were able to exploit and Icahn was a big contributor to that success, even though he did not end up winning the company. If that can be called "losing" then I would be happy to be such a loser. I rather suspect that Icahn would be too.
These ten say their combined wealth increase by over $100 billion and most of that increase was from the equity markets. One can demonize them or envy their scale; alternatively, we can learn and copy them. Few endeavors are as simple to copy at more modest scales. One requires only enough savings to start, enough time for statistical significance, and role models worth emulating. Investors should always do their own work. While no one can get you to the finish line on a research project, these billionaires are useful examples to point you in the direction of the starting line on some auspicious investment projects.
Disclosure: The author is short IPO. The author wrote this article themselves, and it expresses their own opinions. The author is not receiving compensation for it (other than from Seeking Alpha). The author has no business relationship with any company whose stock is mentioned in this article.
Additional disclosure: Chris DeMuth Jr is a portfolio manager at Rangeley Capital, a partnership that invests with a margin of safety by buying securities at deep discounts to their intrinsic value and unlocking that value through corporate events. In order to maximize total returns for our partners, we reserve the right to make investment decisions regarding any security without further notification except where such notification is required by law.