There are many investors that have an interest in Arena Pharmaceuticals (NASDAQ:ARNA) and its anti-obesity drug Belviq. Some have been invested for quite some time, some actively trade the stock, and many are on the sidelines looking for an opportune time to get in. It should go without saying that the weekly sales dynamic, as it relates to Arena, is geared toward the more active trader.
Sales numbers will impact the price of the equity in some form or another. Recently I penned an article that outlined the sales through the first 6 months and then went on to discuss expectations and sales through the end of Q1 of 2014.
The reason I am discussing this background before getting into the numbers is so that you, the reader, can have some perspective about what may or may not move the equity.
In my opinion, the street is expecting total gross sales to be at about $60 million by March 31, 2014. It is also my opinion that gross sales may close out the year of 2013 in the neighborhood of $30 million. Thus, by some pretty simple math, we arrive at the expectation that gross sales should be about $30 million for Q1 of 2014.
Now, taking it a step further, let's look at how many bottles of Belviq it will take to gross $30 million. At a price point of $199.50, it will take about 150,000 bottles in Q1 to arrive at the expected number of $30 million and 300,000 bottles since launch to arrive at a cumulative number of $60 million by March 31st.
If, at the end of the year, we have sales at about 150,000, then by simple math we know the street is looking for another 150,000 bottles sold over the first three months of 2014.
This is where week over week pacing and expectations come into play. I recently stated that week over week gains of 5% would be relatively neutral when it comes to this equity. I also stated that week over week gains of 10% or more would likely be seen as the drug getting "compelling traction". If compelling traction is seen, the equity should respond positively to such news.
Breaking this down, if adjusted weekly sales close out the year at a number of 6,000 and the cumulative number is at about 150,000, the following numbers would represent 5% week over week gains: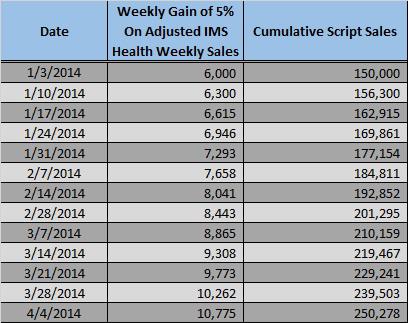 As you can see, using 5% week over week gains brings a total of 250,000 scripts since launch. This number is shy of the desired 300,000, but within striking distance of it. This is why I state that during the early part of 2014 a week over week gain of 5% will be seen as pretty neutral. It is actually a bit lower than desired, but with some compelling events such as better insurance coverage and possibly television advertising, a bigger traction event could happen at any time. Thus, being within striking distance is a pretty neutral thing in terms of the equity (for the time being). In essence, you can see why I state that in the sales window of the first weeks of 2014 5% is relatively neutral and 10% would show compelling traction. It goes without saying that as the numbers increase, the percentage gains will begin to flatten out. Remember these points:
Realistic expectations mean that realistic sales are neutral
Expect fluctuations to a certain degree
Zero growth weeks (where holidays are involved) will happen
Adjustments to expectations can and should be made as needed
IMS is reporting estimated sales to consumers
Symphony is reporting estimated sales to consumers
Data from sales trails by 1 week
Investors should model expectations vs. actual numbers
Street expectations can and do adjust
Historically the first half of the year is good for weight loss
Options (the third Friday of each month) can play a role
New catalysts can arrive at any time
Each Passing Week Gives Us More Data to Consider
Realistic expectations keep you level headed
Always monitor the overall market and sector
Be aware of possible potential as well as possible pitfalls
Launching Belviq television ads can create a big catalyst
Eventually the Belviq Story will have a more defined shape
Now to this week's sales numbers. IMS Health reported sales at a bit over 4,500 unadjusted. This represents a decline of a bit over 5% from the previous week. My adjustment brings the weekly sales figure to just below 5,700. My cumulative adjusted numbers is a bit over 125,000.
One caution I have had since Thanksgiving was that the weekly sales data should be expected to be modest. The Holiday season has many consumers quite busy, and doctor's appointments may not be high on the priority list for many. My additional caution is that sales in Christmas week and New Year's week will be even more challenging with doctors office and pharmacies being closed for certain days.
The chart below reflects the time period from launch through March 31st of 2014. As you can see, the sales figures have been pretty much above my expectation line until now (as a result of the holiday's). While we have been "ahead of pace" for quite some time, we will now be "behind the pace". The benefit of the sales that were ahead of the pace until now will act as a as a cushion of sorts for the period of time we are below the expectation line. Simply stated, it is possible to be below the trend line and still be on the pace in terms of overall sales.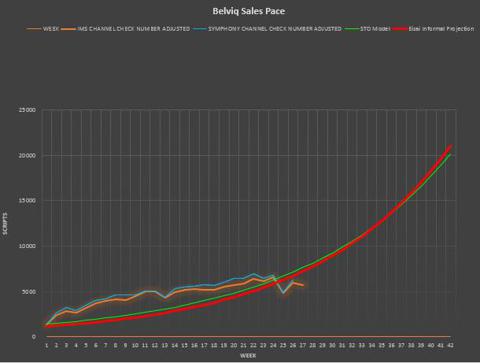 To date I have adjusted gross sales to consumers at about 125,000 bottles out of a desired 300,000. This leaves a balance of 175,000 to be obtained over the next 16 weeks. The gross sales (to consumers) are now estimated at $25,099,773. These monies do not include any upfront deal payments from Eisai to Arena. The upfront payments are a great addition to the cash position of Arena, but do not, in and of themselves, mean that real consumer sales traction is happening. In my opinion the success of Arena is currently viewed as being tied to the success of Belviq.
Summary
Do not expect great numbers between now and the first week of January. The holidays are a busy time for everyone. It is important to still monitor where sales are tracking, as there will be a quarterly report that the market will digest at some point in Q1. If the equity can hold the proverbial line over these next few weeks, it could be an indication that a strong foundation has been established, and street expectations are being met, or at least sales are strong enough to not upset the apple cart. Stay Tuned!
Holiday Thoughts
"Just because you have the right to say something does not mean that it is right to say"
"If you really want peace...start by looking at your own hate and your own actions"
Disclosure: I am long ARNA. I wrote this article myself, and it expresses my own opinions. I am not receiving compensation for it (other than from Seeking Alpha). I have no business relationship with any company whose stock is mentioned in this article.