Monsanto (NYSE:MON) recently signed the BioAg Alliance with Novozymes (OTCPK:NVZMF) to discover, develop, and commercialize microbial solutions for farmers. This alliance is subject to the approval of the relevant national antitrust authorities. Both parties will equally fund the deal, and will be closed in early 2014. This will enable farmers to increase their crop productivity with less effort. With its advanced biology, Monsanto is field testing, and commercial capabilities will utilize Novozymes' commercial BioAg operational expertise in microbial discovery, development, and production to enhance the crop yield.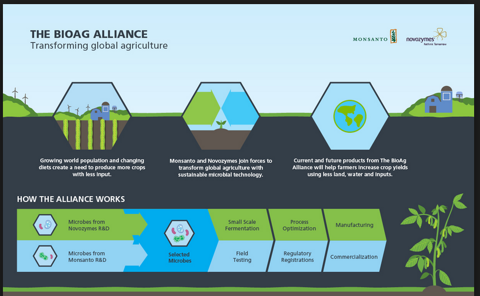 Novozymes, with its knowledge and experience in microbial technologies, is expected to build its presence globally with its 700 proven biological product portfolio, which enabled it to generate the revenue of $120 million last year. As the deal is expected to close in early 2014, it will therefore have no significant impact on Novozymes' 2013 results; however, this deal is expected to contribute to its 2014 earnings before interest and tax, or EBIT.
In this alliance, Monsanto will provide an upfront payment of $300 million to Novozymes and will capitalize on Novozymes' microbial capabilities, which will help Monsanto accelerate microbial development, enabling more farmers to receive more solutions. Monsanto, with its agricultural biological platform, is mainly focusing on enhancing the yield of its core crops that include corn, soybeans, wheat, cotton, canola, and fruits and vegetables. This BioAg Alliance with Novozymes will allow Monsanto to strengthen its footprint in providing microbial solutions to more farmers and improve the crop per acres yield.
Microbial technologies are considered a significant part of the agricultural biological industry, which has a market of $2.3 billion annually, with an annual sales growth in the mid-teens over the last several years. Further, the growing demand for food grains is expected to drive the sales of biological products. I believe this strategic alliance will help Monsanto boost its future growth prospects, and the higher demand for food grains will provide an opportunity for the company to expand its path of future growth.
A billion dollar acquisition
In November, Monsanto completed the acquisition of Climate Corporation by paying the sum of $930 million, which will enhance Monsanto's data science capabilities. With its advanced technology that monitors and predicts the change in climate, Climate Corporation provides information regarding weather conditions to the farmers. With the help of this product, farmers can improve their yield and protect their crop against any loss due to bad weather. Climate Corporation, with its "Climate Pro" product, will help farmers make 40 key decisions, mainly related to weather conditions. The farmer may enhance the untapped yield opportunity of up to 30 bushels to 50 bushels per acre in their corn fields with the use of Climate Pro. I believe farmers wouldn't mind subscribing to this new Climate Pro offering, as with the use of these products, farmers are expected to boost the per acres average profits by $100 for corn and $50 for soybeans.
Further, Monsanto has also planned to combine Climate Pro with its previous acquisition services of Precision Planting, which was acquired to expand its Integrated Farming Systems, or IFS, unit. Monsanto will charge $10 per acre for Precision Planting Offering, and for Climate Pro offerings, it will charge a subscription fee of $15 per acre for corn fields and $7.5 per acre for Soybean fields. Combining these initiatives presents a new $25 per acre high-margin corn field revenue stream and $17.5 per acre from Soybean fields. The IFS has an addressable market opportunity of around 400 million acres for corn, soybeans, and cotton. By combining its products, Monsanto will boost its future earnings and enhance productivity.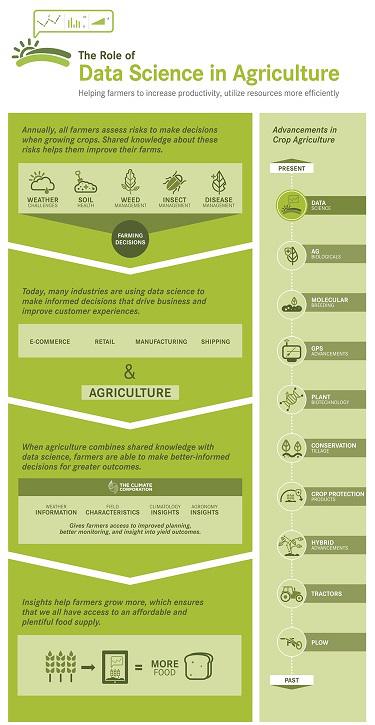 The data science is the major growth driver for the agriculture industry, which represents a new market opportunity of more than 1 billion acres with the revenue opportunity of around $20 billion. Data science has placed the company in a position to monetize on the huge opportunity presented in this market. I believe this acquisition will help Monsanto report year-over-year EPS growth of 14% to be in range of $5.00 to $5.20 in fiscal year 2014, and it will be able to generate free cash flow in the range of $600 million to $800 million in fiscal year 2014.
Competitor also extended its software service
DuPont (NYSE:DD) has collaborated with the world's largest maker of agricultural equipment Deere & Co. (NYSE:DE) to offer software service, which will help farmers enhance farm productivity. With this initiative, DuPont intends to provide strong competition to Monsanto. DuPont will merge its Field360 software with Deere's Wireless Data Transfer software. This will help the company provide faster soil analysis and planting solutions to farmers. With its software, DuPont will analyze factors such as grain moisture, historical yields, and nutrient deficiencies, which will allow it to provide better solutions to farmers regarding seed variety, planting, and harvesting to enhance the farm's productivity.
DuPont Pioneer has "mapped" around 20 million acres in the past year. The company has also provided 1.5 million acres of variable rate seeding prescriptions through its Field360 product, and it charges $500 per farm. The company planned to raise the subscription fee for this upgraded service next year, which is expected to boost its revenue next year.
Conclusion
Monsanto, with its strategic alliance with Novozymes and the acquisition of Climate Corporation, will enhance its data science capabilities. Monsanto's continuous research and development in improving the seeds and its expansion of the IFS platform will help it boost the farm yield. Further, with these initiatives the company will enhance its capabilities of data science, which will enable it to tap the growth aspects in improving farm yields. I believe this will enable Monsanto to achieve its EPS target, and it will be able to generate higher revenue in fiscal year 2014, as the company has maintained strong revenue growth of more than 10% over the last three years. I expect, based on its future growth prospects, investors can buy this stock with a long-term view.
Disclosure: I have no positions in any stocks mentioned, and no plans to initiate any positions within the next 72 hours. I wrote this article myself, and it expresses my own opinions. I am not receiving compensation for it (other than from Seeking Alpha). I have no business relationship with any company whose stock is mentioned in this article.