Arbor Realty Trust (NYSE:ABR)
December 19, 2013 Stock Price: 6.59
Rating: Add
Company Summary: (Company website)
ABR is an externally managed specialized real estate finance company that is taxed as a real estate investment trust (REIT). The company invests in an extremely diverse portfolio of structured finance assets in the commercial and multi-family real estate markets, primarily in real estate related bridge and mezzanine loans. The company also holds investments in real estate property and other mortgage securities. There are only 2 analysts that cover the firm, undoubtedly because of the complexity of the finance instruments the company uses. To put it in perspective the last quarterly earnings report was 93 pages long, and the last annual report was 450 pages long! This makes it extremely hard for retail investors to decipher whether to buy, sell, or hold.
"Arbor capitalizes on the significant demand for bridge, mezzanine and other forms of innovative financing by investing in a diversified portfolio of structured finance assets in the multifamily and commercial real estate market. Arbor's principal business objectives are to invest in bridge and mezzanine loans, preferred equity and other real estate related assets, actively managing this portfolio in order to generate cash available for distribution, facilitate capital appreciation and maximize total return to its stockholders.- ABR, Our Strategy.
Management:
Insider ownership is over 14% and there have been no notable insider transactions recently. On the negative side, the company has done two different public offerings of common stock since the start of the year. Both were intended to be used for making investments, repurchasing or paying liabilities, and for general corporate purposes. Yet since the third quarter last year, the book value has declined! For any shareholder this is very frustrating because you are seeing dilution without any results. Plus with the significant discount to book ABR is currently trading at, the company should be initiating a buyback program.
Valuation: (Explanation of Graphs)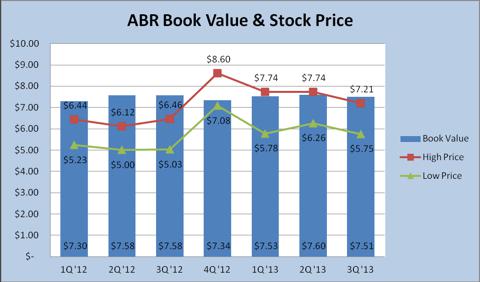 Click to enlarge
Currently trading at 88% of book value, ABR is attractively valued. Even with interest rate fluctuations the company has managed to keep the book value relatively stable as opposed to other mortgage REITs. If the company announces an increase in book value in the next earnings report I think we can see them trading much closer to 100% of book value or more.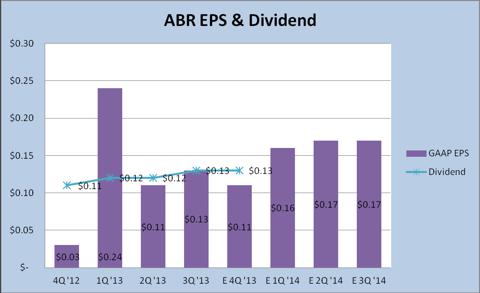 Click to enlarge
Their current dividend level seems sustainable, and I think we will see another increase in their first quarter's dividend to $.14 or $.15. Given the current price that places their dividend in the 8-9% range, which is extremely attractive.
Rating:
Even with the inevitable increase in interest rates, Bernanke hinted at short-term rates remaining low. With high exposure to bridge and mezzanine loans, ABR is positioned to benefit in the coming year. Although the company seems to have a blatant disregard for returns to the shareholder with their continual public offerings, the company is very attractively valued trading at 88% of book and a seeming increase in both book value and dividends in the near future. For these reasons I give ABR a rating of Add. I see a potential 10% share price upside within the next six months.
Disclosure: I have no positions in any stocks mentioned, and no plans to initiate any positions within the next 72 hours. I wrote this article myself, and it expresses my own opinions. I am not receiving compensation for it (other than from Seeking Alpha). I have no business relationship with any company whose stock is mentioned in this article.
Additional disclosure: These ratings are my opinion only and shouldn't be construed as advice to buy or sell securities. Recommendations don't take into account individual reader's investment risk or return objectives and constraints. They are for information purposes and you are encouraged to do your own research before. All information here in this article is accurate to my knowledge.