Ok, round six. I'll continue to try and fill the vacuum of analysis behind the rhetoric about the capacity of NGVs to deliver 'energy independence', cognizant that I may get some of it wrong. In this part, I'll take a look at the largest natural gas vehicle fuel provider in America - Pickens' company Clean Energy (NASDAQ:CLNE).

Let's peruse CLNE's 2008 annual report. The 2009 report should be out on March 10. This shall be done while I watch CNN to see the inevitably timid wave that breaks onto Hilo bay.

Pages 1-5, the usual happy talk about energy independence. The obligatory reference to the US resources of "115 years of natural gas at current levels" - what a ridiculously specious metric. Ah, one or two figures:

"Revenue in 2008 was $129.5 million and at year-end total assets were $290.4 million, with $22.9 million in long-term debt"

No mention of profit - is this an ominous indicator?

Niceties out of the way, we're on to the 10-K form. Excellent, we have some profit figures. They are shown in Figure 1: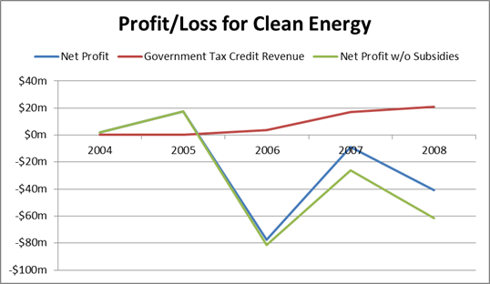 Ok, not the best, with 2008 losses of about 20% of assets, but these are eminently absorbable if the US is in short order going to switch to LNG for trucks. The other item worth noting is the government tax credit revenue. It amounts to 50c per gallon equivalent of LNG sold. This doesn't entirely comport with the idea that the government is somehow holding LNG back.

In fact, CLNE openly boasts about how much it gets from the government:
"Our specialists have secured over $114.9 million in federal and state funding for ourselves and our customers since 1998."

Of the 150,000 NGVs in America, you'd have to be financially challenged to not have received a subsidy of some kind. Or else your purchase was in response to a mandate.

CLNE also provides finance for its customers:
We provide, or help our customers obtain, financing to acquire natural gas vehicles or convert their vehicles to operate on natural gas. In 2006, we began to loan to certain qualifying customers an average of 60% and on occasion up to 100% of the up-front capital needed to purchase natural gas vehicles or convert existing vehicles to use natural gas.
So we have government support and CLNE support to coax the trucking industry away from diesel. There's a lot of references to this 'note 13' business, better check it out. Here it is:
On August 2, 2006, the Company entered into certain futures contracts related to January 2008 through December 2011 (Positions). During the period August 3, 2006 through December 28, 2006, the Positions decreased in value by $78.7 million. On December 28, 2006, the Company entered into a transaction with Boone Pickens, its majority stockholder, whereby Mr. Pickens assumed the obligations related to the Positions in exchange for a five-year warrant to purchase 15 million shares of the Company's common stock at $10 per share. The derivative obligation of $78.7 million was removed from the Company's balance sheet, and the warrant (valued at $80.9 million) was recorded as an increase of stockholders' equity.
Some financial aikido, fantastic. Sounds like the company would have folded were it not rescued by Pickens. This also points to the difficulty with the NGV business. Pipeline operators have to plan ahead, and thus in order to guarantee supply for trucks, you have to lock it in. Natural gas travels at about 15 miles per hour. It takes about 4 days for gas injected in Texas to reach California. Which is why pipelines are never shut down and pressure is always maintained.

Figure 2 compares the oil/natural gas ratio to the CLNE share price. The oil data is the daily WTI Oklahoma price from here. The natural gas price is the monthly wellhead price from here - it's offered up to Nov '09. The CLNE share price is from here.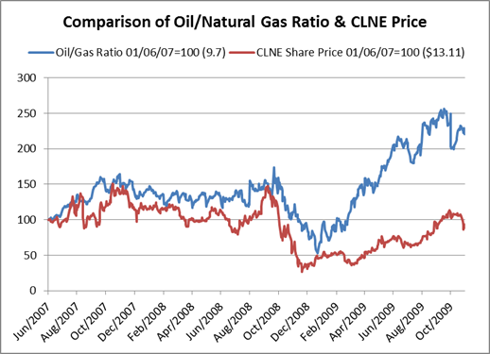 Not sure what can be concluded from this. Fundamentally, CLNE's business model relies on arbitrage between oil and natural gas. The oil/gas ratio has rocketed up, however CLNE has not followed. CLNE is today at $18, or about 140 on this chart. The oil/gas ratio is today at about 16, or 165 on the chart. So the two lines have again converged. The natural gas ratio has been at historically elevated levels for some time. The historic ratio is about 6 to 10. The peak on this chart is 25.

The talking point that government or the coal lobby is holding NGVs back appears to be a myth. There might be some truth to the logic that the oil majors don't want to get into the relatively less lucrative NGV area. However they now all have natural gas arms, so that they would want to undermine natty is counterintuitive.

NGV technology is mature. The oil/gas ratio is at elevated levels. Over the past couple of years, federal tax credits of $32k have been available for LNG truck purchases, along with other state incentives. Federal tax credits of 50c/gallon have also been available. The EPA 2010 regulations disadvantage diesel. To NGV proponents, the economic case for NGVs is crystal clear, even without subsidies. So why the big push for the NATGAS Act?

What do you want Secretary Chu to do? Wear an I heart NGV t-shirt and drive around America in an LNG truck? The commercial trucking sector is one of the most cold-blooded industries. It doesn't need rhetoric from Washington to switch to LNG if the business case to do so is watertight.

CLNE has access to capital markets. Investors seeking alpha will give CLNE money if they think an adequate return is there. The US government certainly doesn't have the money to fund the infrastructure. Pickens has lots of rich friends, and lots of money himself, to pour into this. Maybe launch a 'freedom' bond to let regular Americans fund it.

Of course Pickens has not - to my knowledge - put a price on how much it would cost to roll out the infrastructure. I'll get to that in part VII. For now it appears that the Pickens Plan is more like a Potemkin Plan.

The tsunami has just broken onto Hilo bay, fairly weak, and quite a disappointing media spectacle. Perhaps it's a metaphor for America's quixotic quest to break the back of foreign oil.

Disclosure: No Positions