Bristol-Myers Squibb (NYSE:BMY) announced its annual dividend increase on Thursday, December 19th. Here are some quick recaps from the announcement:
The new quarterly dividend is 36 cents per share.
This is up 2.8% from the previous level of 35 cents per share.
The ex-dividend date for the new dividend is 12/31/2013.
We recently profiled another big pharmaceutical company Pfizer (NYSE:PFE) and its dividend growth. With Bristol-Myers announcing its dividend increase, let us profile it and see how things stack up against Pfizer.
Current Yield and Payout Ratio: The new dividend gives Bristol-Myers a current yield of 2.7%. The trailing payout ratio stands at 86% based on current earnings per share of $1.67 and the new annual dividend on $1.44 per share. Pfizer pays out 50% of its earnings, which gives it a lot of room for future increases.
The forward payout ratio for Bristol-Myers is pretty high as well at 75% based on the 2014 estimate of $1.93 per share. A very high payout ratio. Strike #1.
Cash on Hand: As highlighted in the Pfizer article, Bristol-Myers has the lowest cash on hand. This represents just about 3% of the company's total value, which means investors are paying mostly for the expected future growth. Pfizer, on the other hand, has about one-fifth of its total value in cash and equivalents. Low dry powder. Strike #2.
(Big Pharmas: Cash on Hand. click to enlarge)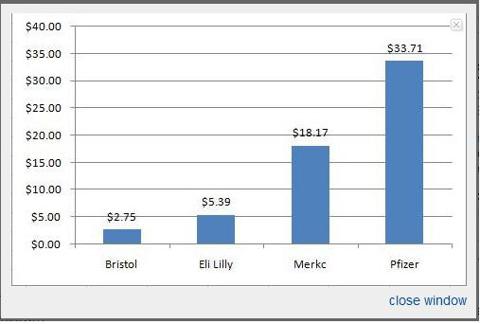 Click to enlarge
Five Year Dividend Growth: One good thing for Bristol investors and bulls is the fact that the company did not reduce or eliminate dividends during the 2009 crisis. It maintained the same quarterly payment of 31 cents per share for 8 quarters from January 2008 to September 2009. Since then, there have been 5 consecutive quarterly increases as shown in the table below. The dividend growth average has been 3%, which seems a bit too low to excite dividend growth investors. A dividend growth rate that's just above inflation. Strike #3.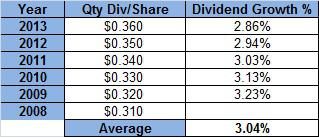 Extrapolation: The table below assumes the same 3% annual dividend growth per year for the next 10 years. The yield on cost just inches to 3.5%, which is no wonder given the three strikes above.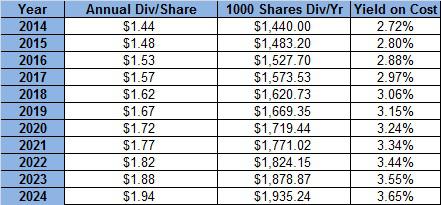 Earnings Growth: This is the section that Bristol-Myers roars back, at least when compared to Pfizer. Pfizer's expected earnings growth stands at about 3%, while Bristol-Myers' stands at 11%. Obviously, these are just expectations and not guarantees but this gives investors an idea of what to expect.
However, with an expected earnings growth of 11% versus the industry's average of 15%, Bristol-Myers' price to earnings appears too rich at 30.

Click to enlarge
(Source: Finance.Yahoo.Com)
Conclusion: With a current yield of 2.7% and a dividend growth rate of 3%, Bristol-Myers has a "Chowder Number" of less than 6%. Sure, it is expected to grow at a faster pace than some of its competitors but the stock seems to have that priced in already with a rich multiple. Only Merck (NYSE:MRK) appears richer in terms of valuation among major pharmaceutical names like Pfizer and Eli Lilly (NYSE:LLY). The company is still facing the headwinds of the recently expired patent on Plavix. The 2nd best selling drug for Bristol-Myers after Plavix, Abilify, has its patent expiring in 2014.
Though patents expiring is not a rarity for pharma companies, having two of your very best drugs expiring with a year or so of each other is a strong headwind to deal with. Bristol-Myers' stock has gone from $32 to $53 in 2013, a 65% increase which is more than two times what the S&P has managed. In a nutshell, the stock is way too richly valued right now to warrant a buy. The declining dividend growth and low yield do not make the stock attractive right now for income investors. This piece by SA contributor Benjamin Clark agrees with this thesis.
Disclosure: I have no positions in any stocks mentioned, and no plans to initiate any positions within the next 72 hours. I wrote this article myself, and it expresses my own opinions. I am not receiving compensation for it (other than from Seeking Alpha). I have no business relationship with any company whose stock is mentioned in this article.