To export or not to export, that is the question - Whether 'tis nobler in the minds of men to "suffer" the slings and arrows of outrageous production growth, or to take arms against an export ban, and by opposing end them?
With all due respect and apologies to William Shakespeare, the crude oil export ban debate increasingly pits domestic shale producers against the domestic refiners. The refiners have been making a mint on the Brent/WTI spread and by exporting refined products linked to Brent prices. On the other hand, the domestic shale producers have been, on average, receiving a lower realized price for a higher quality crude. As shale oil production has ramped up over the past few years, realized prices have suffered because the pipeline infrastructure failed to keep up. A mid-continent glut developed until the railroads came to the rescue. Since then additional pipeline capacity out of Cushing to the Gulf Coast has led to supply outpacing demand in the GC region - especially for the shale producer's light-sweet crude. As a result, US imports of light sweet foreign oil have, for all practical purposes, been wiped out. This chart from Valero's (NYSE:VLO) November presentation is a good summary of what is happening: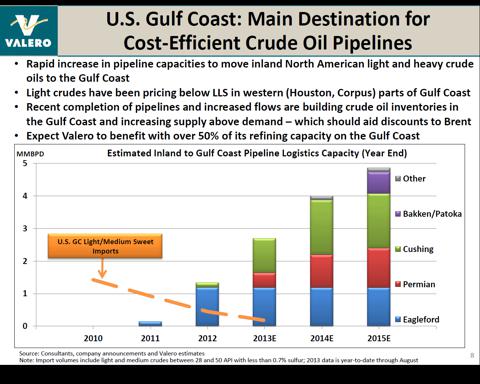 Today the mid-continent shale producers face a potentially higher mountain to climb: a domestic light-sweet refining capacity wall combined with a US crude oil export ban. Making things even more interesting (worrisome?) is that President Obama and the US government is right in the middle of it. They control the ability to lift the crude oil export ban.
The Jones Act of 1920
Adding an additional twist is the Jones Act of 1920. The Act requires that all goods transported by water between US ports be carried in US-flag ships, built in the US, owned by US citizens and crewed by permanent residents and citizens of the US. But Jones Act vessels are in demand and hard to come by. As a result, Platts reports that a Jones Act tanker carrying Eagle Ford crude oil from Corpus Christi, TX, to Philadelphia, PA, costs more than a foreign-flagged vessel carrying the same oil to ports in Quebec, Canada.
Moving oil on a 35,000-55,000 mega ton tanker from the Gulf to the US Atlantic Coast are typically $6/b or more for spot, and probably $5/b for a time charter. On the other hand, a refiner told Platts a US Gulf Coast to Canada shipment on a foreign flagged vessel is more like $2/b.
Even harder to fathom, the US Department of Commerce requires that any Canadian refiner importing US crude must export a certain amount of refined product back to the US. In effect, Canadian refiners are selling refined products made from US crude oil to US buyers at a cheaper price than US Atlantic Coast refiners can. Welcome to the bizarre world of out-dated government regulations.
Surely the US government will move to fix these problems, right? Not so fast my friend. As Melanie Fold of Platts points out, the Jones Act industry accounts for $14 billion in annual economic output, 84,000 US shipyards jobs, and 70,000 jobs working on or with Jones Act vessels. Those are numbers likely to catch a politician's attention.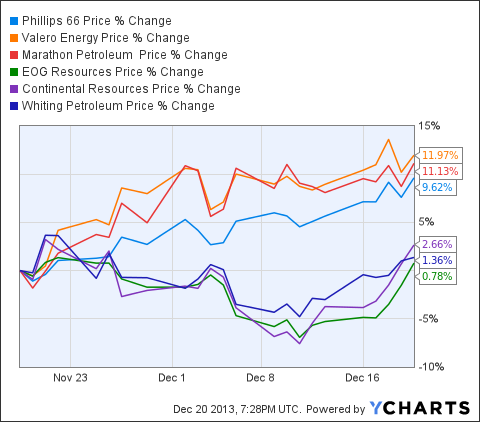 For energy investors, it's clear refiners are currently in the driver's seat (see 1 month chart above). Companies like Phillips Petroleum (NYSE:PSX), Valero and Marathon Petroleum (NYSE:MRO) are not only making hay on the Brent/WTI spread (as of this moment, $12+), but are also scheduling advantaged oil sands (WCS) crude slates, which are discounted even further off of WTI. No matter which of the price advantaged feedstock is used, these refiners are able to export diesel and gasoline priced off international Brent prices.
Paul Sankey of Deutsche Bank described the situation quite well in a recent upgrade in shares of MPC:
.....Brent will price on Saudi behavior - and they are cutting supply indicating defense of $100/bbl (OPEC meeting Dec 4th); while WTI will price to limit over-supply by stopping drilling at the marginal cost of supply - around $75/bbl. With turnarounds and pipe/train spills, there is downside to WTI. This phase is highly bullish US refining....
Russian Roulette: What If Crude Export Ban Is Lifted?
If the crude oil export ban is lifted or substantially eased, the market is likely to quickly and perhaps dramatically revalue the domestic shale producers to the upside. At the same time, the refiners would likely be revalued to the downside.
Currently, the market appears to be pricing in lower realized prices for the domestic shale producers. Despite a big rally in the overall market recently, most all of the shale producers are considerably off their October highs. This can be seen from the 3 month chart below: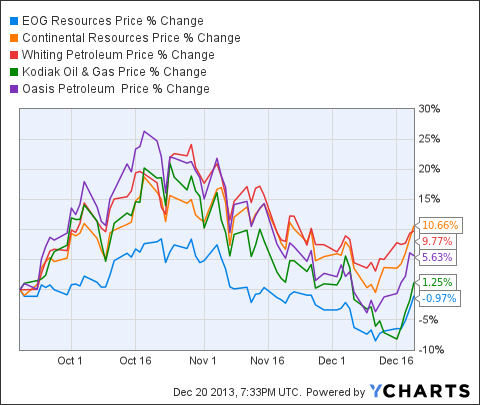 What Is The Investor To Do?
Unless you have a friend in the US government directly tied into the crude export ban discussion (or perhaps a buddy in the NSA...), what is the best way for an energy investor to participate in "shale USA?"
The current crude oil export ban obviously benefits the refining group. Refiners with a significant presence on the Gulf Coast are best positioned to grow exports. Valero is a case in point and Phillips 66 is in a similar situation: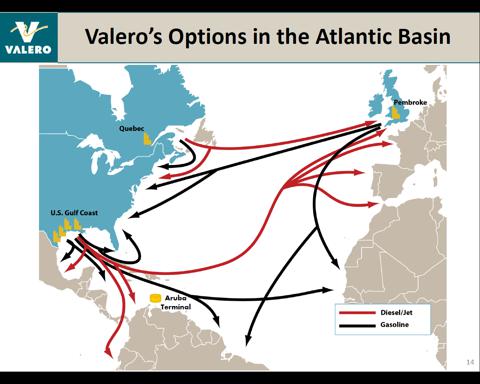 However, investors putting all their eggs in the refining basket could get hurt if the government lifts the ban on crude oil exports. In that case, the pendulum would swing back to the producers.
If you are believe the export ban will be lifted or significantly modified, you may want to slant your portfolio toward smaller shale oil producers like Kodiak Oil & Gas (NYSE:KOG) and Oasis Petroleum (NYSE:OAS). These two might see significant upside to a lifting of the export ban. Both are down ~15% from their yearly highs.
If you simply want to participate in shale energy and not get hurt, my advice would be to diversify equally across the refiners and oil producers so as not to get whipsawed on any government action (or non-action) vis-a-vis the export ban. That might mean owning roughly equal positions in VLO and EOG Resources (NYSE:EOG), for instance. If you feel like taking a bit more risk, you could invest in smaller players and pair up Whiting Petroleum (NYSE:WLL) and MPC, for instance. Or, as some are suggesting, move into the larger dividend paying integrated oils like Exxon Mobil (NYSE:XOM) and Chevron (NYSE:CVX). But that is a COP out (pun intended: ConocoPhillips (NYSE:COP)).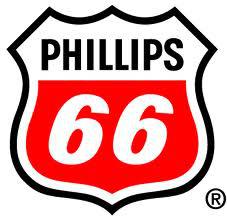 One of the best ways to play "shale USA" is Phillips 66 (Phillips 66: Best Play On Domestic Shale?). Phillips has significant refinery operations on the Gulf Coast and is in an excellent position to grow refined product exports. In addition, the company's chemical and midstream operations will continue to grow and profit even if the ban on crude exports is lifted.
Summary And Conclusion
While the ban on crude oil exports currently is of great benefit to the refiners, this could change quickly if the government changes its tune and pragmatically lifts or eases the ban. The pendulum would then swing back to the mid-continent shale producers. For those investors wanting a low-risk way to participate in "shale USA," it would be prudent to diversify across the producer and refiner space. I will end with some metrics on PSX, which closed at an all-time high today and appears to be breaking out from prior resistance in the $70 range.
EPS ((ttm)) = $5.75
P/E ((ttm)) = 12.9
Div (Yield) = $1.56 (2.2%)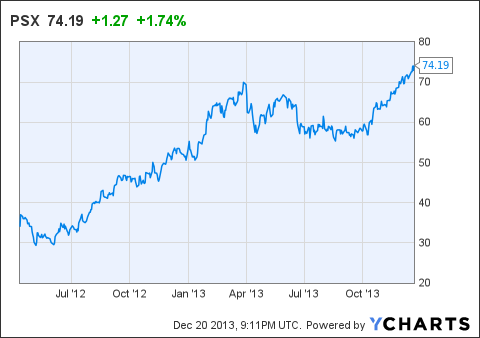 Disclosure: I am long CVX, PSX, XOM. I wrote this article myself, and it expresses my own opinions. I am not receiving compensation for it (other than from Seeking Alpha). I have no business relationship with any company whose stock is mentioned in this article.
Additional disclosure: I am an engineer, not a CFA. The information and data presented in this article was obtained from company documents and/or sources believed to be reliable, but has not been independently verified. Therefore, the author cannot guarantee its accuracy. Please do your own research and contact a qualified investment advisor. I am not responsible for investment decisions you make. Thanks for reading and good luck!