Editors' Note: This article covers a stock trading at less than $1 per share and/or with less than a $100 million market cap. Please be aware of the risks associated with these stocks.
The upcoming quarters for DryShips (NASDAQ:DRYS) and other global dry cargo shipping companies will be positive since international dry bulk trade is on the rise. Brazil and Australia, which are the major iron ore exporting countries, are ramping up their production, and China, which is the biggest importer, still has a huge iron ore demand. Iron ore trade will expand 7.1 percent to 1.27 billion tons next year. Along with iron ore, global demand for coal is going to increase by 13% to 1.3 billion tons next year. Together iron ore and coal constitute about 60% of the total global dry bulk trade volume.
As international dry bulk trade increases, demand for dry ship vessels will also increase. This increase in demand is impacting shipping spot rates positively, which could be observed by analyzing daily spot prices' upward trend of all categories of cargo ships. These categories include large size cargo Capesize, mid-size cargo Panamax, and small sized cargo ships Supramax.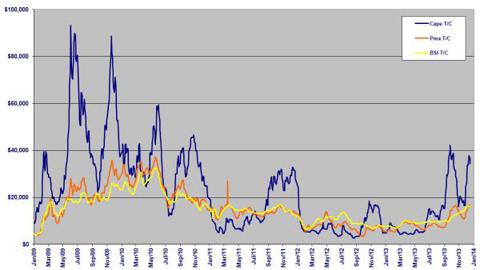 Click to enlarge
Source: daily market report
DryShips has good spot market exposure for next year and 2015, because the company has many vessels that are operating on daily spot rate basis. 20 out of its 28 Panamax vessels, including four new buildings that are expected to be delivered next year, are operating on the spot rates basis. Its two Supramax vessels are also operating on the spot rate basis.
However, 11 out of its 12 Capesize vessels are currently in long-term contracts on a fixed rate basis, and the majority of these vessels' contract period will end in 2018. Freight of its 10 Capesize vessels is below $30,000, while the present daily spot rate of Capesize is above $35,000. Therefore, everyday DryShips is losing around 14% by operating its Capesize vessels on fixed rates.
Despite most of the Capesize vessels being operating on a fixed rate basis, DryShips will benefit from the rising spot rates through its Panamax and Supramax vessels. The company has estimated that, if market spot rates per day increase by $5000, the company will generate additional EBITDA of $65.8 million and $79.3 million next year and in 2015 respectively.
Potential improvement in the company's earnings due to its exposure to spot market:-
Increment in market spot rates /day

Additional EBITDA (in $millions)

Fiscal year 2014

Fiscal year 2015

$5,000

$65.8

$79.3

$10,000

$131.6

$158.7

$15,000

$197.4

$238.0

$20,000

$263.2

$317.3
Rising spot rates' impact on other dry shippers
Rising daily spot rates have created opportunities for companies like Genco Shipping & Trading (NYSE:GNK) but not for Diana Shipping (NYSE:DSX). In the current scenario, Genco Shipping is more suited to capitalize on these rising rates. The company has 53 vessels and 42 of these vessels operate either on spot rates or link to the spot rate. These 42 include 9 Capesize, 8 Panamax, 12 Supramax, and 13 Handysize and Handymax vessels. Therefore, the company will benefit from the rising spot rates for all five classes of vessels.
Unlike Genco, all 36 of Diana Shipping's vessels are operated on the fixed rate basis, so it isn't at all affected by the movement in spot rate prices. The company has five Capsize vessels and daily fixed rates of four vessels are below $20,000 while current daily spot rates are close to $35,000. Therefore, its ships' rates are about 42% cheaper than daily spot rates, and with the expected rise in these rates, this gap may further increase.
If we compare these three companies, Genco Shipping's revenue is going to receive the maximum boost with positive movements in spot rates, DryShips' revenue will benefit in the fluctuation in only Panamax and Supramax rates. However, due to its fixed rates, Diana Shipping won't see any benefit from the rising spot rates.
Potential cash relief next year
Rising daily spot rates are an upside for DryShips and could help address the company's debt position. However, some recent developments indicate that the company has solved at least its next year's capital requirement. The company is required to clear mandatory debt of $150 million next year. To meet this financial obligation, the company has implemented the following steps:
The banking syndicate led by HSH Nordbank has given a loan of about $628.8 million to DryShips against a pledged cash of $55 million. This pledged amount is relaxed for the next five quarterly installments, and it will help the company gain some liquidity. $13 million of this amount will be utilized during this year, and $42 million will be utilized next year. By using this $42 million,

DryShips' mandatory debt for 2014 will cut by 30% to $98 million from $150 million.

To reduce its funding needs, DryShips has also issued its common shares at the market price during October and November this year. During October, DryShips issued 5,891,234 common shares at an average price of $3.51 per share. After deduction of commissions, the company received the net proceeds of $20.2 million. Details about November's proceeds are yet to be declared by the company.
Along with these two sources, DryShips will also benefit from its subsidiary, Ocean Rigs UDW (NASDAQ:ORIG). DryShips owns about 59.4% of Ocean Rig's equity. Ocean Rigs is planning to distribute about $25 million as a dividend every quarter starting next year, and the first payment will be done through its cash flow from next year's first quarter operations. It will carry out payment in May next year. Therefore, realization of the proposed dividend will increase the company's yearly cash flow by around $59.4 million.
With the help of these funds, I expect that DryShips can take care of its next year debt repayment, and the company has a comfortable capital situation at least through 2014.
Conclusion
There are multiple tailwinds for DryShips next year. First of all, rising daily spot rates will help the company improve its earnings. However, its Capesize vessels are locked into fixed rate contracts and won't benefit from these rising rates. Another positive factor for DryShips is its improving capital position; DryShips is in position to finance its short-term liquidity challenges. Since the coming quarters are showing signs of improvement for this company, I recommend a buy for this stock.
Disclosure: I have no positions in any stocks mentioned, and no plans to initiate any positions within the next 72 hours. I wrote this article myself, and it expresses my own opinions. I am not receiving compensation for it (other than from Seeking Alpha). I have no business relationship with any company whose stock is mentioned in this article.