According to the latest news, Verizon Communications (NYSE:VZ) is nearing a deal with Intel (NASDAQ:INTC) to purchase the internet-based TV service, OnCue. Verizon, the second-largest U.S. communications company, will use OnCue to extend its pay-TV offering beyond the geographic footprint of its FiOS fiber-optic service. That could surprise the pay TV market, by bringing more competition to cable companies that dominate territories as well as satellite companies with wide coverage but who lack the interactive capability of the Web.
OnCue is designed to provide pay-TV programming over any high-speed Internet connection making it a threat to cable-TV services that deliver shows over dedicated lines restricted by territory. Intel's system includes servers, set-top boxes and applications that can stream content to televisions, phones, and tablets.
This feature would not only give the company the ability to provide on-demand video service but also give it the opportunity to expand its FiOS TV operations nationwide so that customers can access content directly online. This will give Verizon an opening in the cable wars because right now no other pay TV service offers "place-shifting" capabilities built directly into their services. Right now, FiOS TV service is available only in selected areas of 16 states where Verizon has built its dedicated fiber network.
Today's customers want to be able to access video content on any screen including smart TVs, personal computers, tablets or smartphones, wherever and whenever it's convenient for them. The success of internet-based video services like Netflix (NASDAQ:NFLX) are proof that pay TV subscribers want more flexibility in the ways they can watch their TV programming. To address this demand, Verizon Wireless is partnering with the nation's major cable companies to deliver video solutions on a national scale across its 4G LTE wireless and cable networks. The company is also using this partnership to encourage content developers and entrepreneurs to develop innovative mobile video services upon which it can deliver these powerful platforms.
The company is already giving its customers more video streaming options through a venture with Redbox Automated Retail, a subsidiary of Coinstar. Its new service, Redbox Instant by Verizon, offers on-demand video streaming powered by Verizon's cloud computing technologies and IP networks supplemented by Redbox's network of more than 42,000 DVD rental kiosks nationwide. Further, this new service will help the company to achieve new heights in the internet-based TV services market. In this article, I am trying to evaluate how much subscribers' the company would require to breakeven its deal value and how many years would be sufficient to achieve this breakeven.
Breakeven Scenarios
According to the Wall Street Journal, a deal between Verizon and Intel could be completed as early as this week and the sale may be valued at less than $200 million. Further, I would like to analyze how many new subscribers the company requires, at a specific subscription rate, to achieve the breakeven of the acquisition. In order to do so, I am assuming the $200 million deal value comes to fruition. I have also developed three different scenarios in which the deal's breakeven could be achieve.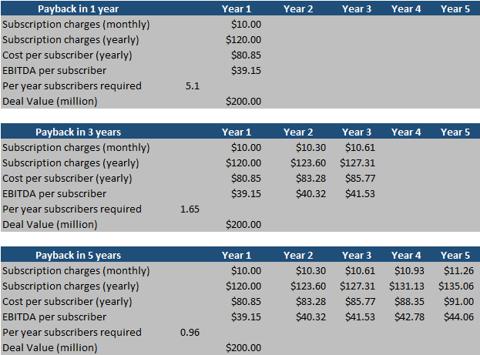 While calculating the above mentioned scenarios I have made certain assumptions with respect to subscription charges and cost per subscriber. Currently the biggest player among on-demand Internet streaming media service providers is Netflix , so for my analysis I used a slightly lower average subscription rate of $10 a month compared to Netflix, which has an average rate of $12.5. Similarly, I used Netflix's cost per subscriber of $80.85 per year for the calculation. I believe that the cost per subscriber would be lower for Verizon because the company already has a developed structure and a huge subscribers' network to promote its new service and can afford to keep its marketing and development cost lower. For my analysis I am being rather conservative on the assumptions. The company will require 5.1 million new subscribers at a rate of $10 per subscription in order to breakeven in one year. Similarly, for three years the company would require 1.65 million subscribers, a year, to achieve breakeven. For five years, the company would require only 0.96 million subscribers, a year, to achieve breakeven. I believe that subscribers are achievable in all three cases because currently the company had 22.50 million wireless subscribers and 8.80 million broadband subscribers as of 2012.
Let us assume that the company cannot add new subscribers from the outside but must attract current subscribers from its own subscription base. To achieve breakeven in one year the company would need to convince 23% of its wireless subscribers to buy its new service. To achieve breakeven in three years the company would need to convince 7.34% of its current wireless subscribers to choose this new service. To achieve breakeven in five years the company would need to convince only 4.28% of its subscribers to buy this service. This is achievable in every case because in 2012, 53.7% of its broadband subscribers chose the FiOS video subscription.
Value Addition

Now let us see how much of an immediate impact this deal will have on the company's stock price when it is finalized. First I will present the value of the deal's EBITDA, calculated above, for all of the aforementioned scenarios. Using the current company's EBITDA of $32.52 billion, I managed to calculate the new EBITDA of all three scenarios. Then by using the company's EV/EBITDA multiple of 5.6x, I calculated the new enterprise value. After adding current cash and subtracting the current debt of the company, I ended up with equity values for all three scenarios. Using the company's current share outstanding of 2.86 billion shares the new equity value has been calculated. Currently, the stock is trading at $47.56. Based on my analysis, if the company finalizes the deal the immediate impact of the deal on the stock price will be 3.6% based on the five year payback period, 3.68% based on the three year payback period and 3.76% based on the one year payback period.. These are only estimates and it is expected that the impact would be much higher than these estimations.
Conclusion
It is clear that Verizon has some kind of internet video initiative in the works because it just bought the content delivery network Edgecast, acquired the internet video infrastructure company UpLynk last month, and is now in the process of completing the deal with Intel to buy OnCue.
The company is delivering a steady stream of innovative products that are shifting its center of gravity toward growth markets. Meeting customer demands for wireless data and smartphones the company launched dozens of 4G LTE phones and Internet devices. Its FiOS business is proving to be another platform for growth with its Internet and video services accounting for 68% of consumer wireline revenues. The company is leveraging the tremendous capabilities of fiber-optics with FiOS Quantum, which delivers speeds of up to 300 megabits per second (Mbps) and was named by PCMag.com as the fastest residential broadband service in the country. Now with its new boundary less internet-based video service, the company can achieve new statures by attracting new subscribers using its existing subscribers' base and utilize its current infrastructure and resources to keep its costs at a minimum. Therefore, I believe the acquisition of OnCue will open the door for huge potential for growth for the company.
Disclosure: I have no positions in any stocks mentioned, and no plans to initiate any positions within the next 72 hours.
Business relationship disclosure: The article has been written by a Blackstone Equity Research analyst. Blackstone Equity Research is not receiving compensation for it (other than from Seeking Alpha). Blackstone Equity Research has no business relationship with any company whose stock is mentioned in this article.