As most readers are well aware, gold mining stocks (NYSEARCA:GDX) have fallen a whopping 50%+ year to date, with juniors (NYSEARCA:GDXJ) down over 60%. Most names in the industry are close to their 52 week lows, but few names have been hit as hard as Allied Nevada (NYSEMKT:ANV). The company is down over 86% year to date from a January, 2013 high of $30 to a recent low of $3.01. The company isn't in danger of bankruptcy as fellow SA author Skip Olinger pointed out, which means the company can survive until market conditions improve or a takeover takes place. With a market capitalization of ~$325 million and an enormous resource base, Allied Nevada offers tremendous value and is a ripe takeover target.
Relative Value
Relative to other gold mining companies, Allied Nevada is trading at extremely attractive multiples. The company's flagship and only producing property, Hycroft in Nevada, has 20.793 million gold oz equivalent [AuEq] proven and probable reserves. Let that number sink in for a moment. For most readers that's just a big number, so let's try and put that into perspective. Barrick Gold is set to spend over $8.5 billion developing Pascua-Lama in Argentina/Chile. That $8.5 billion will get Barrick access to a little under 30 million gold oz equivalents of proven and probable reserves. That means Barrick is spending $283 for each oz of gold equivalent to develop Pascua-Lama. Any company that purchases Allied Nevada will get access to ANV's proven AuEq reserves at ~$15.70 per oz. If we divide the proven resource base by enterprise value, the number is a bit higher at $40 per oz. If we look at that same calculation for Barrick's entire global proven and probable AuEq reserves we get ~$192 an oz (enterprise value). This isn't an entirely fair comparison, as the cash costs between these two miners are vastly different. Barrick's cash costs per oz of gold was $558 in 2012 while Allied Nevada projects theirs to be between $800 and $825 for 2013. Unlike Barrick though, which has a lot of its resources in politically unstable parts of the world, Allied Nevada's entire resource base is in Nevada. Any major mining company could vastly increase their reserve base at a relatively low price. Comparisons to similar large cap gold mining companies yield similar results. Allied Nevada's proven resources are being assigned a much lower value than other miners.
Relative to Barrick Gold, Allied Nevada looks like a bargain on an enterprise value per oz basis, but let's take a step back and compare Allied Nevada's enterprise value per oz of gold to its junior peers. The chart below is from the company's own June, 2013 investor presentation. The stock has fallen considerably since June, but so has every other name on the chart, so the comparison is still relevant.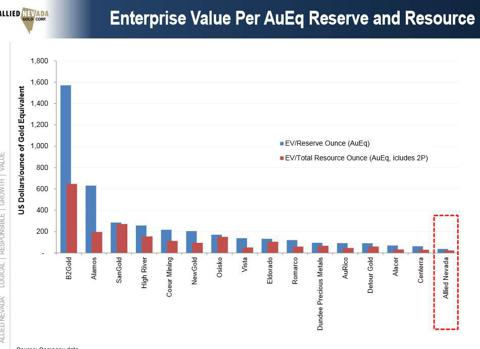 Takeover Target
With gold prices down from almost $1,700/oz to $1,200 this year and many miners strapped for cash, M&A in the sector has collapsed, but recently started to pick up. With its huge resource base, Allied Nevada is a takeover target, but an all cash deal is unlikely. A well-capitalized company like Newmont Gold can purchase Allied Nevada in an all stock deal and commit capital to fully build out the Hycroft asset. All stock transactions preserve cash for the acquirer and the dilution at depressed valuations is largely irrelevant, as mining assets purchased with stock are also trading at depressed valuations. So, how much is the Hycroft asset worth? It's the largest deposit in Nevada.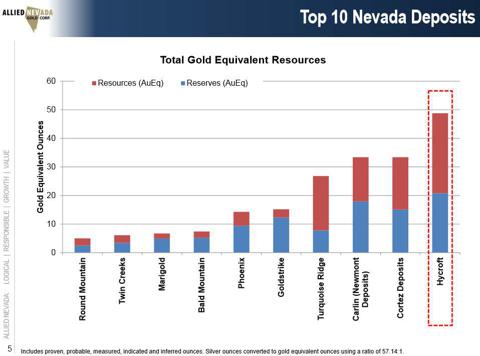 The Marigold mine seen in the above chart is currently in the process of being sold. Joint owners Goldcorp and Barrick hired BMO Capital Markets to sell the asset, and it's expected to fetch "at least $200M." Marigold produced 40,000 oz of gold in the third quarter at a steep all-in sustaining cost of $1,476 per ounce. In comparison, Allied Nevada's Hycroft asset produced 52,198 oz of gold and 184,070 oz of silver in the same quarter. All in sustaining costs for Hycroft are approximately $1,165 as calculated by fellow SA author Itinerant. Hycroft is a producing asset that has over 8x the resources and 4x proven & probable reserves as Marigold at a much lower all-in sustaining cost. If Marigold can fetch "at least $200M", Hycroft should be worth about 8x more at $1.6 billion. Subtracting the $500M debt on Allied Nevada's balance sheet, a $1.1 billion valuation would give shares a value of ~$10.58. This isn't a perfect comparison, as accessing most of Allied Nevada's resources requires a large capital commitment in the construction of a mill (~$400M-$500M). The company's enormous resource base and depressed valuation still makes it a compelling buy though.
Conclusions
The mining industry involves depleting assets. One way or another major gold miners have to either discover and build out more mines or acquire already developed or partially developed ones. For most miners, purchasing Allied Nevada is much more economical than exploring and developing an entirely new mine from scratch, especially since the company is trading at less than half of book value ($7.59). Those purchasing the stock at these levels may also find comfort in the fact that the company issued $150.5M worth of new stock at $10.75 back in April, 2013. Even if Allied Nevada doesn't get bought out anytime soon, it has the liquidity to survive until market conditions improve. If gold prices remain depressed for years, all bets are off and Allied Nevada, like many other junior gold miners, may go bankrupt. On the flip-side though, Allied Nevada should provide great leverage to higher gold prices and is trading at a relative bargain compared to other junior gold miners.
Disclosure: I am long ANV. I wrote this article myself, and it expresses my own opinions. I am not receiving compensation for it (other than from Seeking Alpha). I have no business relationship with any company whose stock is mentioned in this article.