Silver Wheaton Corp. (NYSE:SLW) is the world's largest precious metal streaming company. The company was founded in 2004 and is headquartered in Vancouver, Canada. The firm does not own or operate mines, instead entering into contracts with production companies. The metal streaming business did not even exist until Silver Wheaton was created in 2004. I feel that the company is one of several large cap firms within the precious metals and minerals sector that offer a great opportunity for share appreciation in 2014. My positive investment thesis for Silver Wheaton Corp. is based upon nine key criteria, which include:
Key Selection Criteria
1. A large market capitalization.
2. A leadership position within a growing industry.
3. A dominant, or large, market share within its product mix.
4. A strong position internationally.
5. A strong balance sheet and high credit rating.
6. A high free cash flow number.
7. A low historical relative valuation as measured by price/sales and/or price/earnings ratios.
8. A strong dividend growth rate.
9. A catalyst of new revenue opportunities.
Capitalization
Silver Wheaton is a large-cap precious metals and minerals firm with a current capitalization of $7.4 billion.
Leadership
Silver Wheaton has maintained a leadership position in the materials industry, notably in the silver business. As one of the few large cap non-producing mining firms, Silver Wheaton has made itself difficult to compete against. Industry peers include Royal Gold (NASDAQ:RGLD), Franco-Nevada (NYSE:FNV) and Sandstorm (NYSEMKT:SAND), which are all primarily gold companies. Silver Wheaton's stream mix is roughly 80% silver and 20% gold contracts.
International
Silver Wheaton Corp. International Sales
| | | |
| --- | --- | --- |
| Fiscal | Total Revenue | Intl. % Total |
| 2009 | 239M | 93% |
| 2010 | 423M | 93% |
| 2011 | 730M | 96% |
| 2012 | 849M | 91% |
Source: Silver Wheaton, Corp. Annual Report
Silver Wheaton generated most of its revenue from international markets. Silver Wheaton has streaming agreements or 20 long-term silver and/or gold mines located in Canada, United States, Mexico, South America and Europe. Silver Wheaton revenue has grown at a double digit rate.
Balance Sheet/FCF
The balance sheet of Silver Wheaton is in excellent condition.
| | |
| --- | --- |
| | FCF |
| 2012 | 79M |
| 2011 | 486M |
| 2010 | 147M |
| 2009 | -55M |
Source: Silver Wheaton Corp. Annual Report
Free cash flow generation by Silver Wheaton has been strong after the negative number in 2009. The $62 million of cash and cash equivalents as of September 30, 2013, combined with the liquidity provided by the available credit under the $1 billion Revolving Facility positions the company well to finance all outstanding commitments. It also provides elasticity to acquire additional accretive precious metal stream interests. I expect free cash flow after dividends to continue upwards, reaching $450 million next year and $700 million by 2015.
Relative Valuation
As for relative valuation, I have a preference for price/sales ratio when examining the merits of a company in the materials sector. Silver Wheaton has traded at a wide range of price/sales ratio range of 8 to 22.4 since the start of the company in 2004. Silver Wheaton is at the bottom of the range at a current price/sales ratio of 8.6 TTM. The average price/sales ratio since inception has been 16.9.
Sales per share have risen substantially since 2004, starting at 0.07 to 2.4. I project that sales per share will increase by a modest 12% over the next three years. This is a very conservative projection given its recent production purchases in 2013. This projects SPS to be 3.37 by the end of 2016. I expect Silver Wheaton to trade at a below average price/sales ratio of 11 by the end of 2016.
| | | |
| --- | --- | --- |
| Date | Price/Sales Ratio Avg. | Sales Per Share |
| 2013 | 12.1 | 2.40 |
| 2012 | 14.1 | 2.07 |
| 2011 | 22.4 | 1.23 |
| 2010 | 19.4 | 0.78 |
Source: Silver Wheaton Corp. Annual ReportSource:
| | |
| --- | --- |
| 2016 SPS Projected | 3.37 |
| Price/Sales 2016 | 11 |
| | |
| Target Price | $37.07 |
Dividends
Dividends have grown on a consistent basis for Silver Wheaton over the preceding three years. Since beginning a payout dividend in 2011, dividends have escalated from $0.18 cents to $0.45 a share in 2013, resulting in a dividend yield of 2.3%. I expect Silver Wheaton's management team to continue to enhance shareholder value through dividends. The company's stated dividend policy is the quarterly dividend will be equal to 20% of the average of the previous four quarters' operating cash flow. At an anticipated 20% growth rate of dividends out to 2016, Silver Wheaton's payout per share would be .78 cents a share. Include the other two payments of dividends in 2014 and 2015, and the total collection of dividends for an investor in SLW would be $1.98 over the period. Add the dividends to the resulted share price gain of $16.57 ($37.07 target price minus today's $20.50) and the total capital gain would be $18.55, or a 90% gain.
Silver Wheaton Corp. Dividend Payout History - 3 Years
| | | | |
| --- | --- | --- | --- |
| | 2011 | 2012 | 2013 |
| Dividends Per Share | 0.18 | 0.35 | 0.45 |
Source: Silver Wheaton Corp. Annual Report
Catalysts
Silver Wheaton's future growth depends on production volume and metal prices. An investment in Silver Wheaton is therefore a wager that the firm can continue its solid growth pattern in accumulating additional production contracts and that silver production/prices can increase. In recent years, silver industrial demand (which accounts for 52% of use vs. 40% in 1990) has greatly stretched its position in the global silver market. This has largely been due to remarkable growth in the industrial segment. To place silver's industrial demand development into perspective, in 1990 production stood at 273 Moz (million ounces). By the turn of the millennium, the global silver total had grown to nearly 400Moz, a record high. By 2007 production reached 465 Moz in 2007, despite the economic bust of 2002. Although silver demand dropped after the 2008 global economic catastrophe, industrial demand returned to par by the end of 2010. The Silver Institute has estimated silver to post an interrupted period of growth in the next several years ultimately reaching a record high of 665.9 Moz in 2015.
I think the trend is just starting and that Silver Wheaton is on the cusp of a new higher growth phase. This past quarter's earnings demonstrate Silver Wheaton's resiliency in a weak metals market. Record attributable silver equivalent production for the three and nine months ended September 30, 2013 was 8.9 Moz (6.8 million ounces of silver and 34,800 ounces of gold) and 25.9 Moz (19.5 million ounces of silver and 108,600 ounces of gold), representing an increase of 17% and 23%, respectively. Based upon its existing agreements, Silver Wheaton should produce approximately 33.5 million silver equivalent ounces in fiscal year 2013 and by 2017 this should climb to over 52 million silver equivalent ounces.
Silver Wheaton's advantage is the firm typically has no ongoing capital or exploration costs. It maintains the lowest cost structure in the industry with an average price of under $4 an ounce (subject to inflation adjustments). The past two years have witnessed a strong collapse in all commodity prices, including silver. Silver has fallen from $36 an ounce to $20 an ounce at this time (chart).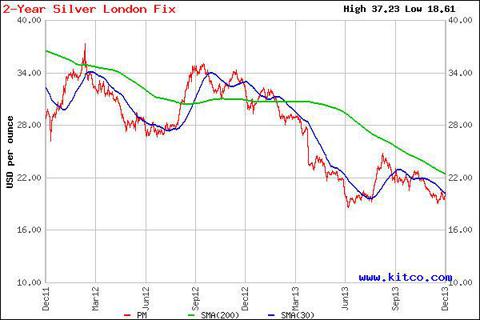 Despite the cascading prices, Silver Wheaton has started 2013 on an aggressive note. In February, the company announced that it entered into a requisite term sheet to purchase from a subsidiary of Vale S.A. an amount of gold equal to 25% of the life of mine gold production from its Salobo Mine. This gold production addition diversifies Silver Wheaton's portfolio of streaming assets. The Salobo Mine is located in Brazil. On November 4th, Silver Wheaton announced the acquisition of a 50% life-of-mine gold production stream on the Constancia project of HudBay for $135 million in cash or stock at Silver Wheaton's judgment. Silver Wheaton will make payments of the lesser of $400/oz of gold or the prevailing spot gold price. First production is anticipated in H2'14 and full production in 2015. Also in November, Silver Wheaton announced that it had entered into an Early Deposit Gold Stream Agreement with Sandspring Resources on the Toroparu project located in the Republic of Guyana, South America. Under the Early Deposit Agreement, Silver Wheaton has the right to obtain 10% of the life of mine gold production from the Toroparu project for total cash consideration of $148.5 million plus an continuing production payment of the lesser of $400 and the prevailing market price.
These agreements indicate a turn in the mining industry. Previously, miners have been hesitant to sell production rights. However, with the global downturn in commodities and specifically mining, large mining firms like Vale are looking at selling production rights. Many of these large mining firms do not want to take out more financing or issue new stock to potentially raise production. Thus, these firms are finally opening up to firms like Silver Wheaton at a time when pricing power is weak. I think this trend will keep on as we head into 2014, and Silver Wheaton will continue to purchase substantial mining rights at very favorable prices. With Silver Wheaton's stock price at all-time lows, I feel there is a great opportunity to pick up a sizable value stock.
Disclosure: I am long SLW. I wrote this article myself, and it expresses my own opinions. I am not receiving compensation for it (other than from Seeking Alpha). I have no business relationship with any company whose stock is mentioned in this article.