Orange (NYSE:ORAN) currently offers one of the highest-dividend yields in Europe at close to 9%, meaning it could be very interesting for income investors. Moreover, its valuation is also below the majority of its closest peers, reflecting a potential undervaluation and strong upside potential ahead. However, this also means Orange may be a value trap as the company is still facing fundamental issues in its domestic market, which may continue over the next few months. In this article, I review Orange's investment thesis to see if it offers value or is it a value trap and should therefore be avoided.
Company Profile
Orange provides mobile and other telecommunications services and is present in 32 countries across Europe, Africa and the Middle East. The company was founded in 1990 and is based in Paris, France. The main shareholder is the French State, with an equity stake of 27%. The Group had more than 232 million customers as of 31 September, 2013, of which about 172 million are mobile customers. Orange has a market capitalization of $32 billion and is listed in Paris and on the New York Stock Exchange, trading in the U.S. as American Depositary Receipts [ADRs]. Orange's share price has declined considerably over the last couple of years as the telecoms sector has been out of favor in Europe due to a combination of factors such as a weak macroeconomic environment, increasing competition, or mobile termination rate [MTRs] cuts, which have hurt the sector's top-line growth and profitability. More recently, its stock price has recovered on increasing expectations of a European economic recovery, that is however still very incipient.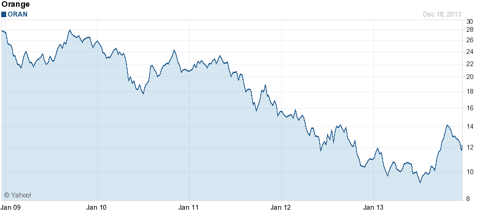 Click to enlarge
Source: YahooFinance
Despite being present in several countries, Orange is still heavily dependent on its domestic market. In 2012, France was responsible for almost 50% of the group's revenue and around 56% of its EBITDA, making it a key factor for operating performance. Spain is the company's second largest individual market, accounting for 9.2% of revenue but only 7% of the group's EBITDA. It is also present in several emerging market regions, such as Poland, and in Africa and the Middle East. Orange operates in the U.K. through a joint-venture with Deutsche Telekom (OTCQX:DTEGY) called Everything Everywhere but has indicated its interest in getting out of this partnership. Additionally, it offers enterprise (business to business) services which accounted for 16% of the group's revenue in 2012, but only 7.6% of its EBITDA due to a much lower operating margin achieved compared to its consumers' business.
Financial Overview
Over the past few years, Orange's operating performance has deteriorated significantly, impacted mainly from weak economic activity across its markets and increased competition, especially in its domestic market. From 2008 to 2012 its revenues posted a compounded annual growth rate [CAGR] of -1.8% and its EBITDA declined by -7.8% CAGR. Orange's EBITDA has declined by more than $6 billion during this period, or an absolute decline of 28%. This weak performance is explained by lower prices which resulted in much lower profitability, as reflected by the company's EBITDA margin that has declined from about 37% in 2008 to only 28.7% in the past year.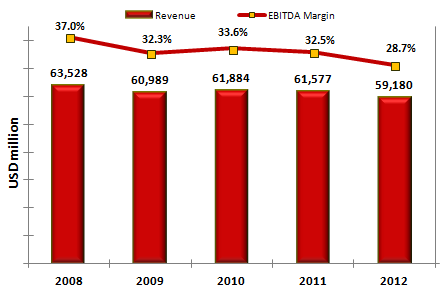 Source: France Telecom and Bloomberg
In 2012, Orange's revenues declined by 3.9% to $59 billion and EBITDA collapsed by 15.2% to $17 billion due to fundamental issues but also some exceptional costs, such as impairment of goodwill in some operations. Without those extraordinary effects, Orange's EBITDA would have decreased by 8%, which is better but nonetheless a poor performance. The company's weak financial results are due to a worsening operating environment due to several reasons, including a sluggish economic environment and fierce competition, especially in France. On the other hand, Africa & Middle-East and Spain posted good organic growth rates but are relatively small operations within the group and aren't enough to offset weakness elsewhere.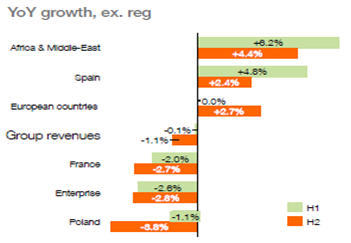 Source: Orange
During the first nine months of 2013, Orange's financial performance continued to be weak as revenues declined 4.3% compared to the same period of 2012 and its EBITDA declined by 7.4%. Orange has a cost cutting program underway but so far this hasn't been enough to protect EBITDA margins, which dropped by 1% in 2013 to 31.8%. The company's management team indicated it expects a turnaround in operating trends in 2014, but its guidance is only a stabilization of EBITDA and higher cash flow generation than in 2013 showing the low visibility it has on the business performance in the short-term.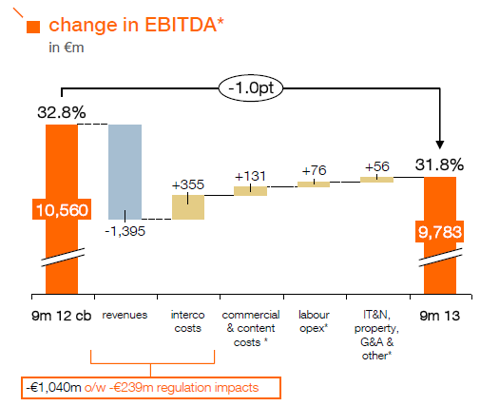 Click to enlarge
Source: Orange
Domestic Market and Competition
The telecoms industry is highly competitive, especially in developed markets where penetration rates are high and growth is mainly achieved from market share gains. This usually results on pricing pressures that are exacerbated during tough economic periods, as was the economic environment throughout Europe over the past couple of years. The company's main competitors in Europe are other large mobile operators, such as Vodafone (NASDAQ:VOD) or Telefonica (NYSE:TEF), and local operators like Belgacom (OTCPK:BGAOY).
In France, the company faced a disruptive market following the entry of a fourth wireless operator at the beginning of 2012, named Iliad. The mobile penetration rate in France is above 110%, so customer gains come mainly from competitors resulting in a price war which has lead to lower profitability for the established players Orange, Bouygues (OTCPK:BOUYY) and SFR from Vivendi (NYSE:VIV). Iliad has delivered a better performance than its competitors since its entry into the market in terms of broadband and mobile net adds, reaching rapidly a market share above 5%. Although Orange is still the dominant player in the fixed and broadband market, its market share has declined to the advantage of Bouygues and Iliad. Orange's mobile customer base (contracts and prepaid offers) stood at 26.8 million customers as of 30 September, 2013, a 0.5% increase year-on-year [yoy].
Orange has adapted its product offering lowering prices to protect its market share, but obviously at the expense of profitability. Although the subscriber base was relatively stable during the past few quarters, revenues declined by 5% in 2012 due to a decline in the average revenue per user [ARPU]. During the first nine months of 2013 revenues continued to decline by 6.5% yoy, although in the last quarter the company was able to achieve a relatively stable ARPU in relation to the previous quarter which is a good sign that its operating performance may be stabilizing. Orange expects ARPU to stabilize at a level around €25 ($34), which was practically the level achieved in the third quarter of 2013.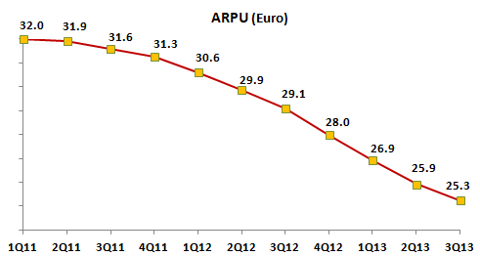 Click to enlarge
Source: Orange
Until very recently mobile handsets were not subsidized at Iliad while they were at Orange, SFR and Bouygues. However, Iliad has changed its policy and offers customers the possibility to rent rather than purchase handsets, with the company retaining ownership of the handsets. These new offers by Iliad may put additional pressure on mobile prices in 2014 and therefore the fierce competitive environment experienced in France should continue over the next few months. This is clearly negative for Orange and puts some doubts on its ability to rebound its domestic operating performance in 2014.
Valuation
France Telecom is currently trading at low multiples, which means it appears to be undervalued by investors. At its current stock price, Orange is trading at only about 8.8x estimated 2014 earnings, at a 49% discount to its closest peers. Its enterprise value-to-EBITDA ratio is only 4.2x, a 40% discount to its peers' average. On average, Orange trades at a 48% discount to its peers on the most important valuation ratios. It also offers a very high-dividend yield close to 9%, which is among the highest of its peer group. These ratios are clearly undemanding, given that Orange has a good cash flow generation, relatively good growth outlook in emerging markets, and its domestic market is showing signs of stabilization as shown by its stable ARPU in the past quarter. However, until its operating recovery in France shows a sustainable momentum, it should continue to trade at a discount to its closest peers.

Click to enlarge
Source: Bloomberg and 4 Traders
Dividends & Financial Profile
Regarding its dividend, for several years the annual dividend was unchanged at €1.40 ($1.90) per share but the company has cut the dividend almost in half in 2012 to €0.78 ($1.06) per share. Orange's policy is to align shareholder remuneration with its operating cash flow generation capacity. Orange's guidance is for a payout of 40-50% of operating cash flow before capital expenditures, which for 2013 is expected to be about €7 billion ($9.5 billion) being supportive for a stable dividend per share of €0.80 ($1.09). Orange currently pays two dividends per year, and it has already paid €0.30 ($0.41) of the 2013 dividend, thus the remaining balance should be paid in 2014.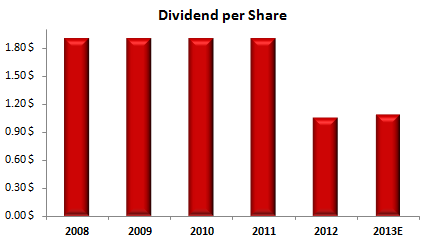 Source: Orange and Bloomberg
Orange has a relatively leveraged balance sheet given that its net debt amounts to more than $40 billion. Over the past few years Orange has been able to maintain the leverage ratio near its medium-term target of about 2x, but this ratio has increased since 2010. Nevertheless, it wants to preserve a strong financial structure and is targeting a net debt-to-EBITDA ratio of around 2x at the year-end 2014, compared to about 2.3x expected at the end of 2013. To achieve this, Orange is relying on improved financial results but also on asset sales. Orange recently reached an agreement with Altice to sell its Dominican Republic business for an enterprise value of $1.4 billion, and it also expects to perform the IPO of Everything Everywhere in 2014 which will help reduce its consolidated net debt.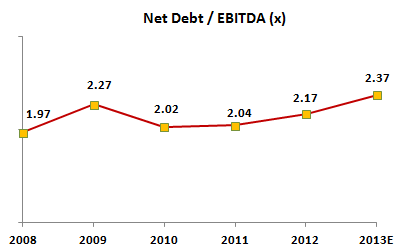 Source: Orange
Conclusion
Orange has been struggling over the past couple of years mainly from a weak operating environment in France. However, in the past quarter the company has reported improved data that increase confidence it can stabilize its business in 2014 and should also benefit from tailwinds as the European economy is recovering. Its valuation is clearly undemanding meaning its shares are still cheap despite being above the lows achieved during the past summer. Moreover, it has a very attractive dividend yield that seems to be sustainable in the short to medium-term, so Orange seems to offer value even though it is still a risky bet due to low visibility on its operating performance in France.
Disclosure: I have no positions in any stocks mentioned, and no plans to initiate any positions within the next 72 hours. I wrote this article myself, and it expresses my own opinions. I am not receiving compensation for it (other than from Seeking Alpha). I have no business relationship with any company whose stock is mentioned in this article.