Himax Technologies (NASDAQ:HIMX) has been through quite a ride in 2013. On the open January 2nd (the first trading day of 2013) the stock was trading for $2.42. On December 19, 2013 the stock closed at $12.70 which represents a return of 424.79% with seven trading days left in the year. Many factors contributed to the colossal increase such as strong sales and income growth combined with solid fundamentals and a 400% increase in the yearly dividend, but no single factor contributed more to the price appreciation than the deal that HIMX signed with Google (NASDAQ:GOOG). The result of the deal makes Himax Technologies the LCOS (Liquid Crystal On Silicon) supplier for the highly anticipated Google Glass, and also Google acquires a stake in the company. In this article I will outline an exciting list of potential catalysts for HIMX in 2014 that could drive the price to new peaks. In order to gain your trust I will first brag about our two previous Seeking Alpha articles on HIMX.
On July 23, 2013, Equities Lab published a bullish article on HIMX called "The Bullish Case For Himax, Using the Piotroski F Score." In this article we made the statement "in reality there is a good chance we could see HIMX double or even triple from where it is now in the coming years." The close on July 23rd was $7.27 and the current close is $12.70 which represents a 75% increase.
On October 25, 2013 we published another bullish article on HIMX called "Himax is Still Undervalued Despite Its Recent Run-Up." In that article we made the statement "this data tells me that Himax Technologies, despite its recent run-up, still has at least 30% upside in the near term." The close on October 25th was $9.54 which represents a 33% increase to today.
The Potential 2014 Catalysts Are:
Google exercises its option to purchase an additional 8.5% stake in Himax Technologies. In the deal that Google signed with HIMX, the company agreed to purchase a 6.3% stake in the Taiwanese company's

display subsidiary with an option to purchase an additional 8.5% stake within a year of the deals closing as outlined in this article.
A dividend increase. In 2013 HIMX paid an annual dividend of $.25 which represents a 18.8% payout ratio. Earnings are expected to grow substantially in 2014 so look for the company to announce an increase to the annual dividend. The dividend history can be viewed in the chart below.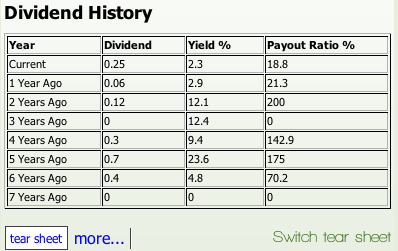 More analyst upgrades and price target raises. Just in the past week we have seen two bullish statements and a price target increase from analysts. On Monday, December 16th, Northland Capital made HIMX technologies its top pick for 2014 and raised its price target on the company from $12 to $15 as outlined in this Seeking Alpha Market Current. On Thursday, December 19th, Craig-Hollum stated that they believe Himax's Q4 is tracking better than they expected as outlined in this Market Current. Wait! There is more. As I am writing this article Topeka Capital announced that it has initiated coverage on HIMX with a price target of $16 with a buy rating according to this article.
Announcement of new deals and contracts. Himax is said to have some of the best technology in the wearable technology industry. There are numerous rumors and statements saying that HIMX has acquired multiple other contracts with huge technology companies such as Microsoft (NASDAQ:MSFT) and Baidu (NASDAQ:BIDU). Look for HIMX to announce more exciting production deals in 2014.
Earnings report beat analysts estimates as well as upward estimates revisions. HIMX is expected to have strong sales and income growth in 2014. According to Yahoo Finance, the average estimated EPS for 2013 is $.36 and for $.62 for 2014 which represents a 72% growth. Also revenue is expected to grow 28.8% from 2013 to 2014. I would expect to see HIMX beat on quarterly estimates multiple times in 2014 as well as the company raise guidance and analysts revising their estimates upwards throughout 2014.
Any positive news on the launch and/or sales of Google Glass. Although Google Glass will not be a significant portion of Himax's revenue, the market will still react to positive news on Google Glass by rewarding HIMX. Google Glass is expected to launch in early to mid 2014.
Announcement of large and small panel display technologies sales picking up. Most of HIMX's revenue comes from large and small panel display technologies. As the sales of these technologies increase so will HIMX's revenue and share price.
HIMX attracting big institutional demand in 2014. I was talking to a large scale institutional trader the other day and he mentioned that his company doesn't even look at stocks with a market cap under $2 billion. HIMX's market cap just recently surpassed $2 billion and currently sits at $2.15 billion. Institutional Ownership is currently 26% and I would look for that number to grow significantly throughout 2014. I can confidently say that because HIMX is becoming less of a speculative stock and more of a solid growth and consistent dividend paying stock.
The catalysts mentioned above each, some more than others, have the potential to drive the price of HIMX to new highs peaks in 2014. These are not catalysts that have a small percentage of happening, but instead a high likelihood of occurring. Taking everything into consideration I believe that HIMX could top out at around $17 in 2014 and it could likely find itself trading range around $15 for most of the year. A share price above $17 would make me worried that the stock is overvalued. With that being said, shorting this stock has to be one of the riskiest decisions in the entire market right now.
Disclosure: I am long HIMX. I wrote this article myself, and it expresses my own opinions. I am not receiving compensation for it (other than from Seeking Alpha). I have no business relationship with any company whose stock is mentioned in this article.