The last quarter of the year is the strongest period for retail sales - all due to holiday gift giving.
Reading the retail sales headlines - November's seasonally adjusted retails sales were up 0.7% over October. This seems some pretty strong evidence that holiday purchasing is growing.
Total Seasonally Adjusted Retail Sales - Dollar Volume (blue line, left axis), Month-to-Month Change (red line, right axis).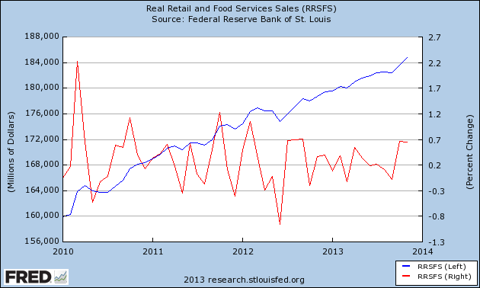 Could this growth be a distortion caused by US Census in their seasonal adjustment process? The unadjusted numbers say things are a little weaker this year.
The thick purple line in the middle of the graph below is the unadjusted year-over-year growth in retail sales. Note that the rate of growth was lower in November 2013 than it was in November 2012.
Unadjusted Year-over-Year Growth - Non-store Retailers (blue line), General Merchandise Stores (red line), Autos (green line), Department Stores (orange line), and Total Retail Trade (purple line)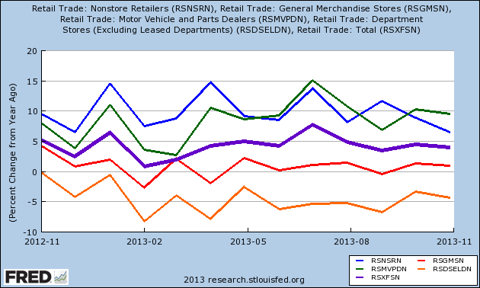 No question retail is growing - but likely not growing at the same rate as last year. The major exceptions are autos (green line) whose rate of growth is up, and department stores whose rate of growth has contracted almost 5% from last year.
Do I trust this data? I trust nothing that is called "advance" from any government reporting agency. It could be too high, too low - but hardly ever just right. The only confidence level I can assign to this is that the unadjusted growth plots out within the expected range. It could be that the computer program fills in the data using the current trend lines when the data is not available. This is how advance data (and the jobs report which is released too far in advance of reasonably accurate data) miss economic turning points.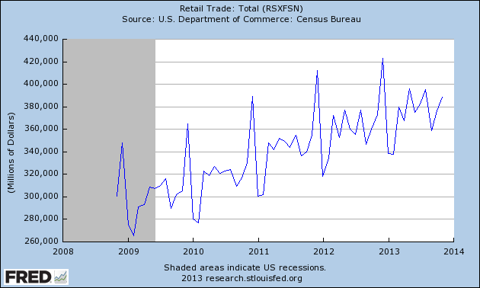 The retail sales spikes in the above chart are caused by the gift giving Holiday Season. It is no wonder, retailers focus so much on selling during the Holiday Season.
Wishing you the best during this Holiday Season. My normal weekly economic wrap is in my instablog.
Disclosure: I have no positions in any stocks mentioned, and no plans to initiate any positions within the next 72 hours. I wrote this article myself, and it expresses my own opinions. I am not receiving compensation for it. I have no business relationship with any company whose stock is mentioned in this article.