It is my great pleasure to announce that Seeking Alpha has partnered with EDGAR Online to bring its contributors one of the premier stock market research tools, I-Metrix. At Seeking Alpha, we value our author base and make every effort to empower them with some of the best research tools available. This new partnership adds I-Metrix to our solid collection of complimentary research tools.
Starting today all active Seeking Alpha contributing authors are eligible for a free one-year subscription to I-Metrix Professional, a $4,800 annual value.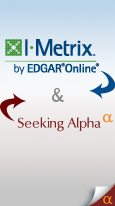 I-Metrix Professional is a suite of interactive data and analytical tools that provide quick and accurate, XBRL-tagged financial statement data via Microsoft Excel. This will provide our authors with data downloads; simple and complex modeling; as well as better, faster and smarter financial analysis and company research.
I-Metrix has the ability to analyze more than 1,000 normalized and as-reported data points from U.S. public companies' financial statements. It provides a complete picture of company information including public offering details, SOX compliance, stock prices, insider trading, company news, and more. I-Metrix also pulls financial statement data from 10K, 10Q, and 8K filings; adds XBRL tags to each line item; and delivers the data through Excel and web browsers (XBRL is a new global data standard for financial reporting which transforms blocks of text into interactive data by providing an identifying tag for each line item of data). Without I-Metrix, the time between financial statement publication and data availability is typically at least one week.
We take great pride in providing our contributors with free access to some of the top subscription-based resources, such as I-Metrix. These tools help to enhance our authors' stature, influence, and careers - and reinforce the must-read nature of their content. In exchange for providing free subscriptions, EDGAR Online requests only that articles that quote or are based on its data cite the source via a link to the I-Metrix website. For more on I-Metrix's resources and how they can benefit you, please visit the company's resource page.
I-Metrix Professional is only one of many free benefits available to our authors. If you are not already a Seeking Alpha Contributor, you can apply to be one at any time.
If you are a Seeking Alpha contributor who would like a free I-Metrix account, please request one here.
EDGAR Online competes with: 10-K Wizard, SNL Financial, Thomson Reuters (NYSE:TRI).