All businesses need certain things in order to prosper. Some require real estate while others rely on servers, and nearly every type of business is going to require a connection to the electrical grid. But there's no doubt though that the lifeblood of a business is its customers and the ability to attract them.
So that means marketing is an essential ingredient in any successful business plan - having an excellent product or service means very little if no one knows about it. Anyone who's watched AMC's Mad Men understands how powerful marketing strategies can be and what they mean to a company.
Global advertisement spending is expected to total $503 billion for 2013 according to figures estimated by ZenithOptimedia. In the US, digital ads are the fastest growing segment constituting 21.8% of all advertising expenditures - $109.7 billion. The mobile ad segment leads the way with growth of 81% this year and internet marketing is expected to average 16% until 2015 when it will make up 27.8% of all US advertisement spending.
Marketing services are largely dependent upon strength in the economy. As businesses expand, advertising budgets have to increase in order to keep growing at a steady pace. U.S. GDP estimates for the third quarter were recently revised upwards from 2.8% to 3.6%, which could be an indication of continued overall growth for 2014.
As ad space continues to grow online, consider these two marketing service companies that are growing their internet presence, and look poised to do well over the next few years.
Valassis Communications (NYSE:VCI) is a diversified marketing service company that reaches consumers through standard mailing outlets as well as online. They serve around 15,000 advertisers and reach 100 million households per week according to the company website. While the company has made strides to improve its direct mail campaigns, Valassis has been focusing more on its online segment with its acquisition of brand.net and its popular redplum.com site.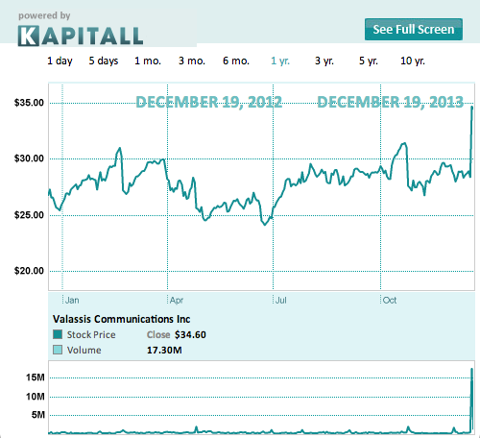 (Click to enlarge. Sourced from Zacks Investment Research.)
The stock trades at just 10.5 times earnings and has expected EPS growth over the next 5 years of 26.7%, giving them an attractive PEG ratio of 0.39. The stock's most enticing value may lie in its high dividend yield of 4.3%, enacted in 2012. EPS for next year is on track for around $3.32 which at current price levels, make this stock undervalued by 12.5%.
Competitor Millennial Media (NYSE:MM) may be a smaller company, but it already has a focus on the mobile advertisement market. And they recently acquired Jumptap for $230 million which management believes will boost programmatic advertising and reinvigorate Millennial's growth. The stock has been volatile as it has produced disappointing earnings and cut guidance for 2014, but could be in value territory if projections for the consolidated companies are accurate.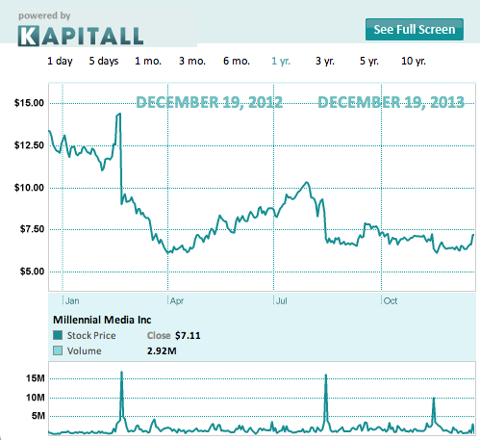 (Click to enlarge. Sourced from Zacks Investment Research.)
Millennial may be small at $530 million, but revenue estimates for next year are around $420 million with EPS growth over the next 5 years of 45%. Despite buying Jumptap, Millennial has no long-term debt thanks to a largely stock-funded acquisition. Considering that Jumptap experienced growth of over 100% from last year, Millennial is in a position to surprise investors over the next few quarters. If the numbers are to believed, this stock could double in the next 12 months.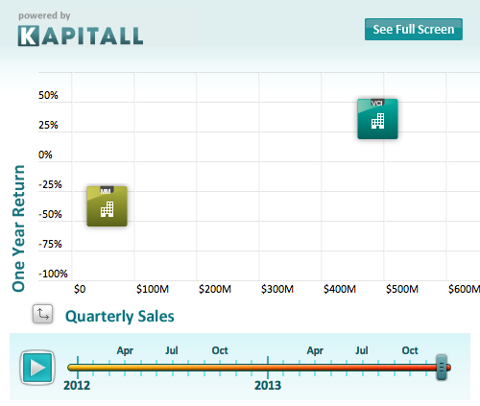 (Click to enlarge. Sourced from Zacks Investment Research.)
Disclosure: I have no positions in any stocks mentioned, and no plans to initiate any positions within the next 72 hours.
Business relationship disclosure: Kapitall is a team of analysts. This article was written by Daniel Cross, one of our writers. We did not receive compensation for this article (other than from Seeking Alpha), and we have no business relationship with any company whose stock is mentioned in this article.